The team over at MarketClub just released two new technical analysis videos. You can check out the video on crude oil here and then the video on Apple here. Starting with crude oil first, Adam has identified a pattern where oil actually pulls back every 70-80 days or so. The gap of time between the last three lows is 70 days, 84 days, and 76 days. The current time elapsed since the last low is around 65 days. So, Adam has hypothesized that in 10 days or so, we'll see the next low in oil before it heads higher. After all, the gradual trend in crude since March has been up and all large dips have been buying opportunities. Click the chart below to watch the crude oil video.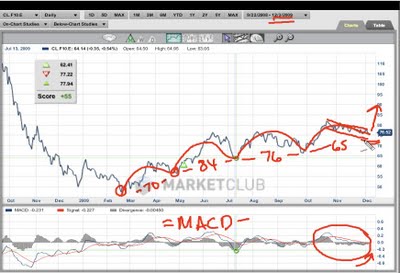 Secondly, they also look at the popular stock Apple (NASDAQ:AAPL). And, things aren't looking all that rosy for this name. Many have pointed to Goldman Sachs (NYSE:GS) to show the relative weakness compared to the market as it could be a warning sign. Apple could now be exhibiting similar signs as it could possibly have seen a double top and be headed lower.
Normally, every big pullback in AAPL has been met with buying. While that still could potentially happen, MarketClub's signals currently have them out of AAPL as they are worried it could head lower. So, if you're looking for possible 'tells' in the market, watch the action in some of the industry leaders of Goldman Sachs and Apple. You can see how the guys at MarketClub have been trading AAPL throughout the year in their video.