Caterpillar (NYSE:CAT) just reported Q3 results and they ain't pretty. EPS for the third quarter 2013 came in at $1.45 which compares to $2.54 in Q3 2012 (down 43%). Analysts expected a Q3 EPS of $1.67 and Caterpillar presented a full-on earnings miss of 13%. Analysts also expected that Q3 sales would come in at $14.32 billion which compares to a reported sales figure of $13.42 billion: A revenue miss of 6%. Revenues are down 18% from last year's third quarter where revenues stood at $16.45 billion. In addition, Caterpillar has revised its 2013 revenue and earnings outlook: The company is now expecting revenues of $55 billion and earnings of $5.50 per share (previous guidance was $56-58 billion revenues and $6.50 in EPS).
Caterpillar's disappointing results can generally be summarized in one word: China. The country's sluggish growth has forced many basic materials companies to shelve mining projects and confront lower commodities prices. Lower mining activity translated to lower mining and construction equipment demand that started to hit Caterpillar with full force this year. CEO Doug Oberhelman explained Caterpillar's sales development:
"This year has proven to be difficult, with expected sales and revenues nearly $11 billion lower than last year. That is a 17 percent decline from 2012, with about 75 percent of the drop from Resource Industries, which is principally mining. We expect Resource Industries to be down close to 40 percent for the full year and Power Systems' and Construction Industries' sales to each be down about 5 percent," said Caterpillar Chairman and Chief Executive Officer Doug Oberhelman.
Share performance
After presentation of Caterpillar's Q3 results, the stock immediately tanked reflecting the serious earnings miss and the disappointing guidance update. Shares closed 6% lower at $83.76 opening up a huge gap and pushing Caterpillar down into critical territory. Over the last two years, Caterpillar hasn't fallen below its support level of $80 a share. The range of $80-82 represents a strong support range for CAT shares. Caterpillar is clearly oversold in the short-term. A break of the $80 level would likely increase momentum and send the shares further south.
Over the last two years, Caterpillar has done poorly mainly because the market already punished the company for its heavy reliance on the mining industry and Chinese construction demand in particular: The shares are down 9% while other machinery manufacturers increased value for shareholders. Deere & Company (NYSE:DE), a machinery manufacturer with outstanding free cash flow strength, gained 13%, Cummins (NYSE:CMI) 37% and AGCO (NYSE:AGCO) 53%. Caterpillar's underperformance is totally attributable to its high dependence on the mining sector.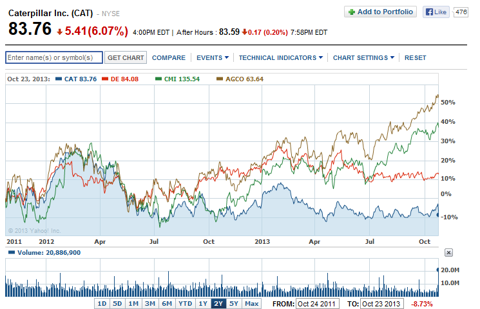 Moving forward
While it is easy to be critical and negative, it is also unconstructive. Analysts and investors are now complaining about Caterpillar's sales declines amid the cool-down in the mining sector. The same investors were cheering Caterpillar's focus on mining not too long ago when the sector was doing well and contributing great earnings- and cash flow growth. Caterpillar is a highly cyclical company just like the commodity producers themselves. And many of those companies have resorted to capex adjustments, cost programs, lay-offs and share repurchases to create value for shareholders instead of operations- and EPS growth. Presently, Caterpillar takes the blame for its operational focus but the company does the right things to steer the boat in the right direction. Hidden behind the negative news, Caterpillar has demonstrated a commitment to tackle challenges head-on and has produced meaningful results that deserve to be pointed out just as well:
Cost reductions of $700 million YTD
Capex adjustments of $400 million
China sales in the third quarter were up 30%
M&PS segment turning into a cash cow with $2.1 billion in operating cash flow in Q3 alone leading to a stronger balance sheet and better capital ratios
Share repurchases of $2 billion in 2013
Quarterly dividend hike of 15%
What's ahead?
Generally, Caterpillar expects a decline in Resource Industries' sales in 2014 while other segments are expected to either be flat (Power Systems) or grow sales at positive rates (Construction Industries). China's economy currently goes through some difficult and painful adjustment processes. Increasing long-term commodity demand from both the Chinese consumer- and industrial base, however, is a virtual certainty. Growing populations and richer middle classes are going to consume more commodities. Caterpillar still has a premier position in mining and construction equipment manufacturing. While there may be a few more bumpy quarters ahead and the double-digit sales decline overshadows the progress Caterpillar has made on the cost side, the company is well-positioned to profit from a turnaround in the mining sector.
Valuation
Caterpillar trades at 11.82 forward earnings and is not necessarily expensive at that level. A meaningful turnaround in the mining sector, though a few more quarters away, could be a catalyst for meaningful EPS growth. Caterpillar also only fetches a slight premium compared to Deere & Company and AGCO.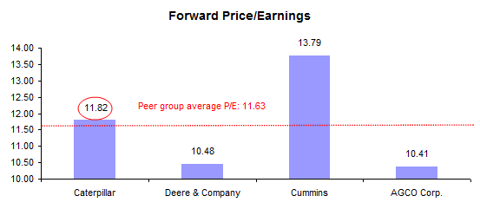 Income investors seeking yield might want to consider Caterpillar for their long-term portfolios. In the short-term Caterpillar clearly faces macroeconomic risks and relies on the volatile mining sector. In the long-term, the global economy is set to grow and Caterpillar is well positioned to capitalize on commodity exploration. Caterpillar also implements a shareholder-friendly remuneration policy. In addition to a 15% quarterly dividend hike, the company purchased $1 billion worth of stock in the second and third quarter of 2013 each. Its dividend yield presently stands at 2.87% and temporary setbacks in Caterpillar's share price offer the chance of a higher yield.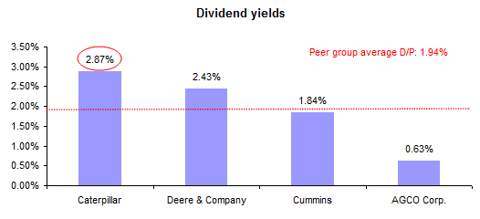 Summary
Caterpillar may be an interesting Buy for Contrarian investors who want to take advantage of pessimistic market expectations. Caterpillar's shares have corrected 28% since their High on February 23, 2012. The company is also pursuing the right approach to create value for shareholders in a challenging macroeconomic environment. It remains determined to repurchase shares and increase dividends. Cost adjustments, lay-offs and plant shutdowns will bring Caterpillar's cost structure in line with new production and demand realities. I think the company will do well in an upswing and further substantial share declines offer the opportunity to purchase a manufacturing leader at a reasonable valuation with attractive long-term growth prospects.
Disclosure: I have no positions in any stocks mentioned, and no plans to initiate any positions within the next 72 hours. I wrote this article myself, and it expresses my own opinions. I am not receiving compensation for it (other than from Seeking Alpha). I have no business relationship with any company whose stock is mentioned in this article.