Electronic Arts (NASDAQ:EA) has lagged behind Activision Blizzard (NASDAQ:ATVI) as the biggest video game company in North America. One of the biggest reasons has been the first person shooting genre. Activision dominates the genre with its Call of Duty franchise. Now armed with a possible blockbuster from the creators of Call of Duty, Electronic Arts stock could be in for another wild ride in 2014.
Jason West and Vince Zampella, both co-founders of Infinity Ward, are the duo behind "Titanfall." The game from Electronic Arts is set to be released March 11th, 2014. This is a slight move-up from previous estimates. The game marks the debut of Respawn Entertainment, an independent video game maker founded by West and Zampella. The trailer for the video game can be seen here.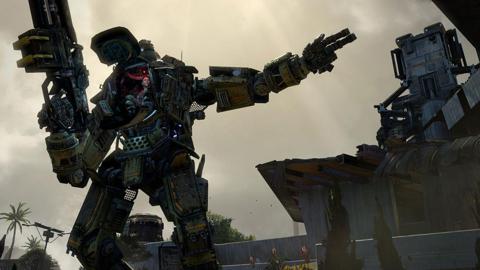 The game features heavily armored 24 foot "titans." Gamers shift back and forth between pilot and titan. "Titanfall is set in the not so distant future. The game also tried to one-up the competition in online gameplay and "delivers a brand-new online experience that combines fluid, fast-paced multiplayer action with heroic, set-piece moments found in traditional campaign modes."
From the original June game press release:
· The universe of Titanfall juxtaposes small vs. giant, natural vs. industrial and man vs. machine. The game drops players into a conflict between the Interstellar Manufacturing Corporation and the Militia as elite Pilots. With the ability to shift back and forth between pilot and Titan, players will have the freedom to change tactics on the fly, attacking or escaping depending on the situation. Titanfall Game Director Steve Fukuda added, "In addition to infusing the multiplayer experience with cinematic flavor, we've been rethinking fundamental combat and movement in the genre. Titanfall is unique in the way that it places equal emphasis on two drastically different and new ways to move and fight in a first-person shooter. The intersection of the two is a big part of what give Titanfall its iconic identity."
"Titanfall" is one of the most anticipated video games of the year. The game has received critical praise and has a long list of awards. Among them are:
· Game of Show Award (Tokyo Game Show)
· Editor's Choice (Pax 2013)
· XGN Best of Show (Gamescom)
· Game Critics Best of Show (E3 2013)
· Game Critics Best Original Game (E3 2013)
· Game Critics Best Online Multiplayer (E3 2013)
· Game Informer Best in Show (E3 2013)
· IGN Best Overall Game (E3 2013)
Microsoft (NASDAQ:MSFT) will also be keeping a close eye on pre-order numbers for "Titanfall" and its newly announced Collector's Edition Bundle ($250). "Titanfall" is one of a handful of games releasing exclusive for the XBOX One. "Titanfall" will also be available on XBOX 360 and PC. I recently highlighted why I thought the Playstation 4 will outsell Microsoft's XBOX One. With more exclusive games like "Titanfall," perhaps Microsoft can get some gamers to switch from Playstation. The new online experience also bodes well for Microsoft's XBOX Live, which could see a boost in memberships from players ready to experience what "Titanfall" has to offer.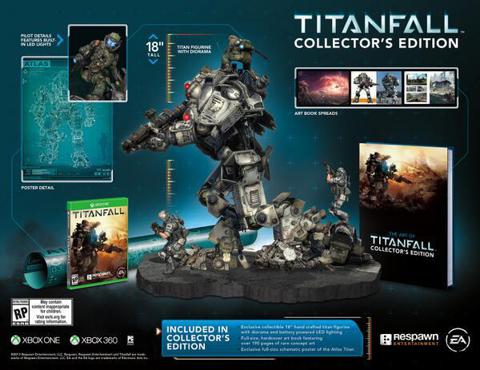 "Titanfall" should complement the successful Battlefield line of games from Electronic Arts. With Activision Blizzard owning the first person shooter genre through its Call of Duty franchise, Electronic Arts will now showcase two rivals at two different parts of the year. "Battlefield 4" will be released in November, while "Titanfall" will see a release date in March. This move could serve EA well with two successful franchises in the same genre spaced out enough to create hype and sales.
"Battlefield 4" continues to rack up impressive pre-order numbers and trails only "Call of Duty: Ghosts" in units and hype. Here is a look at how "Battlefield 4" currently sits on VGChartz's pre-order list:
· #2: "Battlefield 4" (XBOX360) 412,487
· #6: "Battlefield 4" (Playstation 4) 273,766
· #9: "Battlefield 4" (Playstation 3) 220,697
· #15: "Battlefield 4" (XBOX One) 153,221
Electronic Arts is hoping "Battlefield 4" gets an early lead on "Call of Duty: Ghosts," as it is released before the Activision game. The company is also hoping it meets or exceeds the strong sales from "Battlefield 3." "Battlefield 3" sold over 6 million copies worldwide on both the Playstation 3 and XBOX 360. The PC version of the game sold close to 2.5 million copies.
Back in July, I highlighted an investment in Electronic Arts based on two upcoming catalysts. The company is strong FIFA and Star Wars franchises. I highlighted Electronic Arts' new partnership with Tencent (OTCPK:TCEHY) to bring the FIFA online game franchise to the Chinese market. That move is likely to take place in 2014.
The other item I highlighted was the company's new partnership with Disney (NYSE:DIS). After its acquisition of Lucasfilm, Disney turned over the video game rights to the franchise to Electronic Arts. Electronic Arts is the studio behind the moderately successfully "Star Wars: The Old Republic." The game is sure to get a boost with expansion packs and the new trilogy of Star Wars movies beginning in 2015.
Investors need to look at Electronic Arts' huge potential with its blockbuster franchises. The company now has Battlefield, Star Wars, FIFA, Madden, and a strong mobile franchise. Add in the potential blockbuster status of Titanfall and Electronic Arts shares look promising.
Electronic Arts shares have been on a tear in 2013, as investors are now up 69% for the year. Currently, shares of Electronic Arts are trading at higher valuations than rival Activision Blizzard. Here is a look at estimates:
| | | |
| --- | --- | --- |
| | Electronic Arts ($24.61) | Activision Blizzard ($17.41) |
| Current Fiscal Year Revenue Est. | $4.01 billion, +5.8% | $4.29 billion, -14.0% |
| Current Fiscal Year EPS Est. | $1.23 | $0.89 |
| Next Fiscal Year Revenue Est. | $4.27 billion, +6.3% | $4.64 billion, +8.2% |
| Next Fiscal Year EPS Est. | $1.46 | $1.27 |
| Current P/E | 21.1x | 19.6x |
| Forward P/E | 17.8x | 13.7x |
Even though Activision looks like the cheaper play, I think Electronic Arts might have the better growth ahead. I don't believe the international FIFA revenue or Star Wars resurgence is being priced in. Furthermore, a game like Titanfall could do $500 million in sales and bring the revenue increase for fiscal 2015 into the double digits. Investors should be willing to pay the higher premium for the possible higher reward that is Electronic Arts.
Disclosure: I am long ATVI. I wrote this article myself, and it expresses my own opinions. I am not receiving compensation for it (other than from Seeking Alpha). I have no business relationship with any company whose stock is mentioned in this article.