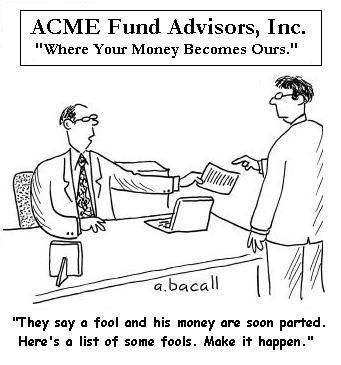 CEF Weekly Review: The 13 closed end fund (CEF) types on average posted a 1.4% increase for the week ending 12/04/09. On an aggregate, unweighted basis, the weekly average price change for the 496 CEFs increased 1.6%.
The weighted 49 CEFs comprising the Claymore CEF Index registered an average advance of 0.6% for the week. The S&P 500, as measured by the SPDR S&P 500 ETF (NYSEARCA:SPY), was up 1.3% on a 40% increase in volume over the previous holiday shortened week.
(Click here for YTD CEF performance. The table is based on a 270 CEF sample size as all the data fields are not available for the CEF universe.)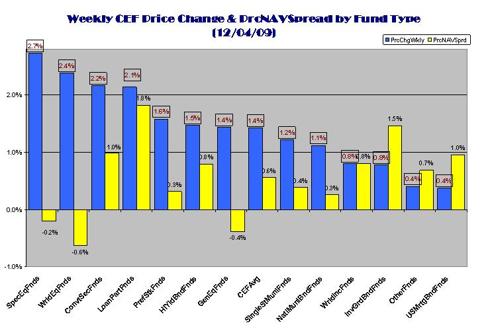 The Eqcome CEF Fear Index eased. It registered a strong positive change with weekly price changes exceeding changes in NAV by 1.3% (1.6% - 0.3%, respectively). The CBOE Volatility Index (VIX), which typically moves inversely with the stock market, slid throughout most of the week ending the week down 14.1%. The sharp decline was in response to the previous week's 11.5% increase on news of the delayed debt payment of Dubai World.
CEF Weekly Fund Type Performance: All the 13 fund types registered a positive price change for the week. With the rebound from the Dubai World debt crisis the previous week, a shift towards greater risk was evident in fund type movements. SpecEqFnds, WrldEqFnds, ConvtSecFnds and LoanPartFnds were up greater than 2%. USMrtgBndFnds, which was the previous week's leader, was this week's laggard.
The real estate sector of the SpecEqFnds on average advanced 5.3%. The fact that the bankrupt mall giant, General Growth Properties, Inc (GGP.E) filed a plan to emerge from bankruptcy without having to sell its best performing malls may have lent some encouragement to the sector. Additionally, a "food fight" has broken old between mall colossus Simon Properties (NYSE:SPG) and Canadian real estate titan Brookfield Asset Management (CI.A) (BAM) as both are circling GGP's malls.
Additionally, the sector may have been further boosted by a Goldman Sachs's analyst upgrade of the REIT sector predicting a bottom of the industry fundamentals in next year to 18 months. The real estate ETF Vanguard SF REIT (NYSEARCA:VNQ) has been trending up and outperforming the S&P 500 over the past 6 months.
The WrldEqFnds fund type received a significant boost from Turkish Investment Fund (NYSE:TKF), up 13.5%. The price advance was part of the rebound from the previous week as Greece and Turkey were a few of the sovereign credits associated with the turmoil in Dubai.
(Last week it was pointed out that WrldIncFnds did much better than WrldEqFnds in response to the Dubai crisis and found it puzzling. It was queried whether going "long" WrldEqFnds and "shorting" WrldIncFnds would be a corrective trend this week. In fact, that is what did occur.)
CEF Spread Changes: Changes in PrcNAVSprds generally follow the trend of price movement. This is typically the case when markets generate meaningful price changes. Interestingly, while both leading fund types, SpecEqFnds and WrldEqFnds, demonstrated strong price appreciation, their NAVs on average demonstrated greater appreciation. This may have been a function of the NAVs in both groups rebounding while share prices lagged because of lingering investors' concerns.
Several of the fund types that were the worst price performers—particularly, InvGrdBndFnds and USMrtgBndFnds saw prices exceed NAVs. This was probably a function of NAVs being held down by the fear of rising interest rates. Investors should keep their eyes on the horizon for this trend building momentum as it would have broad negative implication for the CEF market sector.
CEF Winners and Losers: Two of the CEFs with the greatest positive PrcNAVSprds for the week were not surprisingly real estate related: DCA Total Return Fund (DCA) and DCW Total Return Fund (DCW) both managed by a Denver based manager Dividend Capital Investment, LLC. Both CEFs have sub-$5 per share stock prices and are trading at a 20% discount. Trend investors have a tendency to buy the least expensive stock in the group that they perceive to have momentum.
Neither of the CEFs have large ownership by activist investors. Given the fact that the Horejsi group targeted two real estate related funds SRO and SRQ—which are now in the process of liquidation—one would wonder if these funds might be ripe for some activist intervention?
This week's CEF with the greatest negative PrcNAVSprd was the Central Europe and Russia Funds (NYSE:CEE), off 4.9%. While CEE's price advanced 0.4%, its NAV advanced 5.3%. The ricocheting US dollar and its impact on commodities is making it difficult to value these stocks on a near-term basis. Approximately 40% of the portfolio is energy related with approximately 2/3's of the holdings are in Russia.
Market Perspective: "The definition of insanity is doing the same thing over-and-over again and expecting different results." This phenomenon has been consistent for retail investors buying CEFs on their initial public offerings ("IPOs"). History has repeatedly demonstrated that IPOs will typically trade to a discount months after the IPO. (See article: "Next CEF IPO Wave: Don't be Duped, be Patient" (12.03.09); the article illustrates this phenomenon graphically and provides a reference to another article with a similar conclusion on the topic.)
If you want to invest in an "opportunity" CEF IPO, the following strategy is recommended: 1) take 5% of the funds you would have invested in the IPO and send it to your favorite charity; 2) with the 95% you have left over, buy the stock in the aftermarket 6-to-9 months post the IPO.
This way, you'll end up buying the same amount of stock at a better relative value and your transfer of wealth may reach a truly needy person other than your broker.
(Click here for next week's economic calendar; click here for earnings announcements and estimates.)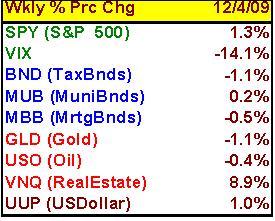 ETFs: (Click here for ETF YTD sector performance.)
Insider Trading: While amounting to a "broken" record—skipping back to the same groove—the Horejsi Group ("Horejsi") continued its aggressive buying of Boulder Growth & Income Fund (NYSE:BIF). Having acquired 530,859 shares for a market value of $3.0 million the previous month, Horejsi was back in early December and acquired an additional 161,149 shares at an average of $5.67 for a total outlay of $913,310.
Horejsi also continued to buy additional shares of Denali Fund Inc (DNY). It acquired an additional 4,000 shares at an average price of $13.90 per shares for an expenditure of $55,600.
Karpus Investment Management ("Karpus") was back buying an additional 10,100 shares of Insured Muni Income Fund (PIF) for 13.68 per share laying-out an additional $138,168. Karpus is sighted as owning approximately 12% of the outstanding shares. Other notable activist investors such as Western Investment, LLC have positions in PIF. PIF has suspended its distribution policy as it is in the process of a tender offer for certain securities.
Another insider of Western Asset Global High Income Fund (NYSE:EHI) added to his position. Daniel P. Cronin, director, acquired 5,000 shares of the CEF at 10.70 per share investing $53,510. This would bring his share holdings up to 8,500 shares. Stephen Walsh, an employee of the sub-advisor, purchased 3,700 shares last month bringing his ownership to 11,700 shares.
(Click here for a hyperlink to the Joe Eqcome CEF Weekly Insider Report.)
CEF Distribution Announcements This Week: The following is a link to a table of CEF distribution announcements this week as well as the previous week's with yet expired ex-dividend dates. The list is not intended to be inclusive. (Click Here for Weekly CEF Distribution Announcements.)
CEFs Focus for the Week: Pimco High Income Fund (NYSE:PHK) is the focus stock of the week. PHK's ex-dividend date is coming this week on December 9th. It is currently yielding 13.2% and is trading at a premium of 46.3%. This stock is vulnerable to the slightest change in interest expense. The general expectation is for interest rates to trend upward in the next 6 months.
The factors working in PHK's favor have been the recovery of junk bond values, a zero interest rate policy by the Fed and a yield hunger retail investors chasing yields.
On average at the end of September, PHK was paying an average of 0.16% on its $292 million of auction rate securities, or approximately $.0039 per share for interest costs. So, every 100 basis point increase in interest rates represent a $.025 per share reduction in net investment income.
Add this on to the other trends going against PHK that include: decline assets, revenues, earnings, a distribution level that is increasingly being supported by return of capital payments (approximately 30%) and a change in an investment policy reducing the percentage of high yield investments from 80% to 50%.
Any investment banker would encourage PHK to either launch a rights offering or a follow-on-offering to take advantage of the hyperbolic stock price. Stay tuned.
Consider it food for discussion.
Disclosures: Author holds positions in SPY & GLD and a diverse CEF portfolio; he has no holdings in PHK