The Santa Rally fizzled a bit at the end of last week but it's still early December and Rudolph has plenty of time to bring presents to weary consumers and investors.
Last week's big story was the employment report on Friday which exceeded even the wildest optimists' expectations, with just 11,000 jobs being lost in November compared to the 100-125,000 that were projected.
If next month's report goes positive, certainly many will argue that Santa will have come to town.
Also last week, temp jobs jumped by the most in five years and October payrolls were revised from a 190K drop to "just" 110K but still good news.
So this week, we'll have to see if the pre-Christmas cheer can be maintained.
Monday takes a look at October Wholesale Inventories, Thursday brings Initial Jobless Claims and the big reports are on Friday with November Retail Sales, the initial University of Michigan Consumer Sentiment reading for December and October's Business Inventories.
Beyond that, Chairman Bernanke speaks on Monday and a few notable earnings reports are on tap, including Costco, Talbot's and Dollar General.
And there's a heavy schedule for placing Treasury debt mid week.
The good news was almost too much to take as the dollar strengthened and speculation already started that the Fed could be raising interest rates as early as mid-2010. But the steady string of bank failures continued with 6 more failing last week, bringing the yearly total to 130.
Last week's hot sectors were Financials, Industrials, Utility and Tech as indicated in the chart below: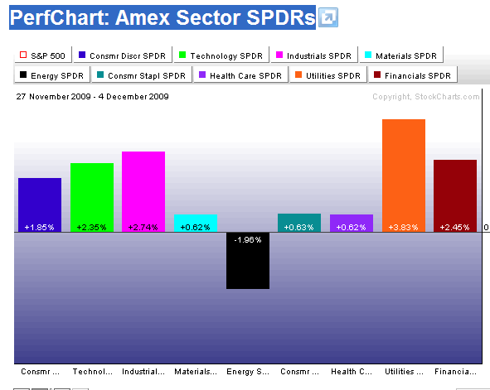 Chart courtesy of stockcharts.com
Going farther afield, leading Exchange Traded Funds were centered in the Pacific Basin with South Korea (NYSEARCA:EWY) and Japan (NYSEARCA:EWJ) leading the way.
Laggards were the Japanese Yen (NYSEARCA:FXY), Long Term Treasuries (NYSEARCA:TLT) and Energy (NYSEARCA:XLE)
But in spite of all the gyrations around the 1100 level on the S&P 500, the longer term uptrend remained in place as depicted on the weekly S&P 500 chart below where we see the current price well above its 70 week moving average and the weekly MACD remaining in positive territory, albeit with the MACD leveling out in recent days: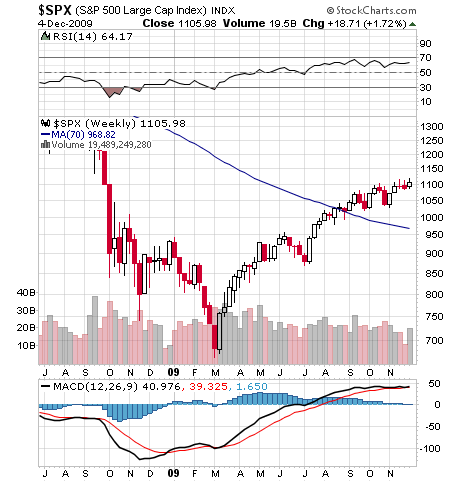 Chart courtesy of stockcharts.com
ETFs with the strongest Relative Strength remain centered in metals and emerging markets, but, of course, it's December and the weather can be changeable and uncertain.
Disclosure: Author holds positions in SLV, ILF, XLI, EWS