I recently analyzed the growth potential for the 25 BDCs that I cover to see which ones had the most available capital for portfolio growth without additional equity to maximize earnings for higher dividends. THL Credit (NASDAQ:TCRD) ranked the highest among dividend paying BDCs with the ability to grow its current portfolio by over 60% with debt and cash as discussed in "THL Credit: Poised For Growth And Pushing Higher". I have included the capital growth for the seven BDCs that have done equity offerings since June 30, 2013 and this article will show the effects of those offerings as well as point out which BDCs are likely to raise equity soon.
Here are the assumptions that I used to come up with potential growth capital:
Cash as of 6/30/13
Target debt to equity ratios between 0.70 and 0.80 depending on portfolio quality
Each company could extend current borrowing agreements or accordion features if needed
SBIC borrowing using current capacity but maximum total debt to equity of 1.00
Target Debt to Equity Ratios
Depending on the quality of the portfolio investments I believe each company can comfortably borrow at debt to equity ratios between 0.70 and 0.80 with the higher levels for safer investment mixes. The chart below roughly breaks each BDCs portfolio into senior and subordinated debt, and equity giving each investment class a grade to come up with an average and then used to imply its target debt to equity ratio.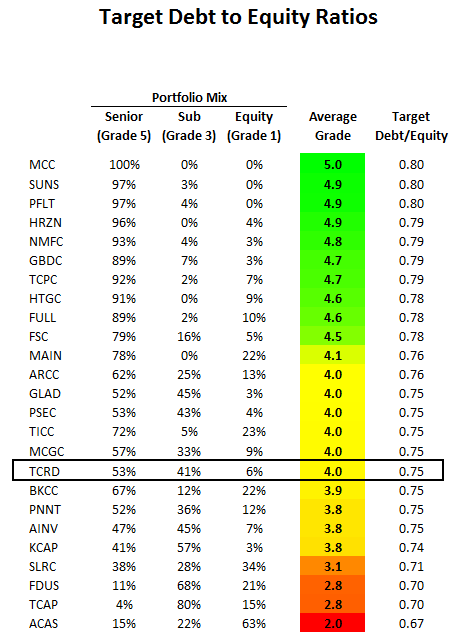 Potential Growth Capital
The table below contains a lot of information including the equity offerings for the seven BDCs that have raised capital through October 23, 2013 which I have added to the amount of equity and cash at the end of the most recent quarter (June 30, 2013). It also contains the target debt to equity ratios from the previous table and the current amount debt excluding SBIC loans to come up with an implied available amount of debt (assumes each company could extend current borrowing agreements or accordion features if needed). This is then added to the amount of unused SBIC debentures and cash to come up with potential growth capital which is then shown as a percentage of the current portfolio at fair value to indicate the relative growth potential without additional shares from equity offerings.
I do not include the amount of SBIC debentures in target debt to equity ratios because they are usually 10 year fixed rate term loans at very low interest rates and are not included in the lending ratios that limit the amount of leverage a regulated investment company ("RIC") is allowed to use. However I believe that BDCs should not have a debt to equity ratio higher than 1.00 regardless of exempt SBIC amounts. The table below uses the potential growth capital from above but adjusting for a maximum leverage ratio of 1.00 and shows that both American Capital (NASDAQ:ACAS) and TCRD have a much higher amounts of growth capital as a percentage of their current portfolios.
The BDCs highlighted in green are the seven that have had equity offerings since Q2 to increase liquidity but keep in mind that they will also have an increased amount of shares to pay dividends on. Another thing to be aware of is that Prospect Capital (NASDAQ:PSEC) is an outlier because it issues shares throughout the quarter using its ATM Program. During calendar Q2 it added an additional 9.2 million shares mostly above its net asset value ("NAV") per share raising close to $100 million as well as ongoing debt offerings.
Summary
There are quite a few things I learned from this process including which BDCs were poised for the most growth without issuing additional shares and potentially able to pay higher dividends. The interesting thing is that BDCs such as MCG Capital (OTC:MGCG) and Solar Senior Capital (NASDAQ:SUNS) are near the top of the list and are unable to cover dividends with net investment income ("NII"). Then there are some such as Fifth Street Finance (FSC), Golub Capital (NASDAQ:GBDC) and PennantPark Investment (NASDAQ:PNNT), which are a bit lower on the list and just short of covering dividends. This implies that BDCs higher on the list and covering dividends already have a higher likelihood of growing them in the coming quarters including TCRD, TCP Capital (NASDAQ:TCPC), Medley Capital (NYSE:MCC), Fidus Investment (NASDAQ:FDUS) and Main Street Capital (NYSE:MAIN), all of which have a history raising dividends already.
The BDCs to be concerned with are the ones currently unable to cover dividends with low growth potential like KCAP Financial (NASDAQ:KCAP) that recently cut its dividend, TICC Capital (TICC) that has been short of covering in the past but covered last quarter and is not expected to through the end of the year, Horizon Technology Finance (NASDAQ:HRZN) that has had issues in the past and cut dividends earlier this year but is at least expected to cover in the coming quarters, and of Full Circle Capital (FULL) which breaks all the rules and too small to mention.
Another key takeaway is the BDCs that are likely to issue new shares in the coming months which are the ones lower on the list with higher multiples of NAV per share like Hercules Technology Growth Capital (NASDAQ:HTGC) which I believe will announce an offering before the end of the year and could be a buying opportunity. Another candidate would be Triangle Capital (NYSE:TCAP) that is currently trading at a huge premium to book value and would be very accretive to the current shareholders as well as move them higher in growth potential. FDUS and MAIN would be on this list as well but most likely not until next year. This information will go into my next round of rankings.
Investors should only use this information as a starting point for due diligence. See the following for more information:
Disclosure: I am long MAIN, PSEC, ARCC, TCPC, TCRD. I wrote this article myself, and it expresses my own opinions. I am not receiving compensation for it (other than from Seeking Alpha). I have no business relationship with any company whose stock is mentioned in this article.