Group Jean Coutu - An Opportunity For the Patient Investor
Note: Dollar amounts are in Canadian $ unless mentioned otherwise. USD-CAD 1.0295 Price of 1 USD in CAD
Jean Coutu Group PJC Inc. (PJC.A, OTCPK:JCOUF) is Canada's 2nd largest publicly traded drug store retailer with a market cap of about ~$4.1 billion and 411 locations. Their stores are located in metropolitan areas, mid-sized cities and small towns across Eastern Canada. PJC is also the second-best performing pharmacy stock in North-America in the last three years, up 122%, behind Rite Aid's 232% gain. However, these nice stats don't make PJC a hot bandwagon stock. It's actually quite the opposite. The following opportunity is appropriate for the investor with a time horizon of over five years, a rarity in today's hyperactive environment. If you are the type of investor that looks up the stock price every five minutes don't invest in PJC. Unfortunately, PJC's stock price doesn't bounce around on random Tweets.
My approach to this valuation is similar to the one I would take if I would be buying a private enterprise. PJC has the characteristics of what I'm looking for: a good old cash rich drug store retailer with solid stable free cash flow, no debt, modest growth, heavy insider ownership, long-term potential, and that provides goods and service essential to the community. In today's investing environment, PJC would classify under the boring investment tab. It's the good old buy and hold.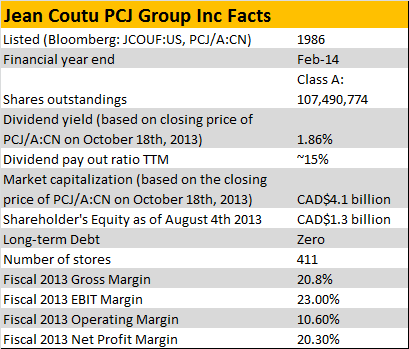 Investors have been well rewarded over the last five years. I used the last five years because it represents the post-USA Jean-Coutu. At the writing of this article, PJC.A was trading at ~$18.40 share.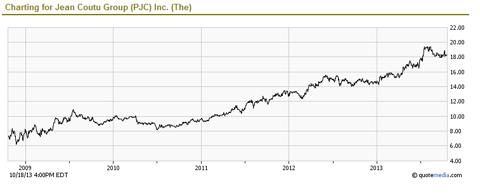 Investment Thesis
PJC is an interesting long-term investment because of several potential catalysts that could command the stock higher. The catalysts for growth are potential acquisitions, being acquired, going private, strong free cash flow generation, share buybacks, dividend increases, and an aging population.
Based on my valuation, the implied intrinsic value of Group Jean Coutu is approximately $21.5 per share. This represents a 16.8% increase in share price with another 5.5% in dividends (including the special dividend).
PJC's stability and predictability has attracted me to accumulate a small position in PJC over time. By investing in a cash-rich business like PJC, you also limit the downside by taking less risk. The way I interpret it is that you can park your money in a T-Bill with zero return or you can park it in a company like PJC that will offer you a ~2% dividend, a protection against inflation, and modest potential equity upside. With no debt on its balance sheet, the only stakeholders to serve are the shareholders. A conservative scenario delivers 2-3% dividend, 2-3% in earnings, and 2-3% in share buybacks for a total return of 6-9% annually. I need to emphasize on the low return scenario because I don't want to sugar coat this opportunity but it also leaves room for upside. I am very confident in PJC's ability to meet these numbers because of its historical actions. The market hasn't taken into account the effect on earnings of the massive buyback in process. With more details in the next paragraph, PJC has offered to buy back ~20 million shares at $18.50. As of today, the shares are trading below the offering price. With ~20% of the shares in circulation being eliminated, this increases the size of the pie for the remaining shareholders. Once the buyback is completed, there will only be 89.4 million Class A shares. Class B is entirely owned by the Coutu family. I believe that the Coutu family will keep buying back Class A shares overtime. It has been doing so at a rate of 10% per year (not including the recent announcement).
There are also qualitative factors that make PJC an interesting buy. For the readers outside Quebec, it's hard to explain the significance of the Jean Coutu Group in the Quebec culture. It's similar to having a Southerner explaining NASCAR to a New-Yorker. The Yankee knows it's big, but doesn't understand why it's engraved in your DNA. The Jean Coutu drug stores are so deep rooted in the Quebec culture that it cannot be dislodged. Jean Coutu, the 87-year-old founder who is one of the most recognized figures in Quebec with his always-present white lab coat. Quebec is a PJC stronghold and over 90% of the stores are located in the province. In many rural communities, it's the only pharmacy you have access to. There's no room for a 2nd pharmacy. And even if there's a second independent pharmacy, it most likely can't match the offering PJC offers. It's the mom and pop shop versus a big retailer. PJC built its reputation on providing professional services, long hours, and discount prices on goods. Something that rural Quebec desperately needed. These circumstances it gives PJC a certain monopoly status and a level of consistency in its revenues. A survey conducted by the firm Leger Marketing, confirms that PJC is ranked first as a retailer and third among the 150 most admired companies in Quebec. I take the awards with a grain of salt and shouldn't be a reason for investing but it's a testimony of the Quebec population's trust in the business. PJC is also positioned to take advantage of the aging demographics. PJC also benefits from a certain level of stickiness because the cost of changing pharmacist and having your file transferred is not worth it. PJC also owns Pro-Doc, a generic drug producer with a lineup of over 300 products. Pro-Doc's sales are increasing over time and there's always the option to spin it off.
The recent pullback in the stock price creates an opportunity to buy PJC off its peak of $19.60. Jean Coutu reported 2Q FY14 operating EPS of C$0.24, below consensus of C$0.25.
$500 Million Distribution to Shareholders
PJC recently announced that it will not be a fat little hoarder of cash anymore. Following the sale of its shares in Rite Aid (NYSE:RAD), PJC will distribute upward of $500 million in share buybacks and special dividends. The money used for the operation is excess cash, so there is no borrowing to make this happen. That excess cash is the equity holder's money. Now if you want some of that cash, here are the details of the offer:
First, PJC has offered to buy back 22,000,000 Class A shares at $18.50 a share. The Jean Coutu Family Foundation has placed 21 million shares to be bought back, therefore we can safely assume that the offer will be fully subscribed. Any excess demand will be adjusted to the pro-rata. The offer should eliminate 20.47% of the total shares in circulation. About $407 million will be used for the share buyback operation. The deadline for the offer is November 14th 2013.
Second, the Board declared a special dividend worth $0.50 per share that will be distributed on December 2nd. If fully subscribed, it will be equivalent to $95 million being returned.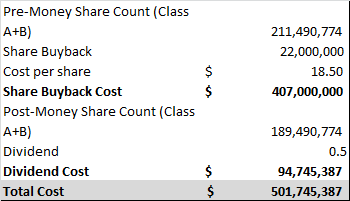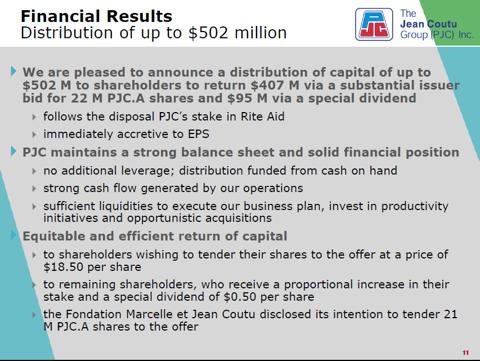 2nd Quarter 2014 Presentation, page 11
The market was indecisive about the proposed plan. Flushed with cash, analysts were expecting a potential acquisition. There's also some skepticism that the buyback was aimed at meeting the Coutu family's objectives. The Fondation Marcelle et Jean Coutu plans to deposit 21 million shares for repurchase. The 6% pullback the day of the announcement creates a nice entry point for the patient investor (and a chance to participate in the plan).
Brief History
The company was started in 1969 when Jean Coutu, founder and CEO, opened his first pharmacy in Montreal. PJC had an edge over its competitors at the time because they innovated in the retail sector with a large array of products at discount prices and longer store-opening hours. Jean Coutu's concept was successful and started franchising. The first franchised pharmacy, the largest on the Island of Montreal, was opened 24 hours a day and employed some 250 people. In 1986 PJC completed its IPO and was listed on the Montreal and Toronto Exchanges. Over the years, PJC developed a strong store base in Quebec by expanding in rural areas and by buying small family chains over time. Explained in more details below in a separate paragraph, PJC was also developing their store network in the U.S. as early as 1987. The expansion in the U.S. started going south in 2004 with the mega acquisition of the Eckerd drugstores in the U.S. At the time of the transaction, PJC was the fourth largest drugstore chain in North America. PJC was operating a juggernaut of over 2,300 stores with the large majority in the U.S. Because of lackluster results, PJC decided to get out of the U.S. by selling their American operations to Rite Aids Corporation just two years later. In 2007 PJC acquired the pharmaceutical company Pro Doc Ltd, a Quebec generic medications firm and in 2012, 50% of Le Groupe Medicus, an orthotics and prosthetics company.
Jean Coutu, the founder, stepped down from the CEO position in 2007 but still acts like the non-executive chairman. His son, François J. Coutu, now runs the show.
In August 2013, PJC sold the final block of its interest in Rite Aid, an American national drugstore chain with more than 4,600 drugstores.
Business Description
PJC engages in the retail of pharmaceutical, parapharmaceutical, and other products in Canada. The company operates franchised drugstores under the PJC Jean Coutu, PJC Clinique, PJC Jean Coutu Santé, and PJC Jean Coutu Santé Beauté names. PJC is the dominant drug store chain in the province of Quebec with over 92% of its stores located in the province. The remaining stores are located in nearby Ontario and New-Brunswick. PJC is also tightly controlled by M. Jean Coutu, the founder, and his family with over 92% of the voting rights.
Group Jean Coutu is the franchisor of one of the leading pharmacy chains in Canada with 411 PJC franchised stores. PJC's franchising activities include operating two distribution centers and providing services to the PJC franchised stores. These services comprise centralized purchasing, distribution, marketing, training, human resources, management, operational consulting and information systems, as well as a private label program. PJC franchisees manage their stores and are responsible for merchandising and financing their inventory. They must supply their stores from our distribution centers, for the products which are then available. Based on total network retail sales, PJC supply franchisees with approximately 94% of the value of products sold, including prescription drugs. Although PJC franchised stores retail sales are not included in our revenues, an increase or decrease in this regard will directly affect our financial performance as it impacts distribution center sales and royalties.
The company is also known for its private line "Personnelle," which produces a wide variety of products such as cosmetics, papers, and pharmaceutical products. PJC also offer digital processing services and our clients have access to Canada Post services in 79 franchised stores.
If you notice the odd calendar reporting date, it's because PJC's reporting calendar is based on the US National Retail Federation 4-5-4 merchandising calendar. Accordingly, the Corporation's fiscal year is usually 52 weeks in duration but includes a 53rd week every 5 to 6 years. The fiscal year ended March 2, 2013 contained 52 weeks while the fiscal year ended March 3, 2012 contained 53 weeks.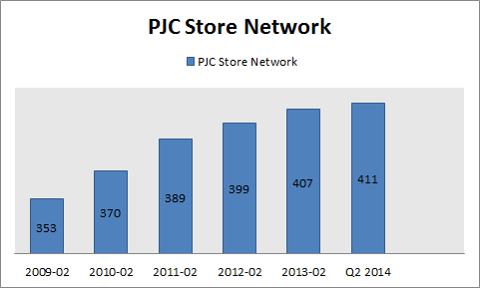 The above chart shows steady grow in the store counts. The numbers are net and include new stores, renovated and expanded. PJC aims to open 10-15 stores for fiscal 2014.
Pro Doc Ltd. -Generic Drug Manufacturer
Acquired in 2007, Pro Doc is a corporation specialized in the manufacturing of generic drugs. Pro Doc holds a portfolio of about 148 generic molecules and 315 different products. The generic drugs manufactured by Pro Doc are almost exclusively sold in Quebec to wholesalers, such as the Jean Coutu Group, and pharmacists under its trademark "Pro Doc."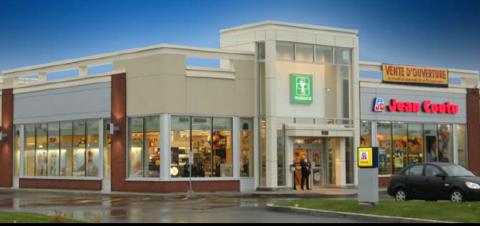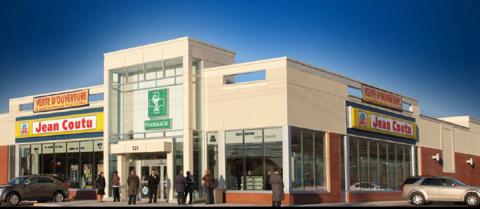 Source: Jean Coutu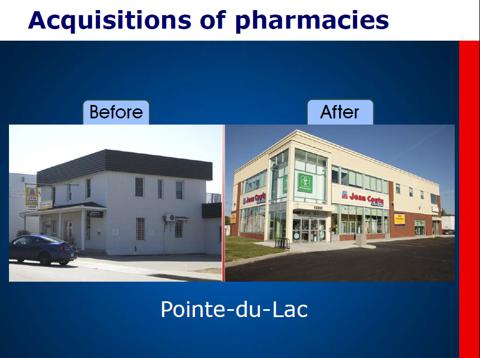 Source: 2012 AGM Presentation page 27.
USA Expedition
PJC expansion in the U.S. is often described as a blunder in the media. It's true that PJC has failed in the U.S. but that failure came much later on. What is not mentioned is that PJC had humble success in the U.S. in the late 80s and 90s. PJC started establishing a presence in the U.S. in 1987 by modestly acquiring small chains over time such as Brooks Pharmacy. The U.S. was accountable for 50% of the company's sales before the Eckerd acquisition (Now CVS Caremark (NYSE:CVS)). In 2001, Jean Coutu Group USA's revenues peaked at $1 billion (CAD$1.53 billion). Business in the U.S. started going south in 2004 following the mega acquisition of 1,549 Eckerd stores from J.C. Penney (NYSE:JCP). The acquisition process wasn't successful and two years later, Rite Aid acquired all the Eckerd Pharmacy and Brook Pharmacy from Jean Coutu for US$1.45 billion and 252 million shares of Rite Aid common stock, giving it an approximate 32% common equity interest in the expanded Rite Aid. On July 18 2013, PJC completed the sales of the last Rite Aid shares it held. As of today PJC is no longer a shareholder of Rite Aid. However, Jean Coutu remains open about a return to the U.S.
In his autobiography, Jean Coutu revealed his thoughts on what went wrong after the Eckerd acquisition.
"I have to admit that we did not hit the center of the target at each step of our American adventure. But I have a feeling this is an appointment that has only been postponed. The experience made us humble. Nevertheless, we learned a lot from it and we will remain vigilant in being able to use it both as a springboard and as a guide when the next U.S. expansion opportunities present themselves to us." -- Mr. Coutu, from Sans Prescription ni Ordonnance
Jean Coutu as The Takeover Target
PJC is facing growing pressure to make a game changing decision. PJC's external environment is changing. The war is on many fronts. The retail industry is consolidating and the competition is increasing. Loblaw, the largest super market chain in Canada, has acquired the largest pharmacy chain in Canada, Shoppers Drug Mart. Loblaw paid a 27% premium for the acquisition of Shoppers Drug Mart. The synergies and increased purchasing power of the Loblaw-Shoppers will add pressure on PJC to upgrade its performance. Target is also entering Canada with Brunet (operated by Metro Inc.) as its pharmacy provider. Super markets have been increasing their offering in beauty products and medicine. The Canadian provinces are also working together on a prescription drug reform to lower the cost of medicine through purchase volume discount. The changes are in effect since April 2013. Quebec Minister of Health and Social Services set the price of generic drugs to 25% of the innovator, as opposed to 37.5% in 2010.
The Loblaw/Shoppers merger is not all bad for Jean Coutu. Some opportunities will be created once the union is solidified. In Ontario, there are a lot of overlaps between Loblaw and Shoppers locations. It's possible that Loblaw might have to give up some stores and that could be an opportunity for PJC to take over high quality locations.
Quebec based Metro is one of Canada's largest super markets has long been rumored to be the perfect buyer. Metro is in a similar situation as Jean Coutu. It's flush with cash and is pressured to make a big move to stay competitive. Both sides have been denying the rumors of mergers for years. The financial press and analysts are responsible for the rumors. They love playing the game of matchmaking. Here is a headline from the Montreal Gazette: "Will Metro and Jean Coutu be next to merge? Is a Metro Inc.-Groupe Jean Coutu alliance inevitable now, after Monday's eye-popping acquisition."
The story goes along these lines: Metro is the super market darling of Quebec. Jean Coutu is the pharmacy darling of Quebec. The two entities could form the perfect couple. Metro has experience running pharmacies because they are the operator of Brunet group of pharmacies, a competitor to PJC. Another element that fuels the rumor is that Jean Coutu and Eric La Flèche are members of the same golf course. Together they would be stronger and bigger and more wealth would be created for the shareholders.
I have my doubts that PJC would accept an offer. The company is very discrete about their intentions. The Coutu family has the controlling voting shares. The founder, now 87, is a major influence factor in any decision. I don't want to speculate how long he will be around, but once the 2nd and 3rd generation gain complete control, who knows how they will act with the right offer on the table. PJC either grows through acquisitions or it will be acquired. There are more chances that PJC is an acquirer than a target.
Jean Coutu as The Acquirer
PJC is not shy about acquiring companies. It has relied on takeovers for growth in the past with five acquisitions worth $2.6 billion since 2000 according to data compiled by Bloomberg. PJC has the ammunitions to make an acquisition. PJC has a lot of cash, a lot of free cash flow, and a nice unutilized line of credit. Smaller rivals might be absorbed. PJC might also look west for growth. Alberta based Rexall, owned by the Katz Group Pharmacy would be a nice target with its 425 locations. PJC does not discuss potential acquisition or future growth strategy. Sobeys Inc.'s Lawton Drugs is also a potential target. Lawton Drugs might make more sense strategically since it's based in the neighboring province. Sobeys might want to plan non-core assets to fund their recent acquisition.
"We are in no hurry to conclude an acquisition just to make a deal," said its president and CEO, François Jean Coutu
At the company's annual meeting in early July, Mr. Coutu said that should an opportunity present itself, they would pursue it "aggressively," and that they possibly "didn't even need to speak to their banker beforehand."
The company, he argues, can still grow organically in its main Quebec market and in French-speaking parts of Ontario and New Brunswick by acquiring independent pharmacies.
"For us it is not a sprint but a marathon," said Mr. Coutu. "We are in it for the long run."
Revenue

PJC has two major sources of revenue, franchising and generic drugs sale. The company has a diverse revenue base composed of wholesaler revenue, franchise fees, rental income and generic drug sale. Each pharmacist owner is a "local market entrepreneur" with industry leading brand and marketing support. PJC either owns or is the primary leaseholder of all PJC Jean Coutu drugstores. Merchandise sales to PJC franchisees, mostly through our distribution centers, account for the major part of its revenue. PJC franchised stores' retail sales are not included. However, any change in their retail sales directly affects PJC revenue since franchisees purchase most of their inventory from PJC distribution centers. Other revenue consists of royalties from franchisees based on a percentage of their retail sales, rental revenues and revenues from certain services rendered to franchisees. The other segment of the revenues is sales from Pro Doc, their generic drug company.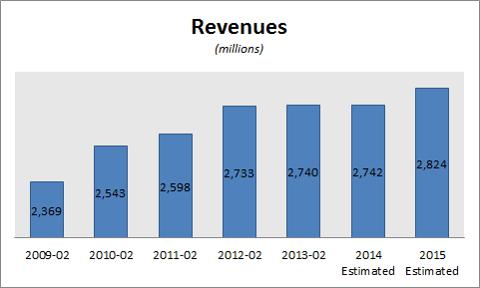 We can see from this chart that since the exit in the U.S., Jean Coutu has modestly grown its revenue. I wouldn't call it impressive but it's stable and consistent. The lack of growth is attributable to the deflationary impact of the price reductions of generic drugs and the significant volume increase in prescriptions of generic drugs, partially offset by the overall market growth and to the expansion of the PJC network of franchised stores.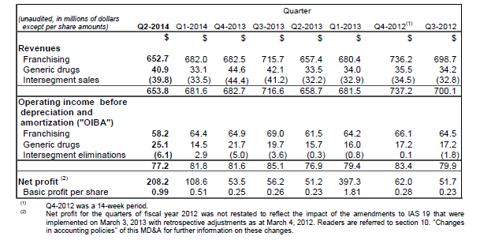 Source: PJC Q2 Result page 8
The table above illustrates the last eight quarters of results. As you can see, generic drugs sales are growing faster than franchising. Pro Doc, the division responsible for the drug sale, is mostly attributable for the increase in revenues and as a segment of revenue. What's also positive is that the generic drugs margin is also wider than franchising and makes up for the slow franchising revenues.
The next section is dedicated to operating income.
Operating Income before Amortization
Jean Coutu uses operating income before amortization (OIBA) as one of their performance measuring metric. The chart below is divided with their two main income segments: Franchising and generic drug sale. Below is a chart splitting both components.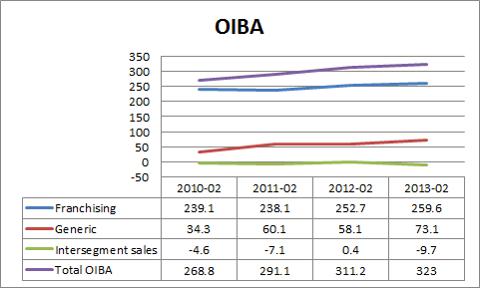 As mentioned above, franchising operating income is growing at a slow pace. Franchising is slightly lower in Q2 2014 than Q2 2013. Management states that the decrease is attributable to the increase of general and operating expenses which is mainly due to the increase of advertising expenses as well as by the increase of wage costs related to the increase of the shipment volume at the distribution centers. There is some positive that can be taken out of this. 1) Advertising if successful should lead to higher revenues. 2) An increase in the shipment volume is a good indicator of growth.
Generic drug sales are rapidly gaining ground as an income producer with a 113% increase since 2010. This is pure speculation, but if Jean Coutu groups ever merge with a bigger player like Katz Group, the generic drug sale would be a nice synergy and segment of growth. 2014 first half results confirm that the trend is continuing. OIBA increased by $2.7 million amounting to $159.0 million compared with $156.3 million for the same period of fiscal year 2013. As a percentage of revenues, OIBA ended the first semester of 2014 at 11.9% compared with 11.7% for the same period of the previous fiscal year. This increase is mainly attributable to a strong operational performance of the generic drugs segment. What's comforting is that despite a difficult regulatory environment Pro Doc has been able to enhance its performance.
Store sales per square foot and Retail Sales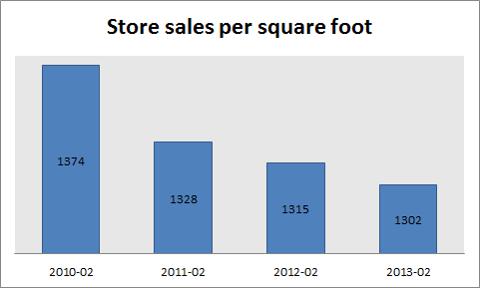 This not a downward trend you like to see. However, sales reached $1,302 during that period even when taking into account an increase of the PJC franchised stores' network total square footage and the price reductions of generic drugs decreed by the Québec government during fiscal 2012. $1302 is still an excellent number. The loss per square foot is made up by adding total square foot of selling to the network.
The typical PJC franchised store generates annual sales of $11.8 million. That number hasn't grown much in the last few years.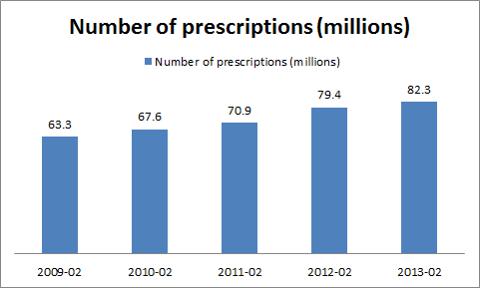 The table above display a positive trend in the number of prescriptions prescribed. Proportion of generic drugs reached 61.2% of prescriptions during fiscal year 2013 compared with 57.0% during the previous fiscal year. The increase in the number of generic drugs' prescriptions with lower selling prices had a deflationary impact on the pharmacy's retail sales. Therefore, the introduction of new generic drugs reduced pharmacy's retail sales growth by 2.1% and the price reductions of generic drugs decreed by competent authorities reduced pharmacy's retail sales growth by 1.2% during fiscal year 2013.
Free Cash Flow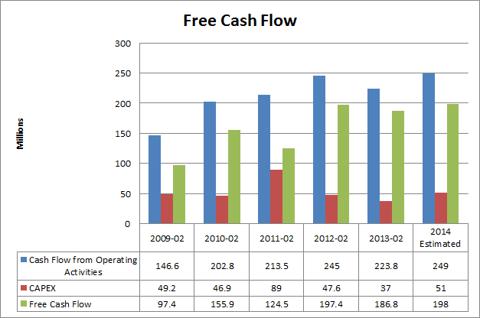 Investors should expect $200 million a year in free cash flow. That sum will add up to one billion in five years. The majority of this free cash flow will be returned to shareholders. It's a nice and wait situation. More dividends will be paid out and more shares will be bought back. An amount could also be allocated to acquire companies. The cash flow is strong and stable. The company is in no financial trouble.
Dividends
The chart below demonstrates a nice raising line in dividends. Since 2007 PJC has more than doubled their dividend raising the payout from $0.12 to $0.28 per share.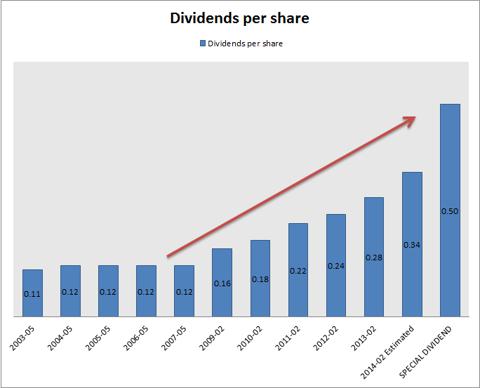 Please note that I didn't change the 2014 dividend payout. I don't have any guidance from management as to whether they would increase it or not. A safe assumption based on historical action would suggest they would raise it but didn't want to speculate on a number. The five-year dividend rate is 15%, a good number since the payout is growing much faster than inflation.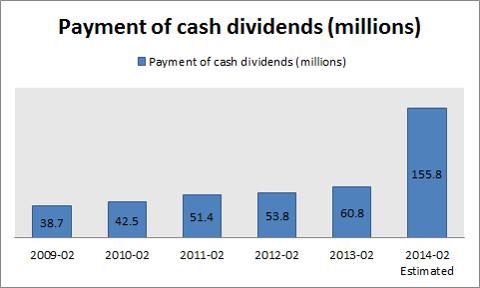 The payment of cash dividends above is another form of the previous chart. This chart displays the increase in dividend payout over the years. Fiscal year 2014 includes the $95 million special share distribution and $60 million in regular dividend payout. As mentioned above, that amount does not include any growth to their 2014 dividend payout. The current dividend is sustainable because of the low payout ratio and stable consistent income.
Share Buybacks
I like a company that increases the share of the pie for its shareholders. PJC is doing just that through aggressive share buybacks. Even before the massive buyback that was announced, PJC was rapidly reducing their share base. Certain analysts suggest that the company plans to go private one day. It could be possible considering the current share structure and the trend in the buybacks. Traditionally, in May PJC announces that their intention is to repurchase 10% of the public float of the class A shares. I have included a chart below resuming the purchases of the last five years.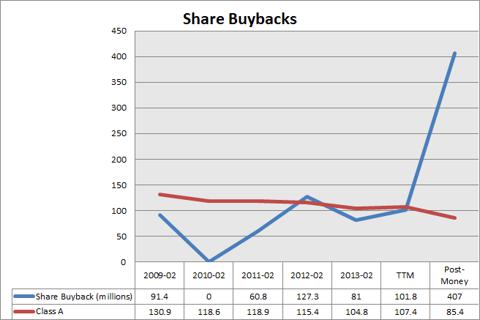 *On August 14, 2013, PJC issued 10,385,000 Class A shares, due to the exercise of exchange privilege of 10,385,000 Class B shares against Class "A" on the basis of one Class "A" share for each Class "B" share exchanged.
Analysts
I wouldn't rely on the forecast and judgment of analysts on PJC. They simply have a terrible track record on this company. I believe that the overall analyst is down on stocks that do not have hyper growth. It seems difficult for them to forecast where the company will be in five years. Instead the focus is overweighted on the next quarter results. I'm glad I didn't follow their advice in my acquisition. PJC was downgraded back in January and March to $14 from $15 because of the cut in generic drug sales. Here is a 2010 UBS analyst report with a target price of $10, down from $10.50. The truth is that PJC has been the subject of "downgrades" for years. The stock trades for about ~$18.40 a share. My advice is to do your homework and develop your own judgment as to the true intrinsic value of this company.
Valuation
Based on my valuation, the implied intrinsic value of Group Jean Coutu is approximately $21.5 per share. This represents a 16.8% increase in share price with another 5.5% in dividends (including the special dividend).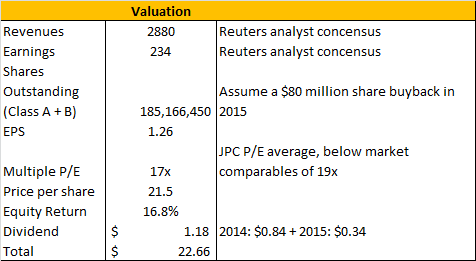 These numbers are not explosive and certainly won't land on CNBC pitching this idea. However, I'm confident in these numbers because of the low risk nature of this investment and the conservative assumptions used. I also used the 2015 fiscal year projections, which is only 6 quarters of data. At the beginning, I mentioned that this opportunity is for the long term. I believe an investor's return will be superior if he holds the stock for a longer time frame. In a longer time frame, certain catalysts could be triggered which would result in a higher stock price. I used an average P/E of 17 times earnings. This number presents the historical average and is below 19 times earnings of a group of comparables. I assume a share buyback of $80 million in fiscal 2015, which represents the average of the last five years not including the recent massive buyback announcement. Overall, a steady growing company with no debt and ample cash flow should reward the shareholders in the long run.
Positives
Same-store sales present little growth or flat at best.
It's flush in cash and has access to a clean $500 million credit line to make acquisitions.
Owner founder still in charge with 92% of the voting right. He has a large stake in the business and his interests are aligned with the shareholders
Demographic trends are expected to contribute to growth in the prescription drugs consumption and to the increased use of pharmaceuticals as the primary intervention in individual healthcare.
Strong presence in regional areas, sometimes it's the only pharmacy
Excellent balance sheet, no debt, a lot of free cash flow, room for dividend increase
PJC will be around for a long-time. It provides goods and services essential to the population.
Modest store growth, could be better, but there are more net stores every quarter
Pro Lab, the generic drug manufacturing is growing and the margins are improving, despite the reductions in generic drug prices decreed by the competent authorities.
Solid brand name in Quebec
PJC has the characteristics of a monopoly in rural Quebec. It's the only pharmacy in town.
The customers really trust Jean Coutu. There's a strong bond in place, especially with the older population. This comes back to PJC having deep roots in Quebec.
Group Jean Coutu is annually recognized as one of the top retailers in Canada and Quebec
PJC says it accounts for a third of the prescriptions filled out in Quebec and 45 percent of the pharmacy sales in the province - excluding chain superstores which operate pharmacies.
Jean Coutu is setting a brand new bigger headquarter and distribution center. It's expected to be open in 2016. It would be able to support new acquisitions and future growth. The cost of the construction is expected to be $190 million but a large amount of that will be offset by the sale of their current headquarter.
Negatives and Risks
Increasing competition, the industry is consolidating
Seems to be lacking a plan for growth, acquisitions, and capital deployment (or simply it could be that they are very discrete)
Government interference with the price of generic medicine
The Coutu family has control of the company. There's skepticism about the Coutu family's interest. The proposed buybacks might hint that the Coutu family's priorities are above the public shareholders' interest. It has the elements of a conflict of interest.
Is returning $500 million to the shareholders the best use of its capital? Are there no opportunities on the market that could offer more?
In June 2013, the reimbursement rates for six important generic prescription drugs were considerably reduced.
Since April 20, 2012, generic product prices cannot be higher than any selling price granted to other provincial drug insurance programs.
Jean Coutu's private brands are not formidable compared to Loblaw/Shoppers.
Too much concentration in Quebec. The economy is flat at best.
Catalysts
The generic drug manufacturing could also be spun off. Or could Pro Doc acquire other drug manufacturers? Could Pro Doc supply to over pharmacies?
An offer could be made to buy PJC. A 27% premium was offered to Shoppers by Loblaw.
PJC could go private; the massive share buyback announced reduced a lot of the class A shares.
Increasing the dividend and share buybacks could increase the share price.
Potential positive new Pharmacy law in Quebec. The implementation of the new Pharmacy law aims to promote better access to frontline healthcare by allowing pharmacists to perform certain services traditionally reserved for doctors, like prescribing medication to treat minor conditions. The postponed date was delayed but it's expected to come into effect. A recent study by Quebec's Institute of Statistics shows 30 per cent of people who go to an emergency room realize they don't need that level of care, however, they have no other way to get the care they're seeking quickly. The new law is aimed at unclogging waiting lines in hospitals. Once in effect, this new law should drive traffic flow in pharmacies.
The real estate could be turned in a REIT. A lot of Canadian retailers such as Loblaw and Canadian Tire followed that path. It's a tax efficient way to raise money.
Conclusion and Advice
As mentioned above, PJC is a long term opportunity that falls in the buy and hold category. It might take some time for the following catalysts to take place. The potential increase in Group Jean Coutu's price per share is not through high growth. PJC demonstrates low revenue growth and any potential acquisitions on the radar are most likely small chains or independents. Instead, earnings growth would be achieved by reducing the equity base through capital return. Jean Coutu generates tons of free cash flow and some of the cash is being used to buy a lot of shares in circulation, increase their dividend, or acquire more independent pharmacies and maybe a chain. Even before the massive buyback that was announced, PJC was rapidly reducing their share base. If that trend continues, we might see Jean Coutu going private. Another possibility mentioned is Jean Coutu being taken over. This is the least likely of the catalysts mentioned but it certainly can't be ignored. The family still runs the business and the non-executive founder still has a lot of influence on the direction of the family.
Based on my valuation above, the implied intrinsic value of Group Jean Coutu is approximately $21.5 per share. This represents a 16.8% increase in share price with another 5.5% in dividends (including the special dividend).
Overall, before any of the major catalyst above takes place, PJC offers the patient investor an 8-10% in annual potential returns. This is reasonable regarding the low risk profile of the company. The investors should expect ~3% in dividend, ~3% in share buybacks, and ~3% growth in earnings. This is achievable because of PJC's stable consistent earnings, free cash flow, and steady management. Jean Coutu might be a turtle and you always need one of those in your portfolio.
Disclosure: I am long OTCPK:JCOUF. I wrote this article myself, and it expresses my own opinions. I am not receiving compensation for it (other than from Seeking Alpha). I have no business relationship with any company whose stock is mentioned in this article.
Additional disclosure: As with all of my articles the opinions are my own. You should do your homework and make your own best judgments about the company. (I know that this resembles the boilerplate disclosure that you see in every email that you get from your broker but I really mean this and I am not saying it to avoid getting sued.)