Occasionally, I find a stock worth mentioning as an interesting speculation. Such is Prestige Brands (NYSE:PBH).

Ever see Clear Eyes, Murine, Compound W, New Skin, Dermoplast, Freeze Off, Pergogisic, Compoz, Comet cleanser, Choir Boy, Spic and Span, Cutex on your merchant's shelves? These are but some of the product brands under the PBH umbrella which market to the entire United States, Canada and elsewhere to a degree.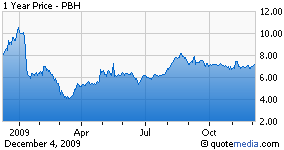 Prestige Brands has underperformed and has not been viewed with love and respect by the analysts following the stock. That is beginning to change now that new CEO Matthew Mannelly, who began his tenure in September, is having his expertise realized. His successful past experience includes highly successful brand exploitation with Cannondale, Nike (NYSE:NKE), Quaker Oats, Gatorade and a stint with the US Olympic Committee. The new CEO appears to be ideal for this company.

Mannelly has instituted a staff reduction program of 10% (a $2 million dollar reduction to start) and in late October jettisoned the Prell and Denorex shampoo brands to concentrate on other, more promising brand sectors and strategic acquisitions. This CEO is setting the stage for a company turnaround. The Board of Directors is also undergoing changes to accommodate the aggressive brand management style of Mr. Mannelly. He is hitting the ground running.

Presently trading around $7.25/share, the $361.7m company has had a fifty-two week trading range of $3.92-10.78. It does not pay a dividend, but that may change. Interestingly, institutional ownership has risen to 82%.

Investors should note that by acquiring brand names, Prestige Brands does not inherit high-cost production costs. PBH outsources all of their brands to low-cost plants.

Very recently, a couple of analysts have recognized the internal dynamics that speak to a turnaround from a substantial loss and under performance the past several quarters and have blessed the stock.

PBH has popped a bit lately, but my opinion is that this stock is ripe for accumulation around the $7.00 range.


Full Disclosure: The author initiated a position recently in PBH.