[click to enlarge charts]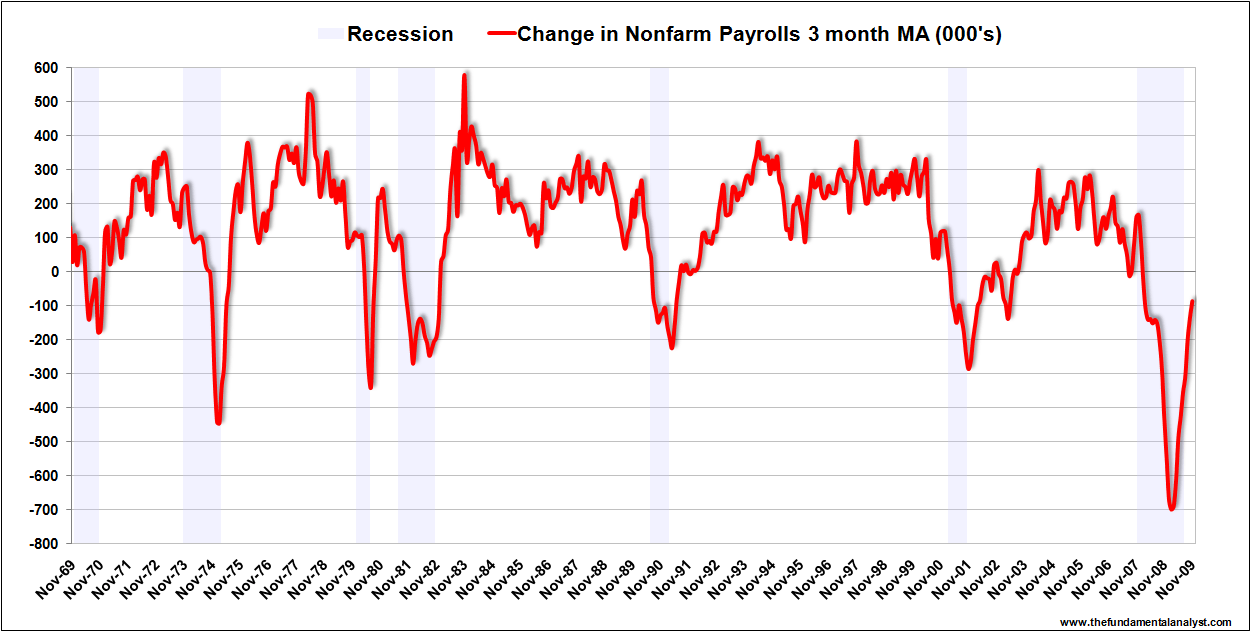 US non-farm payrolls fell a seasonally adjusted 11,000 in November whilst prior months had large positive revisions. September was revised from -219k to -139k whilst September was revised from -190k to -111k. The 3 month moving average of monthly job losses fell below 100k for the first time since February 2008. Details of the establishment survey were as follows:
Construction -27,000
Manufacturing -41,000
Service providing +58,000
Retail trade -15,000
Professional and business services +86,000
Education and health services +40,000
Leisure and hospitality -11,000
Government +7,000
One month does not make a trend but we have now seen sequential positive movements in the revisions and overall NFP losses have slowed to a drip in the most recent month.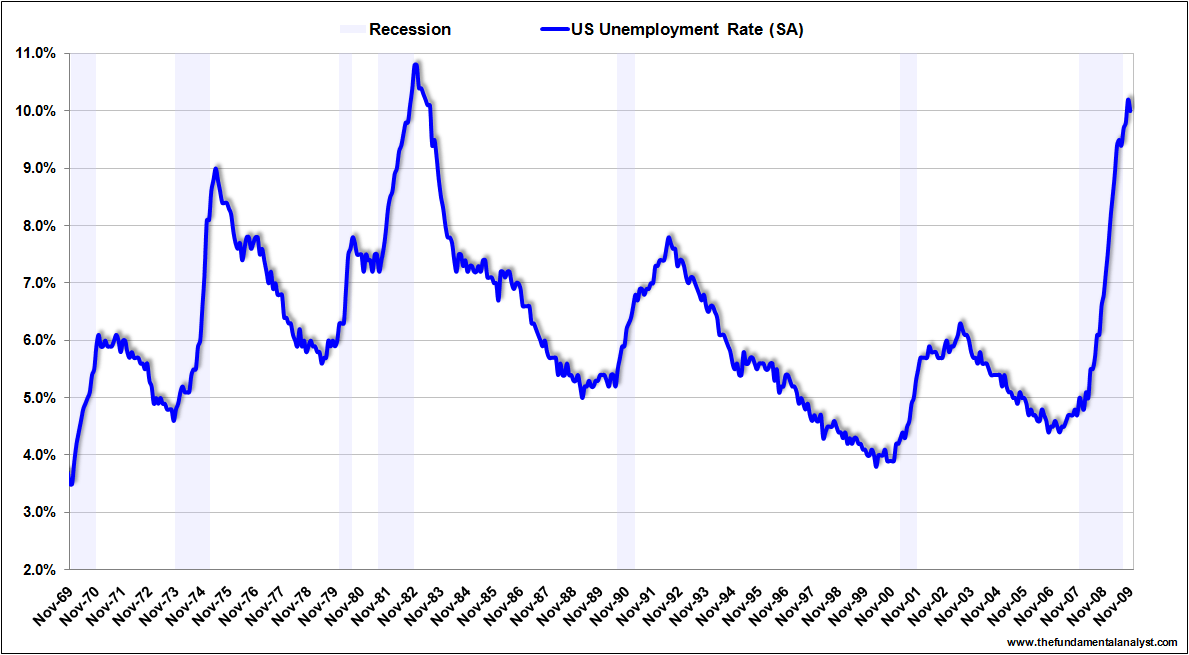 The unemployment rate fell to a seasonally adjusted 10.0% in November, down from 10.2% in October. U6, which includes so-called discouraged workers and those working part-time for economic reasons, fell to 17.2% down from 17.5% in the previous month. Remember that the unemployment rate is measured by the more volatile household survey which is different from the establishment survey used to calculate the non-farm payroll number.
The household survey estimated that a net 227k jobs were created in November and that another -98k workers left the labor force. Taken together that means a reduction in the number of unemployed of -325k in November which explains the 0.2% drop in the unemployment rate. The net addition of jobs in November is in sharp contrast to the -589k jobs estimated to have been lost in October. However as noted before, the Household survey is extremely volatile so again we would like to see a trend develop before getting excited over one months data.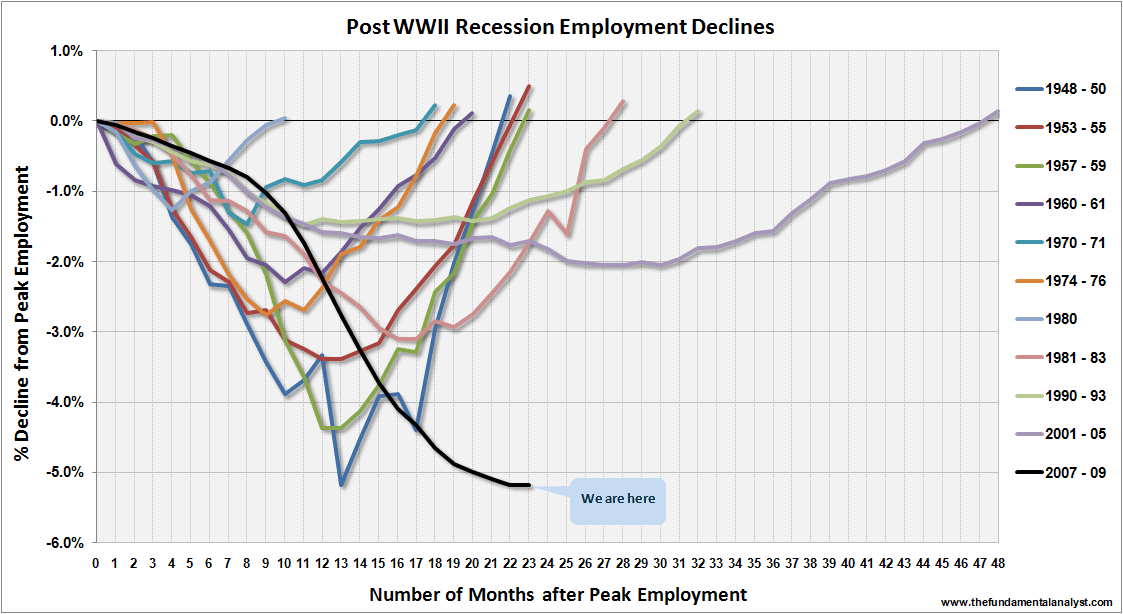 Since employment peaked in December 2007, 7.2 million US jobs have been lost amounting to 5.2% of the workforce and given the preliminary estimate of a further -824k for the annual revision to be announced in January, that number will be closer to 8 million. The chart above shows that the current employment cycle has seen the deepest plunge in jobs since WWII.
There is an argument that since payrolls were cut so aggressively in this cycle that the rebound could be sharp as well. However, if we are in for a jobless recovery of the type of the early 90's and 2000's, we are unlikely to recoup the jobs lost during this cycle for at least another 3 – 4 years at best. For the US economy to regain all the jobs lost in this cycle within the next 3 years we would have to see a net addition of over 200k jobs per month for the next 36 months in a row. The 3 year period from January 2004 to January 2007, the sweet spot for job growth during the last expansion, saw an average of 188k net job additions per month.
With some quick back-of-the-envelope calculations, if we assume 200k net jobs are added every month for the next 36 months in a row we would regain the prior peak in employment. However if we assume the same rate of job growth for the next 3 years in the household data and we further assume that about 150k new entrants come into the workforce each month, the unemployment rate would still be around 8.5%. Keep in mind that this is a rather rosy scenario that presumes a solid economic recovery with no double-dip recession or even a slowdown as we move into a era of higher tax rates and tighter credit conditions for just about everybody. Clearly, persistently high unemployment is here to stay for a number of years as we work our way out of our current problems.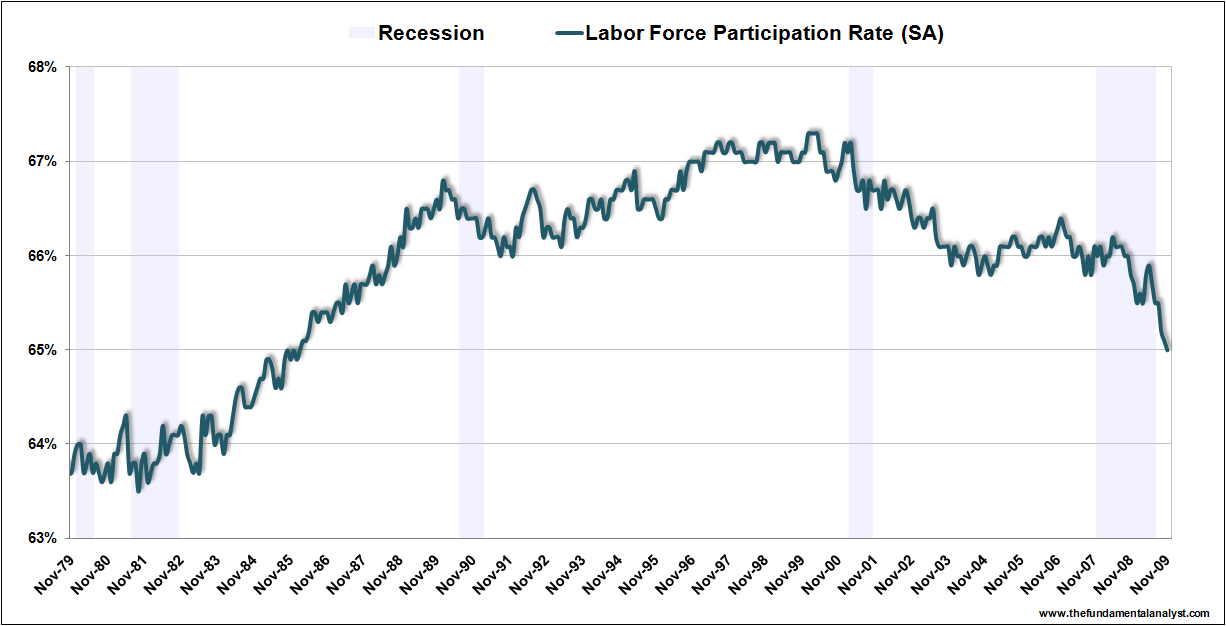 The labor force participation rate fell marginally to 65.0 in November. As noted above, this helps the unemployment rate, however, when sustained job growth is evidently encouraging more people back into the workforce, that trend in the participation rate will reverse which then becomes a drag on the unemployment rate.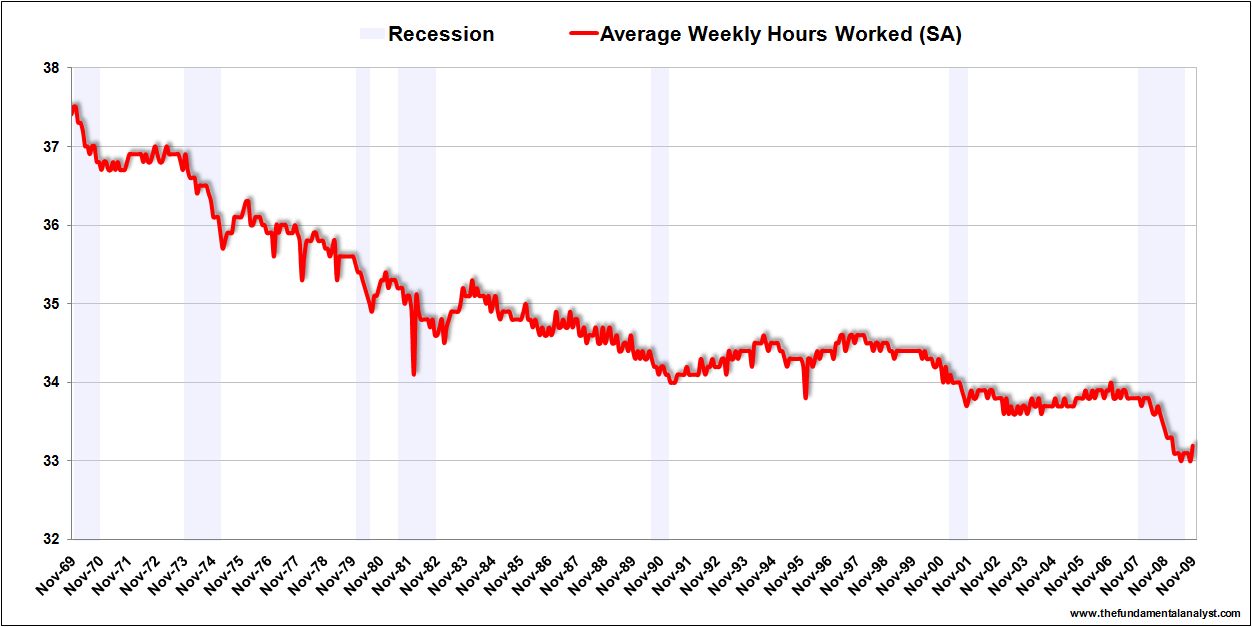 There was some positive news on Average Weekly Hours Worked which rose to 33.2 from an all time low of 33.0 in the prior month. An upturn in average weekly hours is a harbinger of an improving labor market, although again, it would be unwise to get excited about one month's worth of data.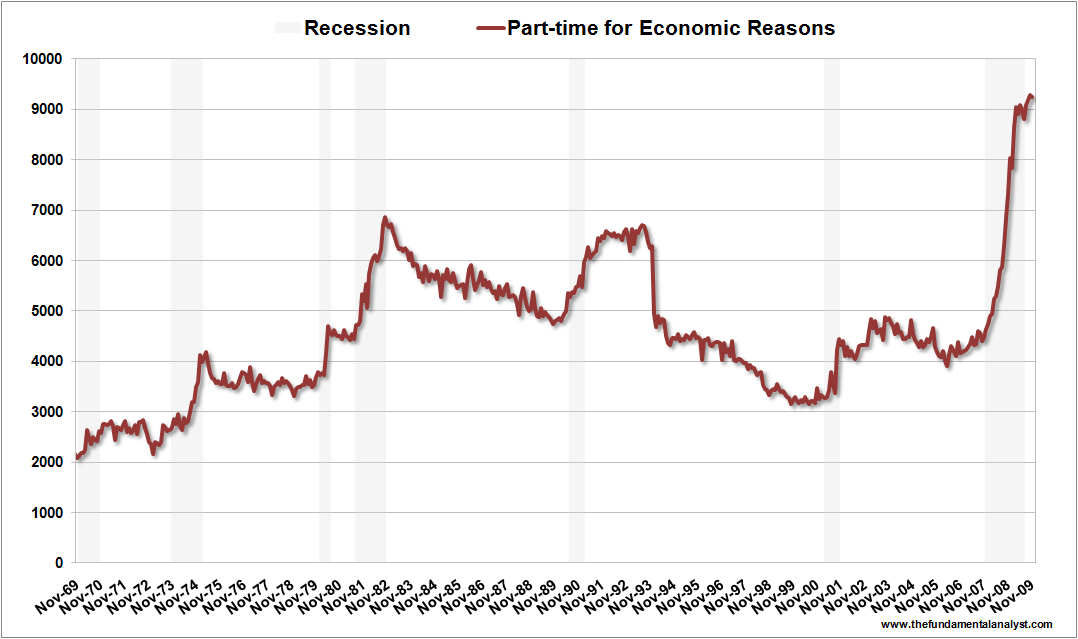 Another marginally positive sign was a slight decrease in the number of persons working part time for economic reasons or in other words, people who were working part time because their hours had been cut back or because they were unable to find a full-time job, falling from 9.3 million to 9.2 million in the latest month.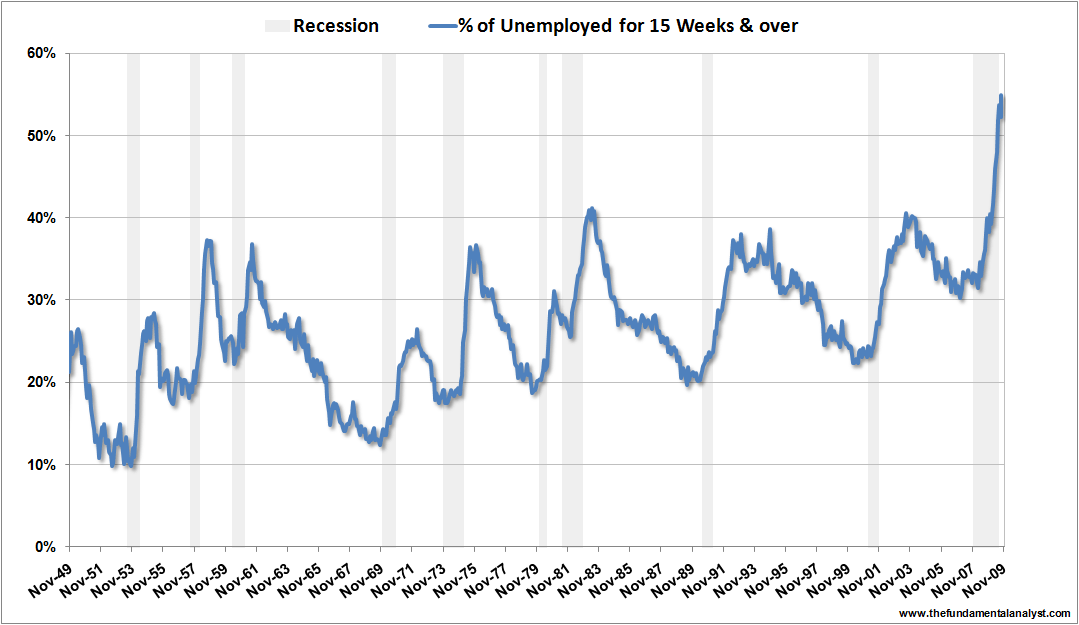 However the news for the long term unemployed continues to worsen with the percentage of the unemployed out of work for more than 15 weeks hitting a new record of 58.8% whilst the percentage of the unemployed out of work for more than 6 months hit a new record high of 38.3%.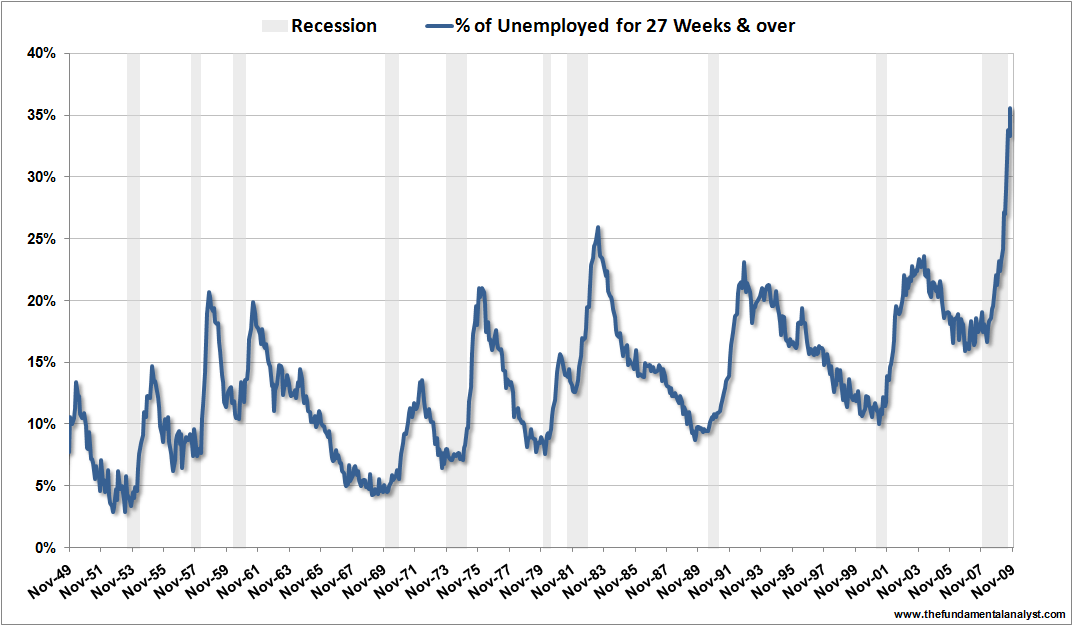 In contrast to last month, the US employment picture definitely looks better in November, but it is still a far cry from being described as a picture of health. Sequential monthly net job growth could arrive as early 1Q10 however the strength of those gains and the strength of the economic recovery remain unclear.