Robotics & Automation: The new ETF and Where to Invest
On August 6, 2013, a company called Exchange Traded Concepts filed an SEC registration for a new ETF. Robo-Stox Global Robotics And Automation Index ETF (NASDAQ:ROBO) is the first one dedicated to the growing area of robotics and automation. All major ETF news outlets - Reuters, Bloomberg, ETF DB, and Zacks, among others - have all diligently reported the news. On Tuesday, October 22nd, ROBO ETF has debuted on NASDAQ. Billed as a global tactical play on the robotics and automation industry, it tries to capture a relatively early trend. Is it worth a look and why should investors care?
Registration Details
If you've never heard of Exchange Traded Concepts or are struggling to name any ETFs they manage, you're probably not alone. Recent ETF league table by IndexUniverse.com shows that the top 3 issuers - BlackRock, State Street Advisors and Vanguard - combine for an 82% market share of all US ETF assets. Rounding out the top 10 brings this figure up to almost 96%. The rest are effectively niche players. Exchange Traded Concepts (ETC) is ranked 31st by assets, with $318M AUM. However, ETC, according to their own website, "is a platform to launch custom exchange traded funds quickly and inexpensively through a complete turn-key solution." In other words, a sub-advisor comes up with an idea for an ETF, and ETC makes it happen. Some of their recent ETF launches include YieldShares High Income ETF (NYSEARCA:YYY), The Forensic Accounting ETF (NYSEARCA:FLAG), AlphaClone Alternative Alpha ETF (NYSEARCA:ALFA), and Yorkville High Income MLP ETF (NYSEARCA:YMLP). In each case a small sub-advisor has hired ETC "to bring innovative investment ideas to market in a time-sensitive fashion."
It is no exception with the Robotics ETF. The sub-adviser who actually came up with the idea is Robo-Stox LLC. The site still has limited information on the company and the index, but one of the company's co-founders is Frank Tobe, an authority on robotics and an owner of The Robot Report, a collection of industry-related news and research. Later he also started the Everything Robotic blog. When asked last year to give his opinion on robotics stock-picking for aNewDomain blog, he revealed that he has been tracking Robo-Stox™ Global Stock Index since 2007. This index, with some adjustments I suspect, is now at the heart of the new ETF.
Under The Hood
ROBO's portfolio consists of 77 stocks. They're split 40/60 into "bellwether" stocks, securities which the Index Provider believes are indicative of the performance of Robotics and Automation Companies as a whole, and "non-bellwether" stocks, securities of companies that have a distinct segment of their business involved in robotics-related and/or automation-related products and/or services, that the Index Provider believes will drive higher revenues as such products and/or services expand.
The constituents are equally weighted within the two categories, with 18 bellwether stocks at 2.22% weight each, and the 59 non-bellwether companies at 1.02% each. The bellwethers are listed below.
| | | | | |
| --- | --- | --- | --- | --- |
| Company Name | Ticker | GICS Sector | Country | Market Cap USD |
| ABB LTD | ABBN VX Equity | Industrials | SWITZERLAND | 54,666,991,267 |
| FANUC CORP | 6954 JT Equity | Industrials | JAPAN | 33,118,569,492 |
| INTUITIVE SURGICAL INC | ISRG UW Equity | Health Care | UNITED STATES | 14,591,836,600 |
| KEYENCE CORP | 6861 JT Equity | Information Technology | JAPAN | 23,281,859,292 |
| ROCKWELL AUTOMATION | ROK UN Equity | Industrials | UNITED STATES | 14,862,576,538 |
| Omron Corp | 6645 JO Equity | Information Technology | JAPAN | 8,103,877,418 |
| OCEANEERING INTERNATIONAL | OII UN Equity | Energy | UNITED STATES | 8,694,710,920 |
| LINCOLN ELECTRIC HLDGS INC | LECO UW Equity | Industrials | UNITED STATES | 5,546,717,440 |
| 3D SYSTEMS CORP | DDD UN Equity | Information Technology | UNITED STATES | 5,567,321,480 |
| YASKAWA ELEC CORP | 6506 JT Equity | Information Technology | JAPAN | 3,572,270,838 |
| KRONES AG | KRN GY Equity | Industrials | GERMANY | 2,566,425,444 |
| HIWIN TECH CORP | 2049 TT Equity | Industrials | TAIWAN | 1,700,382,753 |
| COGNEX CORP | CGNX UW Equity | Information Technology | UNITED STATES | 2,732,481,540 |
| KUKA AG | KU2 GY Equity | Industrials | GERMANY | 1,464,900,477 |
| FARO TECHNOLOGIES INC | FARO UQ Equity | Information Technology | UNITED STATES | 702,454,480 |
| IROBOT CORP | IRBT UW Equity | Consumer Discretionary | UNITED STATES | 1,072,843,200 |
| MAKO SURGICAL CORP | MAKO UW Equity | Health Care | UNITED STATES | 1,386,355,960 |
| AEROVIRONMENT INC | AVAV UW Equity | Industrials | UNITED STATES | 509,980,929 |
The country and industry breakdown of the entire portfolio is shown below.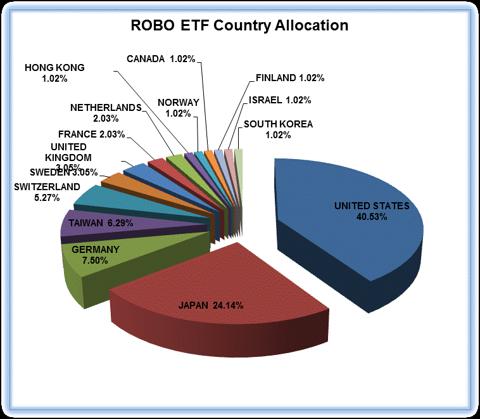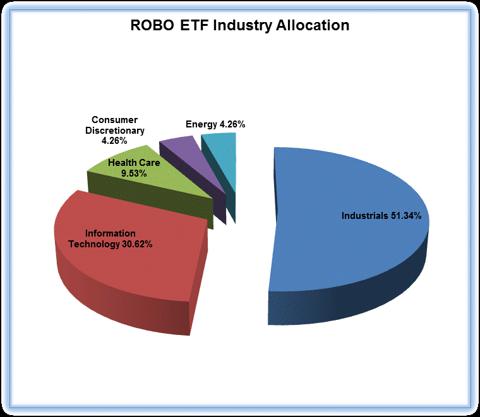 Portfolio Observations and Risks
On the first day of trading after 100,000 shares were priced at $25, giving it $2.5M AUM, ROBO traded 227K shares in the range of $24.91 to $25.33 and closed the day on the high. Obviously, liquidity will remain an issue until or unless the ETF gathers a critical mass. ROBO commands a management fee of 0.95%, a pretty hefty price tag for an all-equity fund, but understandable given its portfolio and quarterly rebalance. In addition to the usual set of risks associated with new ETFs, there is also non-diversification risk (most of the names in this basket can be expected to be highly correlated), geographic risk of underlying securities markets being closed during the time of trading, and foreign stocks and FX risk. In fact, the fund does not invest in ADRs, which are either not available or illiquid.
ROBO will hold liquid global companies with a market cap greater than $200 million and trailing average daily volume of at least $200,000. The ETF's prospectus states that the portfolio will likely contain only about 40% US stocks. Currently, as you can see on the pie chart, Japan has the second largest exposure with 24%, followed by Germany, Taiwan and Switzerland, with 7.5%, 6% and 5%, respectively.
As for the industry breakdown, it should be no surprise that some 82% of the portfolio falls within industrial and technology sectors, but the rest may give you a pause. According to the company's website, "At ROBO-STOX, our driving focus is to provide investors with access to the emerging robotics and automation sector, without regard to primary industry or geographic location." This means that the index provider leaves a lot of discretion as to what can be considered a "non-bellwether" company deriving revenue from robotics. Further, the prospectus stipulates, "The Fund will not invest less than 80% of its total assets in securities that comprise its underlying index." Wait a minute. This is the type of statement you read in a prospectus of a managed mutual fund, typically not in an ETF one.
So looking at the rest of the portfolio, one might find a collection of healthcare and defense stocks, as well as large conglomerates like German Siemens (SI) and French Dassault Systems (OTCPK:DASTY). One other revelation is that 3D printing fits the robotics definition of the fund managers, albeit not all 3D companies. The ETF features a collection of 3D printing stocks, including 3D Systems (NYSE:DDD), ExOne (NASDAQ:XONE) and Swedish Arcam (OTCPK:AMAVF). This is the first ETF investing in the latter two small-caps, and 3D scanning pioneer Faro Technology (NASDAQ:FARO) is also included, but the industry co-leader Stratasys (NASDAQ:SSYS) is notably absent.
Robotics & Automation Industry Overview
So that brings up an obvious question: what constitutes a robotics or automation company? Most people when hearing of robots still have an image in their head similar to this one. It's a somewhat romantic and fantastical notion of a mechanical creation thinking for itself and doing all kinds of cute things, fed off by a generation of books and movies on the subject. The reality is quite different. Many technological advances in Robotics & Automation in recent years provided a series of reliable applications and hold promise to revolutionize several industries, including healthcare and defense. And the science and technology of artificial intelligence has also made some leaps in recent years.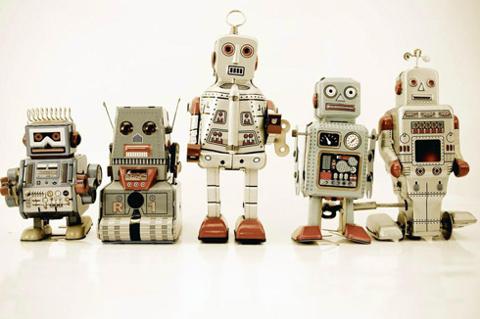 Early investments in new, promising technologies carry obvious risks, but also offer handsome rewards if successful, and robotics certainly carries a promise of a bright future. Unfortunately, due to its nature, there are very few "pure plays." Many advances in the field of robotics are made by large companies in the industrial, automotive and defense sectors, for example, because that's the next natural area of their product evolution, but their robotics-related revenue may not yet be significant. On the other hand, there are quite a few robotics-focused start-ups - just check out the Robot Report referenced above - but those are, of course, much harder to invest in.
However, for investors interested in a more concentrated robotics and automation investment, there are several overviews like this slightly dated one provided by Motley Fool, which has been covering the industry for a while. They, as most other analysts, try to categorize robotics opportunities by the sector of its applications. Industrials are led by Swiss ABB (NYSE:ABB), German Kuka, and Japanese Yasakawa Motoman and Fanuc. Medical sector leaders are Intuitive Surgical (NASDAQ:ISRG), Accuray (NASDAQ:ARAY), MAKO Surgical (NASDAQ:MAKO), which recently announced it will be acquired by Stryker (NYSE:SYK), and an Israeli company Mazor Robotics (NASDAQ:MZOR) which did not make the ETF. Finally, other service robotics companies include a popular vacuum cleaner maker and defense contractor iRobot (NASDAQ:IRBT), which incidentally is in the news today after missing quarterly revenue targets, and Israeli defense company Elbit Systems (NASDAQ:ESLT).
Having followed the industry for some time, I have come up with a small concentrated robotics focus portfolio of my own.
Motif Investing
Motif Investing is a relatively new online broker that allows investors to buy "motifs" - a group of up to 30 US listed equities of ETFs combined by a common theme, all for one low commission. Not only the company provides over 100 motifs, it lets investors modify them and recently allowed members to create their own motifs, complete with weighting methodologies and custom names, and share them on the site. I think of these motifs as a cheap way to create my own custom ETF.
Here's the motif I created earlier this year called I, Robot that focuses on the industry. Unfortunately, Motif Investing is currently limited to US stocks and ADRs only, but hopefully, it gives investors some more food for thought.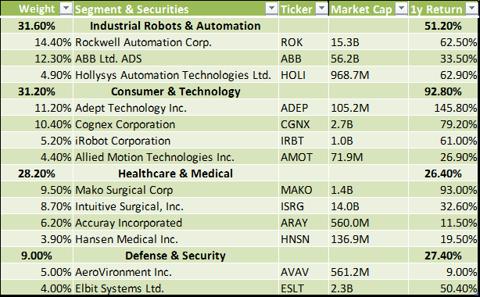 Conclusion
The future does look bright for robotics. ROBO is an interesting way to invest into it, but investors will be well served, as in most cases, to carefully look under the hood and know what they're buying. For the picky investors, there are plenty of individual companies to choose from.
Disclosure: I am long IRBT, DDD, XONE, OTCPK:AMAVF. I wrote this article myself, and it expresses my own opinions. I am not receiving compensation for it (other than from Seeking Alpha). I have no business relationship with any company whose stock is mentioned in this article.