Introduction
One difference between a novice investor and an experienced investor is the ability of the latter to recognize "good" earnings from "bad" earnings. The importance of whether a company beats earnings estimated by analysts is typically overvalued by the novice investor. Instead, it is how the company earned its money that is the important aspect to assess in an earnings analysis.
As Microsoft (NASDAQ:MSFT) will report earnings later today, I want to highlight an area that I suggest investors pay extra attention to; "Consumer Office" revenue growth.
This is an important area for two reasons. First of all, Microsoft Office is in a process of converting to a subscription-driving model from a license-based model. The transition-phase will have a "short-term" negative effect on Microsoft's revenue as the annual payment that subscribers pay is less than the one-time fee license - consumers pay. But over a couple of years, the new business model should improve monetization.
Secondly, it is also important to analyze whether Office can maintain its popularity amongst consumers. The high market share of Android on tablets/smartphones have reduced the entrance barriers for software programs on PC's, which eventually could result in lower Office market share.
If the market share declines, the trend could also move up-market, which means that Office for commercial usage could take a hit as well. Therefore I believe it is extremely important for investors to study Microsoft's Q1 earnings very closely as it can provide evidence to whether Office is moving in the correct direction or whether it isn't.
New segment structure
Before I discuss Q1 earnings, I want to give a brief overview of the new segment structure which Microsoft will use from now on.
The new structure consist of 5 segments;
Devices & Consumer Licensing
Devices & Consumer Hardware (Xbox, Surface)
Devices & Consumer Other (Xbox Live, WP Marketplace)
Commercial Licensing (Office Business, SQL)
Commercial Other (Azure, CRM)
Revenue and earnings related to "Consumer Office" will be reported in the D&C Licensing segment. In the below graph you can see how revenue for the business's in the segment have developed over time.
Source: WP revenue is calculated based on an assumption of a $15 royalty per WP. Windows revenue are from SEC 10Q filings. D&C Office revenue is mostly based on 10Q filings, but it also contains approximate estimates. Other is the residual.
Estimating Office revenue for Q1
So let's imagine that you a couple of hours from now on reads Microsoft's earnings for Q1 and you notice that revenue of the D&C Licensing segment declined by X%. Naturally, you start to question whether that is good or bad for Office as the decline could be caused by Windows.
In order to estimate growth related to Office, it is therefore necessary to sort out Windows revenue from the segment. Doing that is actually quite easy as Windows revenue is expected to lag the x86 market by 5%. Since the PC-market declined by 8% in the most recent quarter, I expect y/y growth of -13%. Thus, as long as revenue declines by less than 19% y/y, Office revenue has increased.
Sorting out license vs. subscriber-revenue
But the growth rate of "Consumer Office" revenue isn't actually that relevant in itself. If the growth rate mainly is caused by increased license sales instead of revenue related to Office 365, it implies that the transition-phase is dragging on.
If you are a long-term Microsoft investor, you accept that Microsoft will trade short-term losses for long-term gains. However, you still prefer that the duration of the period where Microsoft "losses" money is as short as possible. Thus, you want Office 365 to grow as fast as possible at the expense of lower License sales.
Since we know that Microsoft had roughly 2M 365 subscribers by the end of September, we can actually come up with a forecast for License and Subscription-revenue. To do that, we just need to make a couple of assumptions;
Office 365 Home Premium will on average be used by 2.5 users
The amount of Office Consumers will decline by 11% in 2014
Consumers use Office for an average of 6 years before they purchase a new version.
365 subscribers will increase from 2M to 5M over the next year
Given those assumptions, we should expect license revenue on a quarterly basis of $666M and subscription revenue of $87.5M on a quarterly basis. Thus, with these assumptions, we can conclude that the transition phase will last for many years before it will pay off.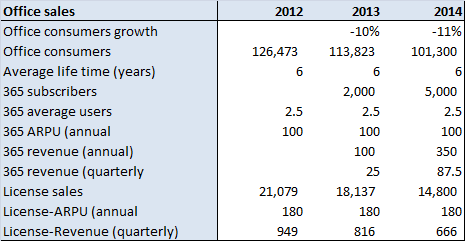 In terms of total Office revenue, my model implies (666+87.5) $754M. If Office revenue comes in lower than that, Microsoft's market share is declining at an even steeper rate than the 11% I have assumed.
Such a scenario won't just be bad for long-term earnings of "Office Consumer", but it could also impact "Office Commercial" as companies also will be more interested in applying alternative software if its employee's aren't using Office in their private lives.
So while earnings generated by "Office Consumer" will have a relatively small impact on Microsoft's EPS for the current quarter, it is likely to be of significant important for its long-term EPS.
Disclosure: I have no positions in any stocks mentioned, and no plans to initiate any positions within the next 72 hours. I wrote this article myself, and it expresses my own opinions. I am not receiving compensation for it (other than from Seeking Alpha). I have no business relationship with any company whose stock is mentioned in this article.