Late last week, gold experienced its largest pullback since June, dropping $70 in two days. Gold was extremely overbought, having risen $250/ounce in a near-vertical fashion since the start of September, so this correction was overdue and inevitable. For those wishing to accumulate gold, this pullback may provide an opportunity to do so. The first logical place to add to gold positions would be around the $1,100 level, which would be in the vicinity of gold's 50-day moving average (Exhibit 6, ).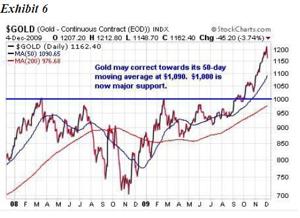 Gold may well have put in a short-term top, but we don't think there is any danger of the gold price being close to a major peak. Gold is in an obvious secular bull market, driven by a lack of confidence in paper currencies and rising inflation expectations.
Gold recently broke out to new bull market highs in terms of the Euro and the Yen, in addition to the dollar. Investor sentiment is obviously a lot more bullish on gold than it was (sentiment follows price), but most members of the investing public still don't own any gold.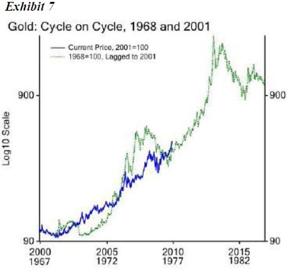 If history is any guide, gold's bull market won't end until some time after it has been fully embraced by the public. Since the beginning of the bull market in gold in 2001, price action has closely followed the 1968-1980 cycle, which was the last secular bull market in gold. (Exhibit 7, click to enlarge). Using that analogue, gold has a long way to run before reaching its ultimate peak.