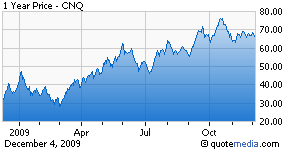 Analyzing third quarter results released today, we reaffirm estimated Net Present Value (NPV) of US$80 a share for buy-recommended Canadian Natural Resources (NYSE:CNQ). On that basis, unlevered appreciation potential is 18% to a McDep Ratio of 1.0 where stock price would equal NPV. Unlevered cash flow (Ebitda) and oil volume stalled in the latest quarter as the new Horizon oil sands project encountered mining problems.
Volume buildup ought to resume in future quarters. The greater concentration of NPV remains in traditional oil production with emphasis on heavy oil and in situ oil sands. Horizon apparently encountered a surprisingly high proportion of clay mixed in with oil in the mining process. Though management long insisted that Horizon would not have problems like oil sands pioneers Suncor (NYSE:SU) and Syncrude have encountered, we see once again that complex energy projects are difficult to execute. While it is no surprise that some problem has developed, we believe the complications will be overcome.
In the end, the challenges of increasingly intricate projects to develop new energy supply contribute upward pressure on price. Oil futures prices for the next six years are in an uptrend signaled by current quotes above the 40-week average.
Originally published on November 5, 2009.