There are many thousands of community banks from which an analyst can create a statistical sample. The quantity of small banks allows an analyst to become familiar with the typical valuation relationships that banks display.
Southern Missouri Bancorp (NASDAQ:SMBC) appears to be selling out of line with its peers -- particularly considering its credit quality, its efficiency, and its historical ability to grow assets and deposits. The bank has a strong position and has demonstrated improvement over the last few years. As for an earnings yield, an investor would be wise to expect a 10% to 11% earnings yield and a 2.25% dividend. But, considering the quality of the bank, it seems likely that the bank will sell at more expensive multiples in the future. By our estimates, it will likely sell 20% to 40% higher over the next few years as it "reverts to the mean."
The value of Southern Missouri Bancorp is primarily driven by the high probability of the expected return and -- in the author's opinion -- the high probability that it will be revalued upward in due course. Fortunately, should such a revaluation take a long time, the ROE ensures that the bank will increase its tangible value at a decent rate and the dividend ensures that some cash will flow back to shareholders. With the small capitalization portion of the stock market at all-time highs, real value is becoming more difficult to find. Southern Missouri Bancorp, however, offers highly probable value to those with the right time horizon. The bank is, however, thinly traded and interested parties will need to use limit orders and have patience if acquiring shares. Let us take a look at the bank.
Operating History
Before we get to earnings and assets, take a look at the dividend history of the company: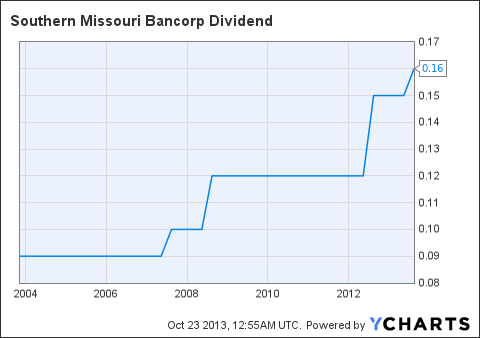 There was no cut back of the dividend during the laboratory test of the financial crisis -- in fact, it was increased. Take a look at the growth of deposits of the bank: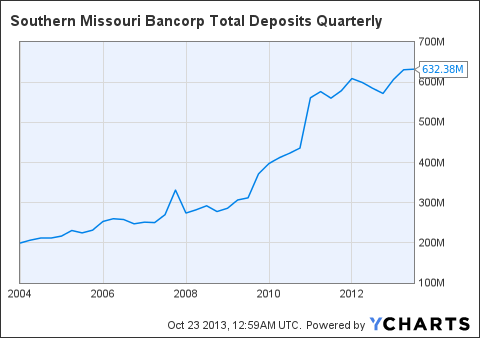 Deposits are, of course, the principle source of funding for a bank -- the more deposits, the better. The growth in deposits is mostly organic and partially through acquisition. The deposit growth leads to an increase in total assets:
It is in relation to the total assets and total deposits that we should judge the level of profits. Take a look at the net income of the bank: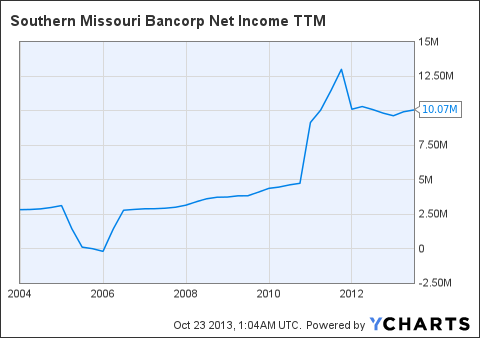 The earnings above imply a return on average assets of 1.28% which is well above the company's peer group [1] median of 0.76%. Further, the bank is (1) much more efficient than its peers, (2) has loans of higher credit quality, and (3) it has higher capital ratios. It is "well-capitalized" -- but it is not overcapitalized such as Westfield Financial (NASDAQ:WFD) (see my article on Westfield's telling tale of buy-back decapitalization). The bank has also posted decent ROEs: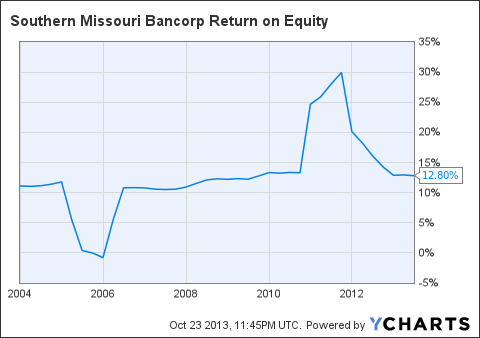 For my part, I normally look for slightly higher ROEs, but the bank's efficiency and credit quality are enough to overcome this shortfall. The ROE on tangible equity, I should note, is likely higher than the figure in the chart. How much higher depends on how one calculates tangible book, something we will do in a moment.
Earnings and Provision
Banks must estimate a provision for losses on loans in every quarter. This provision is then carried to their reserve and any actual losses on specific loans are charged off against this reserve. The provision can be found on the income statement, and the historical charges offs can typically be found in the footnotes to the financial statements.
In the case of Southern Missouri Bancorp, page 16 of the 10-K publishes the annual provision compared with the (net) charge off: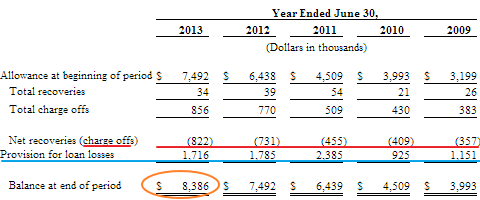 Notice that the provision since 2009 has been double the net charge off in every year. That is an example of conservatism. Notice also the current reserve for future losses (orange circle). This reserve is more than adequate compared to recent history. For instance, if we take a look at the credit quality of their loan portfolio we see that this allowance for loan losses covers…
Substandard loans by over 200%
Total loans past due by 736%
Nonaccrual loans by 583%
These are very solid numbers and give the shareholder a strong buffer against future losses. As a thought experiment, note that if fiscal 2013 earnings had a provision which only matched its charge offs, earnings accruing to common stockholders would be increased by around 5%.
Reserves and Balance Sheet
What is Southern Missouri Bancorp's tangible book? Here is the basic math:
Stockholder's equity: $101.83 million

Less preferreds: $20 million

Less Intangibles: $1.04 million

Less estimated prepaid expenses: $10 million [2]

Manager's tangible equity: $70.79 million [3]
According to the loss estimates of management, the company has about $70.79 million in tangible equity against a market capitalization of $93.9 million. The price-to-tangible-book is then 1.32.
We can perhaps adjust for "over conservative" reserves. For instance, we could have a "gross" tangible book -- that is the tangible book estimate above plus the allowance for loan losses -- of $79.17 million. From this figure we can estimate our own losses on the loan portfolio. E.g., if future charge offs in the present portfolio only amount to the level of nonaccrual loans ($1.4 million) then the tangible book of Southern Missouri Bancorp would more accurately be around $77.7 million. In such a scenario the bank would have a price-to-tangible-book of 1.2.
In any case, the company is selling above its tangible book -- by how much will be determined by future losses. Currently, I would bet the price is more than 20% above the tangible book amount but not much more than 30% above it. For a good bank, this represents only a modest premium above "par."
Recent Acquisitions
Southern Missouri Bancorp announced (pdf) a small acquisition in early October which increased their branch locations from 18 to 22. They are acquiring $82 million in assets (a 10.3% increase), $38 million in loans (a 5.8% increase) and $70 million in deposits (an 11% increase). Given Southern Missouri Bancorp's relatively high loans-to-deposits ratio, this acquisition increases their liquidity and their position in Missouri. If Southern Missouri is able to achieve an earnings return of 1.2% on their acquired assets (i.e., ROA), then they may be able to increase their earnings by nearly $1 million.
Valuation
With an ROE around 12%, the bank is justified in selling above its book value. The banks ROE is above the average of the banking industry generally which currently stands at about 10%. As judged by its assets, we have some downside protection with its tangible book value between $70 and $77 million. But the bank will more likely be valued according to its earning ability. If one takes a look at page 53 of the fiscal 2013 10-K, the bank lays out a suggested adjustment to calculate its core earnings. Since this lowers its historical earnings a bit, we will use this estimate. After the adjustment, income available for common stockholders is about $8.8 million (verse the recorded GAAP net income of $9.7 million). Given the bank's large provisions for loan losses compared with its charge offs, it is possible that we could add back some of the provision. This could put a "core" earnings figure around $9.3 million. Given the most recent increase in assets due to the acquisition, earning power could conceivably increase by up to $1 million. This would put our earning power somewhere between $8.8 million and $10.3 million. Further, while the bank expects to grow deposits at a slower pace going forward, the bank has a record of increasing its deposits and therefore increasing its earning power. At a relatively modest PE of 13, the value of Southern Missouri Bancorp would to fall between $114.4 million (21% above the current market price) and $133 million (42% above the current market price). Given the pricing of many community banks with similar portfolios, a PE of 13 is very achievable and the bank would almost certainly go for a higher multiple if it were acquired in a private transaction.
On nearly every measure Southern Missouri Bancorp is better than the average but it is selling at valuations below the average of its peers and non-peers. While the bank is only outstanding on a few measures, namely efficiency and credit quality, it has very solid figures all around. But the broader reason Southern Missouri is interesting is due to the fact that there are very numerous examples of banks which are worse than Southern Missouri Bancorp on nearly all accounts yet they sell at far more generous multiples.
Conclusion
Southern Missouri Bancorp is a good bank selling at an attractive level compared with its track record and current earnings. Given the conservative historical reserves, it is unlikely that the bank will need to substantially increase its provision in the near term. That is, GAAP earnings should be protected from surprises in the loan portfolio.
Further, while the bank is selling out of line with peers of similar quality, the recent price momentum in the security seems to suggest that we are in middle of a correction to a higher value. As noted, one can easily see this bank selling for 20% to 40% more over time. These returns are not spectacular but they seem highly probable.
Notes:
As per their website: "Southern Missouri Bancorp, Inc.'s peer group consists of the following: Community Central Bank Corporation (OTC:CCBD), First Bancshares, Inc. (NASDAQ:FBSI), Guaranty Federal Bancshares, Inc. (NASDAQ:GFED), Landmark Bancorp, Inc. (NASDAQ:LARK), Mackinac Financial Corporation (NASDAQ:MFNC), SB Financial Group, Inc. (NASDAQ:SBFG), United Bancorp, Inc. (NASDAQ:UBCP)"
There is a balance sheet line item called "prepaid expenses and other assets" with a figure of $13.4 million. Some of this is probably tangible, such as some foreclosed real estate valued at around $3 million. Prepaid expenses are excluded from "tangible" book because they do not represent assets which can be turned into cash.
Called "manager's tangible equity" because this assumes the allowance for loan losses -- determined by management -- is a perfect estimate of losses in the loan portfolio.
Disclaimer: The opinions expressed in this article are those of the author as of the date the article was published. These opinions have not been updated or supplemented and may not reflect the author's views today. The information provided in the article does not provide information reasonably sufficient upon which to base an investment decision and should not be considered a recommendation to purchase or sell any particular stock or other investment.
Disclosure: I have no positions in any stocks mentioned, and no plans to initiate any positions within the next 72 hours. I wrote this article myself, and it expresses my own opinions. I am not receiving compensation for it (other than from Seeking Alpha). I have no business relationship with any company whose stock is mentioned in this article.