Recent release of defined maturity (or target date or fixed maturity) bond ETFs from Guggenheim BulletShares or iShares have generated quite some interests among fixed income investors. These ETFs hold a collection of bonds that have the same (or similar) maturity dates. Presumably, if one buys into these ETFs and hold till maturity, she/he will not be subject to interim bond price fluctuation and can just collect coupons or interests and get principals (not necessarily all of them but most of them) back when the ETF matures.
These ETFs thus can be used to build a bond ladder for short term (CASH) investment purpose. The main advantages for these ETFs include diversification (as they usually hold over 20 or more bonds and low investment minimum (an individual bond may require $50k or $100k minimum). For more information, see Manage Cash Investments Smartly).
The following table shows some of the defined maturity ETFs and their trailing 12 month yields:
BulletShares High Yield Bond ETFs:
| | | |
| --- | --- | --- |
| Symbol | Name | Yield |
| BSJD | BulletShares 2013 High Yield Corporate Bond ETF | 3.21% |
| BSJE | BulletShares 2014 High Yield Corporate Bond ETF | 3.99% |
| BSJF | BulletShares 2015 High Yield Corporate Bond ETF | 4.68% |
| BSJG | BulletShares 2016 High Yield Corporate Bond ETF | 4.23% |
| BSJH | BulletShares 2017 High Yield Corporate Bond ETF | 4.29% |
| BSJI | BulletShares 2018 High Yield Corporate Bond ETF | 4.96% |
| BSJJ | BulletShares 2019 High Yield Corporate Bond ETF | n/a |
| BSJK | BulletShares 2020 High Yield Corporate Bond ETF | n/a |
BulletShares Investment Grade Corp Bond ETFs:
| | | |
| --- | --- | --- |
| Symbol | Name | Yield |
| BSCD | BulletShares 2013 Corporate Bond ETF | 0.88% |
| BSCE | BulletShares 2014 Corporate Bond ETF | 1.25% |
| BSCF | BulletShares 2015 Corporate Bond ETF | 1.62% |
| BSCG | BulletShares 2016 Corporate Bond ETF | 1.87% |
| BSCH | BulletShares 2017 Corporate Bond ETF | 2.11% |
| BSCI | BulletShares 2018 Corporate Bond ETF | 1.71% |
| BSCJ | BulletShares 2019 Corporate Bond ETF | 2.11% |
| BSCK | BulletShares 2020 Corporate Bond ETF | 2.85% |
| BSCL | BulletShares 2021 Corporate Bond ETF | 0.64% |
| BSCM | BulletShares 2022 Corporate Bond ETF | 0.67% |
So how much one can really make from these ETFs? The answer certainly depends on the maturity of the ETFs (in general, the longer, the higher interest payout at the expense of more interest rate risk) and the market cycles, as well as the types of bonds (high yield bonds vs. corporate investment grade bonds).
In the following, we take a closer look at the history of Guggenheim BulletShares High Yield Bond 2012 ETF (NYSE:BSJC). Our study is based on the information provided on Guggenheim's website. This ETF started on 1/25/2011 and matured on 12/28/2012, making it an ideal candidate to study its full payout history.
The following chart shows the BSJC's dividend history: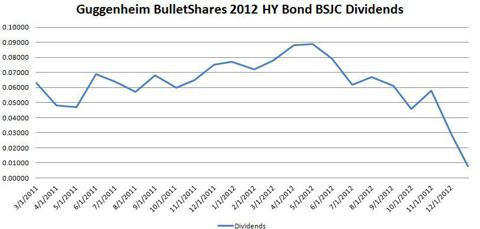 Notice in the last 2 months of 2011, the yields have dropped considerably. This is because of the reason stated by Guggenheim:
In the final six months of operation, as the bonds held by the Fund matured, the Fund's portfolio transitioned to cash and cash equivalents, including without limitation U.S.Treasury Bills and investment grade commercial paper, which may result in a lower yield than the yields of the bonds previously held by the Fund and/or prevailing yields for bonds in the market.
The total yields of BSJC:
| | | |
| --- | --- | --- |
| | Total Distributions | Since Inception Yields |
| Dividend and Distribution | 1.6307 | 6.46% |
| Dividend Only | 1.571 | 6.22% |
BSJC opening price on 1/25/2011 is 25.25 and the closing price on 12/28/2012 is 25.41. Taking the short term and long term capital gains together, an investor would have made about 6.46% throughout the history of the fund, assuming she/he bought the fund on 1/25/2011.
That would translate into about 3.2% annually. which is close to the yield an investor would have observed in the middle of 2012 (on 4/10/2012, the trailing 12 month yield would be about 3.3%). These compared with iShares total bond market index AGG's (or Vanguard's BND) 3.3% and 7.7% in 2012 and 2011 respectively. The returns are satisfactory. Another comparison with general iShares high yield bond ETF HYG's (or JNK) 2012's 11.1% and 2011's 6.8% total returns.
However, we should point out that BulletShares ETFs have two drawbacks:
Somewhat high expense: 0.42%. Low daily volume: average is about 4000 to 5000.
We understand that operating an ETF with low asset amounts might incur higher cost, thus demanding higher expense. However, we believe that to make these ETFs popular, the expense ratios could be further cut to entice more investors.
We also caution that the above analysis is on the time span from 2011 to 2012, a period with relative calm high yield bond markets and low bankruptcy rates. It is yet another test for these ETFs in a market crisis such as 2008.
The take away is that the BulletShares 2012 High Yield ETF did what it what supposed to do, delivering about 3.2% returns annually to its investors. With about 3 years history, these defined maturity ETFs can be very useful for short term investment purpose, especially in the current low rate environment.
Disclosure: I have no positions in any stocks mentioned, and no plans to initiate any positions within the next 72 hours. I wrote this article myself, and it expresses my own opinions. I am not receiving compensation for it (other than from Seeking Alpha). I have no business relationship with any company whose stock is mentioned in this article.