Last year it was conjectured the closed end fund ("CEF") market segment would have a "good year" in '09. It wasn't a heroic pronouncement. (See: "Closed End Funds' Dismal 2008 Performance: Better Outlook for 2009" (1/1/09))
While there were a number of good reasons to reach that conclusion, the most important one was the simplest: Since 1980 the CEF market segment had not experienced three consecutive years of negative returns. It would have been a rare phenomenon to have a third consecutive year of negative returns—albeit, not impossible.
More Lucky than Good: The actual results were far better than one would have anticipated. CEFs on average have registered an average share price increase of approximately 40% YTD for '09. That investment return does not include an average annualized distribution yield of almost 12% going into '09.
A Contrarian's Victory Lap: Of the 13 fund types, the most risky were the best price performers YTD in '09. LoanPartFnds (65.7%), WrldEqFnds (53.4%), HiYldBndFnds (45.7%) and SpecEqFnds (45.5%) all rebounded from what is now being characterized as the "Great Recession". In fact, with the exception of HiYldBndFnds, all fund types that were lead gainers in '09 were the biggest laggards the previous year. (Click here for CEF fund type YTD performance.)
Traditional CEFs Year-End Plays: While the 2010 CEF outlook will be discussed in a subsequent article, there are two somewhat reliable strategies to play CEFs at year-end. The first is to buy the CEFs that have experienced the greatest price decline the previous year ("CEFDogs"). The second is to buy CEFs that have the largest price discount to NAV. For the purpose of brevity, I'll deal with the first strategy here and the second strategy in a separate missive.
Buying CEFDogs: The CEF universe was screened at the end of last year for the worst performing CEF in 2008 with more than a $100 million in assets. On average, last year's CEFDogs ('08) were up double (85.5%) the CEFs' average price appreciation year-to-date for 2009. (See table below.)

Could Investors' be Lucky Twice? Based on the same criteria, the following five CEFs in the table below have demonstrated the worst price performance YTD for '09.
Observations on 2009 "CEFDogs": Real estate was last year's theme for the CEFDogs ('08). This year it appears that private-equity has more than one contender (EQS and MVC). SWZ has been a very poor performer relative to its peer group and European ETFs. ETJ "covered call" and option strategy has multiple moving parts and is hard to analyze. MGF distributions have been approximately a third (33.3%) return of capital. No free lunch.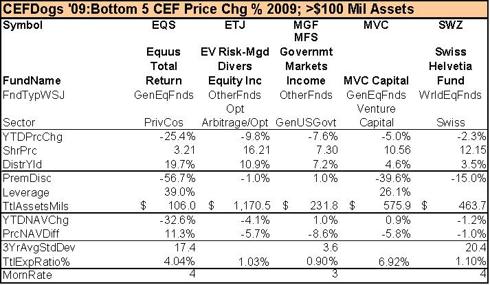 Caveats: There can be no guarantees that this year's crop of poorly performing CEFs will rebound in 2010 as CEF Dogs of '08 did in '09. Numbers are impartial; they will testify for either side. Nonetheless, it is still interesting to have the list to ponder.
The CEFDogs '09 List should be considered a speculative and high-risk investment (trading) strategy that could result in a complete loss of income and principal. Consult your financial advisor, if you have any confidence in him/her, prior to making an investment of this nature.
Disclosure: Author holds a long position in SWZ