Despite an abundance of action on Monday, most major benchmarks finished the day little changed. In a reversal of recent trends on Wall Street, a series of seemingly-positive announcements failed to spark any sort of rally. News of a much smaller-than-anticipated bailout loss started the day, and reports of reduced consumer debt and more upbeat earnings projections from FedEx also came out. Elsewhere, Bernanke gave a strong indication that rates will remain low for the foreseeable future, while the Conference Board announced that the trend of employment strengthened for the fourth consecutive month.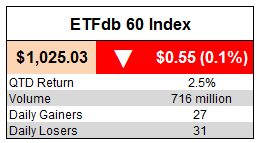 Like most major markets, the ETFdb 60 Index finished Monday almost where it began the day, losing 0.55 points to slide to 1,025.03. But within the benchmark, there was a flurry of activity, with several ETFs posting big moves, both up and down, in the week's first session.
The day's biggest gainer was the United States Natural Gas Fund (NYSEARCA:UNG), which added 6.7% as forecasts for cold weather in the eastern U.S. sent prices surging higher. January futures rallied almost 9% before finally hitting resistance at the $5.00 level. UNG fell more than 12% last week as weak fundamentals continued to weigh on gas prices and contango in the futures market continued to eat away at returns to the futures-based strategy (see our feature What's Wrong With UNG? for a more thorough explanation).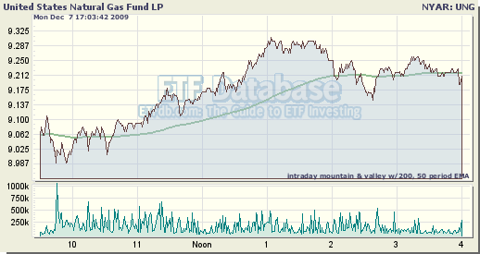 The day's decliners included the Market Vectors Gold Miners ETF (NYSEARCA:GDX), which slid 1.8% for the session. After approaching its all-time highs in recent weeks, GDX has retreated somewhat in recent days as gold prices have retreated slightly from their highs. The SPDR Gold Trust (NYSEARCA:GLD) finished the day down 0.6%, its fourth consecutive losing session.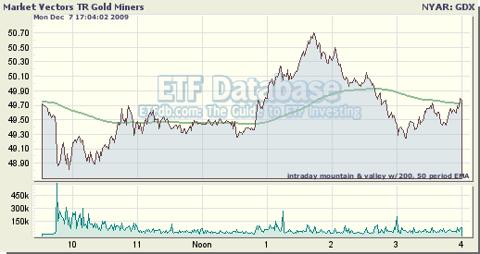 Disclosure: No positions at time of writing.