On Wednesday, October 23rd, Ensco plc (NYSE:ESV) reported results of what I believe to be a fairly solid third quarter. The company's Q3 EPS of $1.69/share beat Street estimates by $0.06/share, and its revenue of $1.27 billion missed Wall Street's estimates by a mere $0.01 billion. In the wake of the company's solid third quarter, I wanted to examine several reasons behind my decision to consider a long-term position in this higher-yielding oil and gas drilling play.
Recapping Ensco's Third Quarter
Ensco plc recently reported that diluted EPS increased 9% to $1.62 in the third quarter from $1.48 in the same period a year ago. Discontinued operations primarily related to rigs and other assets no longer on Ensco's balance sheet reduced earnings last year by $0.07 per share. Diluted EPS from continuing operations were $1.62 in Q3 2013 versus $1.55 in Q3 2012.
There were a number of items that positively impacted third quarter results, as well as number of items that negatively affected results. On one hand, a favorable settlement with the Mexican tax authority to the tune of $31 million or $0.10/share, helped boost Ensco's Q3 results. On the other hand, ENSCO 5002 and ENSCO 5004 contracted to OGX in Brazil negatively influenced results: $27 million or $0.12/share of contract backlog was not recognized as revenues and an $11 million or $0.05/share, provision for doubtful accounts was included as a contract drilling expense.
Recent Performance And Trend Status
At the close of Wednesday's trading session shares of ESV, which currently possess a market cap of $12.76 billion, a P/E ratio of 10.07, a forward P/E ratio of 7.55 and a dividend yield of 3.62% ($2.00) ended the day at a price of $55.30/share.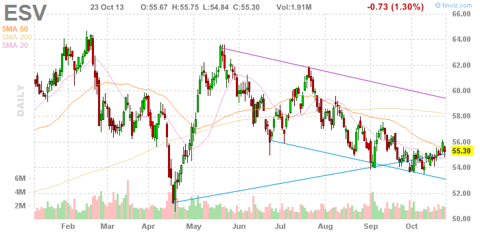 Based on their current price of $55.30/share, shares of ESV are trading 0.89% above their 20-day simple moving average, 0.49% below their 50-day simple moving average, and 5.10% below their 200-day simple moving average. These numbers indicate a short-term uptrend and a mid-to-long-term downtrend for the stock which generally translates into a moderate buying mode for near-term traders and a steady selling mode for most long-term investors.
24-Month Dividend Behavior
Since September 8, 2011, the company has increased its dividend distribution twice over the last 24 months. The company's forward yield of 3.62% ($2.00) coupled with its ability to continuously increase its distribution on an annual basis make this particular oil and gas drilling stock a highly considerable option, especially for those who may be in the market for a sustainable stream of quarterly income.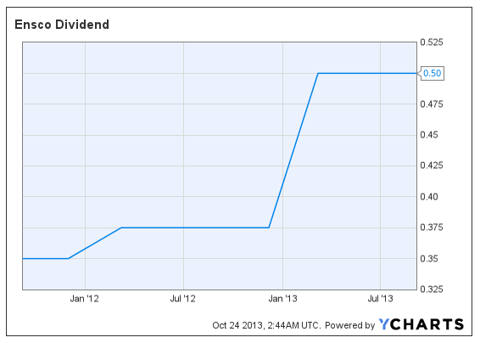 A Flexible Payout Ratio
It's no surprise that Ensco's payout ratio of 31.00% is considered by many to be a bit on the conservative side. In my opinion a conservative payout ratio provides, as the company concurs, flexibility for such things as future investments and periodic dividend increases.
In the chart below, and when compared against such peers as Seadrill (NYSE:SDRL) which possesses a payout ratio of 121%, Diamond Offshore Drilling (NYSE:DO) which possesses a payout ratio of 72%, Transocean (NYSE:RIG) which possesses a payout ratio 52% and Noble Corp. (NYSE:NE) which possesses a payout ratio of 36%, Ensco has the lowest and most flexible payout ratio.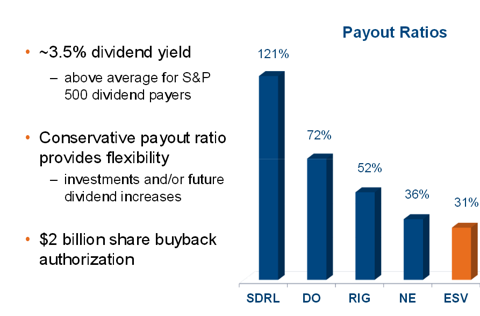 Risk Factors
According to Ensco's most recent 10-K (February 2013) there are a number of risk factors all investors should consider. These factors include but are not limited to a number of operating hazards, including those specific to offshore operations, certain asset impairments that are a result of future declining demand for offshore drilling rigs, and lastly, periods of low demand and excess rig availability that could result in adverse effects on Ensco's business.
Conclusion
For those of you who may be in the market for a higher-yielding oil and gas driller, Ensco has certainly demonstrated strong earnings, record-breaking revenue and very positive dividend growth over the last 24 months. For example, and from an income perspective, Ensco has one of the lowest payout ratios when compared to its peers and also maintains a fairly strong financial position given the fact its long-term debt-to-capital ratio is 27% and all of its $2 billion revolving credit facility is still fully available for future use.
Disclosure: I have no positions in any stocks mentioned, but may initiate a long position in ESV over the next 72 hours. I wrote this article myself, and it expresses my own opinions. I am not receiving compensation for it (other than from Seeking Alpha). I have no business relationship with any company whose stock is mentioned in this article.