Flextronics International (NASDAQ:FLEX) is a global provider of vertically-integrated electronic manufacturing services (EMS) to original equipment manufacturers (OEMs). China is its largest geographic market, responsible for a third of net sales through the first six months of fiscal 2010. The U.S. and Mexico each produced 15% while Malaysia and Hungary generated 9% and 6%, respectively. Various other countries produced the rest.
FLEX offers end-to-end EMS solutions—from design, engineering, and manufacturing to shipping and after-sales servicing. These solutions are delivered across multiple markets. The infrastructure market, which includes networking and communications OEMs, produced 30% of first six month sales.
This is followed by the mobile, computing, and consumer digital markets, which generated 20%, 19%, and 13%, respectively. Industrial, automotive, medical & other markets produced the remainder. Manufacturing capabilities include base stations, core routers and switches; optical and optical network terminal equipment; set-top boxes and DSL/cable modems; wireless handsets; desktop, notebook and handheld computers; electronic games; printers and copiers; home appliances; industrial meters; bar code readers; self-service kiosks; solar market equipment; navigation instruments; radar and radio components; and drug delivery, diagnostic, telemedicine and disposable medical devices. Reduced customer demand stemming from the weak global economic environment resulted in sharply lower operating performance over the past year. But more recent results suggest that the worst may be over. Additionally, the fruits of the company's cost cutting efforts designed to get expenses inline with the current level of demand, have begun bearing fruit.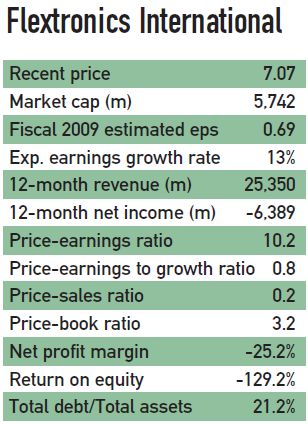 Fiscal 2010 Q2 net sales fell 39.3% year-over-year to $5.83 billion. Yet this still topped analysts' expectations by 6%. While the adjusted operating margin (excludes special items such as restructuring and distress customer charges) shrank 77 basis points from the prior year, it improved 100 basis points sequentially to 2.56%. Adjusted net income fell 54.8% to $104 million or 13 cents per share—4 cents above estimates. Especially encouraging, FLEX's strong Q3 earnings guidance of 14-16 cents per share suggests more of the same.
Despite the weak business trends, the company was also able to improve its financial position over the course of the year. Net debt (total debt minus cash) stood at $587 million at the end of Q2, down $1.08 billion from a year ago.
Weak global economic conditions still remain a key risk. Its reliance on just ten customers for 47% of its Q3 sales also suggests that the loss of a key client would have a material adverse impact on sales and profits. But near-term results could continue to surprise. FLEX expects sustained, profitable growth from the infrastructure market going forward. This is also true of the industrial market, especially from capital equipment, clean energy and automation products customers.
Additionally, the recent acquisition of Slomedical S.R.O., a leading European maker of disposable medical devices, expands the company's medical product capabilities at a time when more healthcare OEMs are looking to outsource their manufacturing responsibilities. FLEX also announced the expansion of its manufacturing capabilities in China in order to support the region's growing demand for computing products.