Great news this week as VF Corp. (NYSE:VFC) beat earnings estimates by $0.13 per share, raised its dividend 21% to $1.05 per quarter and announced a 4:1 stock split! This is a fantastic result as the company continues to fire on all cylinders and deliver superior shareholder value. With brand names like The North Face, Timberland, Vans, Wrangler and Lee, VF Corp. is very well positioned to continue growing at a favorable rate for long-term investors. This earnings beat shows that the management team is dedicated to executing powerful strategies in a highly competitive market space. The big dividend increase and stock split are also indicative of management's positive expectations of future performance.
If you've not heard of VF Corp. then there is no doubt you've seen many of its brands around town. The product portfolio covers a very diverse array of the fashion industry and utilizes several distribution channels to reach customers. You can find many of its brands, such as Wrangler, in big-box stores, or, like The North Face, in company-operated stores and websites.
VF Corp. has been in business for over 100 years, another reassuring quality about the company. It has a strong brand portfolio targeting a wide array of customer segments with a keen focus on high-margin outdoor and sporting apparel. VF Corp. is also globally diversified, serving markets in North and South America, Europe and Asia. The global growth story is still being written; there is still plenty of room to grow outside of the US. Now is the perfect opportunity for dividend-growth investors to get on board for the long haul and sip tea at retirement on the generous payout.
Product Portfolio
The company segments its business into five unique product categories, or "coalitions," for management and financial reporting purposes: Outdoor & Action Sports, Jeanswear, Imagewear, Sportswear and Contemporary Brands. Each brand is lumped into coalitions targeting various market segments. The company is putting more emphasis on its high-margin lifestyle brands, which are products that fall into the Outdoor & Action Sports, Sportswear and Contemporary Brand coalitions. This represents a little over half the entire portfolio. The other half of the portfolio, Jeanswear and Imagewear, is considered heritage business with strong historic profitability but lower revenue growth rates.
The table below illustrates the various brands and how they fit into each coalition. It's quite a long list but it serves to illustrate the diversity and scope of the brand portfolio. Unless you've been living under a rock you're probably familiar with at least two or three of these.
Coalition

Primary Brands

Primary products

Outdoor &Action Sports

The North Face

High performance apparel, footwear, outdoor gear

Timberland

Outdoor adventure-oriented footwear and apparel

Vans

Skateboard inspired footwear, apparel

Kipling

Handbags, luggage, backpacks, accessories (outside North America)

Napapijri

Premium outdoor apparel

Reef

Surf-inspired footwear, apparel

Eastpak

Backpacks, apparel

JanSport

Backpacks, luggage, apparel

SmartWool

Merino wool socks, apparel, accessories

lucy

Women's activewear

Eagle Creek

Luggage, packs, travel accessories

Jeanswear

Wrangler

Denim and casual bottoms, tops

Lee

Lee Casuals

Riders

Rustler

Timber Creek by Wrangler

Rock & Republic

Fashion Denim and sportswear

Imagewear

Red Kap

Occupational apparel

Bulwark

Protective occupational apparel

Horace Small

Occupational apparel

Majestic

Athletic apparel

MLB

Licensed athletic apparel

NFL

Licensed athletic apparel

Harley-Davidson

Licensed apparel

Sportswear

Nautica

Fashion sportswear, denim bottoms, sleepwear, accessories, underwear

Kipling

Handbags, luggage, backpacks, accessories (Within North America)

Contemporary Brands

7 For All Mankind

Premium denim and casual bottoms, sportswear, accessories

Splendid

Premium women's sportswear

Ella Moss

Premium women's sportswear
The fastest growing segment is Outdoor & Action Sports, with The North Face being the largest brand within that segment. The North Face isn't just clothing: the product line-up includes camping equipment such as tents, sleeping bags and backpacks. Even though The North Face products are designed for extreme applications, many customers purchase them because they represent a lifestyle to which they aspire, not necessarily because they plan to go skiing. The price point is also what I consider to be near premium with many items priced at least $100. The company reported a 3% increase in global revenues for The North Face brand primarily driven by a 28% increase in direct-to-consumer sales, a growing part of its channel strategy.
One brand you may not have heard about is Napapijri, a premium-priced performance skiwear and casual outerwear line. These products are sold wholesale to specialty shops in Europe and Asia. "Premium-priced" is not an understatement either: a quick scan of men's coats and jackets on its website turns up some pretty expensive results. The marketing message of this brand targets high-end outdoor enthusiasts with an appreciation for quality and functionality. VF Corp. acquired Napapijri in 2004 and maintains the brand image while increasing consumer exposure through its various distribution channels. I'm really excited to see how this brand develops as it's an up-and-comer in the high-margin segment.
Despite VF Corp.'s market presence in the winter apparel market, it doesn't neglect the warm weather customer. Through its Vans and Reef product lines it targets a growing segment of surf and skate enthusiasts. In its third quarter the company reported global revenue growth of 16% in its Vans product line, with a strong showing in Europe (25% increase in revenues). While the company has previously cited European financial troubles as a risk factor, these numbers are very encouraging if used as a barometer to gauge consumer-spending habits in the region.
The bread and butter, however, of VF Corp. lies in its Jeanswear segment. Iconic brands such as Wrangler and Lee cover a huge spectrum of the denim market. Revenue in this segment was up 4% globally in the third quarter; driven by an 8% increase in Wrangler revenues and a 3% increase in Lee revenues globally. What's most inspiring about this segment is its wide availability through VF Corp.'s channel strategy. Through partnerships with big-box retailers these brands reach nearly every region of the United States and beyond. Brands that offer quality clothing at an affordable price will continue to lead the middle-market segment; Wrangler and Lee are very well positioned to capture market share here.
This summary only scratches the surface of the brand portfolio. I encourage readers to explore the VF Corp. website and read more about all the brands. Go to the individual brand websites to get a sense of the target audience, price points and channel availability. The information there can provide insight into the day-to-day operations of the company that an annual report only provides at a high level. It allows the investor to independently evaluate a company's marketing strategy in real life. The question I ask is: "would I buy this product if I were in the market for it?" The answer is yes, because it's bone-chilling cold in Chicago and I'm pretty sold on a North Face jacket right now.
A Bit More on The Channel Strategy…
The distribution strategy that VF Corp. employs is a very compelling reason to own the stock. As a supply chain professional I spend a lot of time looking at this aspect of a business. What I appreciate most is the diversity of VF's sales distribution network and its ability to reach a wide variety of customer segments through a huge network of retailers and company-operated stores.
For example, The North Face is almost exclusively available at dedicated North Face stores and a handful of outdoor sporting goods stores such as Adventure 16 in Los Angeles or Moosejaw Mountaineering in Chicago. This exclusivity elevates the brand name and allows the company to command a price premium. It also allows easy access to target customers without investing too much in channel support systems.
On the other hand, Wrangler products can be found in any Target (NYSE:TGT), Wal-Mart (NYSE:WMT), K-Mart or other discount store. When I conducted a store search on the Wrangler website it became clear just how far the reach really is: in and around Chicago there are over 100 locations where customers can buy Wrangler products, but even that search seemed to be limited to the number of pins that can fit on a Google Maps API, searching the suburbs turns up even more. Chicago is probably an extreme example, but if you're really interested visit the website and punch in a few cities - big or small - and there will always be a place to buy Wrangler products.
The direct-to-consumer model has grown significantly in the third quarter and continues to be a big revenue driver for the company. D2C revenues increased 14% overall, with a 28% increase in The North Face, 18% increase in Vans, 16% increase in Nautica, and a whopping 50% increase in Kipling. These are all high-margin products being sold through a channel with very low overhead. I'm looking forward to the D2C review for the fourth quarter report!
Highlights from Third Quarter 2013 Earnings Results
I'm very enthusiastic about these results; they are very encouraging and reinforce the strength of the company. VF Corp. operates in a highly competitive marketplace targeting multiple customer segments with varying fashion tastes and price sensitivities. It can be difficult for a company of its size to balance so many delicate variables, but VF Corp. makes it look easy.
A few of these have already been referenced, but for good measure let's look at the high points from the press release:
Revenues up 5 percent to $3.3 billion: Outdoor & Action Sports up 6 percent, International up 7 percent and Direct-to-Consumer up 14 percent.
Gross margin improved by 90 basis points to 47.6 percent.
Adjusted EPS up 11 percent to $3.91 (up 14 percent to $3.89 on a GAAP basis).
Quarterly dividend increased by 21 percent to $1.05 per share.
Four-for-one stock split announced.
Full-year adjusted earnings guidance unchanged after incremental investments of $0.25 per share to drive future growth.
I want to first highlight the dividend. This company is a member of the S&P Dividend Aristocrats, having increased its dividend payout annually for 40 years (25 required for Aristocrat status). The 21% increase in the dividend is huge and it represents management's belief that earnings will remain strong. The dividend was also raised by 21% this time last year. From 2011 to 2012 it was raised 14.3% and from 2010 to 2011 it was raised 5%. The table below shows the last five years of dividend history.
| | | | | |
| --- | --- | --- | --- | --- |
| Year | Ex-Dividend Date | Payable Date | Dividend $ Amount | Growth rate Q/Q |
| 2013 | 12/06/2013 | 12/20/13 | 1.05 | 20.69% |
| 2013 | 09/06/2013 | 09/20/13 | 0.87 | |
| 2013 | 06/06/2013 | 06/20/13 | 0.87 | |
| 2013 | 03/06/2013 | 03/18/13 | 0.87 | |
| 2013 Total: | | | 3.66 | |
| 2012 | 12/06/2012 | 12/20/12 | 0.87 | 20.83% |
| 2012 | 09/06/2012 | 09/20/12 | 0.72 | |
| 2012 | 06/06/2012 | 06/18/12 | 0.72 | |
| 2012 | 03/07/2012 | 03/19/12 | 0.72 | |
| 2012 Total: | | | 3.03 | |
| 2011 | 12/07/2011 | 12/19/11 | 0.72 | 14.29% |
| 2011 | 09/07/2011 | 09/19/11 | 0.63 | |
| 2011 | 06/08/2011 | 06/20/11 | 0.63 | |
| 2011 | 03/09/2011 | 03/21/11 | 0.63 | |
| 2011 Total: | | | 2.61 | |
| 2010 | 12/08/2010 | 12/20/10 | 0.63 | 5.00% |
| 2010 | 09/08/2010 | 09/20/10 | 0.6 | |
| 2010 | 06/04/2010 | 06/18/10 | 0.6 | |
| 2010 | 03/05/2010 | 03/19/10 | 0.6 | |
| 2010 Total: | | | 2.43 | |
| 2009 | 12/04/2009 | 12/18/09 | 0.6 | 1.69% |
| 2009 | 09/03/2009 | 09/18/09 | 0.59 | |
| 2009 | 06/05/2009 | 06/19/09 | 0.59 | |
| 2009 | 03/06/2009 | 03/20/09 | 0.59 | |
| 2009 Total: | | | 2.37 | |
| 2008 | 12/05/2008 | 12/19/08 | 0.59 | 1.72% |
| 2008 | 09/05/2008 | 09/19/08 | 0.58 | |
| 2008 | 06/06/2008 | 06/20/08 | 0.58 | |
| 2008 | 03/06/2008 | 03/20/08 | 0.58 | |
| 2008 Total: | | | 2.33 | |
The stock is currently yielding about 1.98% on Wednesday's close of $212.44. That yield might be a tad low for the tastes of some dividend growth investors, but I urge the naysayer to look at the growth opportunities here. The dividend payout as a percentage of EPS is still relatively low at about 27% on Q3 earnings and about 34% on the prior twelve months as well as the year prior. I think its safe to assume management is going to maintain the dividend around this 34% annual EPS payout level for valuation purposes.
| | | | | |
| --- | --- | --- | --- | --- |
| Declaration Date | Dividend $ Amount | EPS | EPS Payout | EPS Growth |
| | | | | |
| 10/21/2013 | 1.05 | 3.91 | 27% | 11% |
| 07/19/2013 | 0.87 | 1.27 | 69% | 14% |
| 04/26/2013 | 0.87 | 2.43 | 36% | 25% |
| 02/15/2013 | 0.87 | 3.07 | 28% | 32% |
| | 3.66 | 10.68 | 34% | 20% |
| | | | | |
| 10/22/2012 | 0.87 | 3.52 | 25% | 23% |
| 07/19/2012 | 0.72 | 1.11 | 65% | -5% |
| 04/24/2012 | 0.72 | 1.94 | 37% | 7% |
| 02/16/2012 | 0.72 | 2.32 | 31% | 30% |
| | 3.03 | 8.89 | 34% | 16% |
| | | | | |
| 10/24/2011 | 0.72 | 2.87 | 25% | |
| 07/21/2011 | 0.63 | 1.17 | 54% | |
| 04/29/2011 | 0.63 | 1.82 | 35% | |
| 02/22/2011 | 0.63 | 1.78 | 35% | |
| | 2.61 | 7.64 | 34% | |
Since the most recent annual dividend growth rates have been about 20%, I'll use that to approximate dividend growth for the next two years. This is a really aggressive assumption for future growth rates, but since I'm so enthusiastic on the stock I may as well carry on with that estimate for at least two years, that sounds safe. (Note: because annual dividend increases occur in Q4 and the actual dividends for 2013 are only $3.66, I simplified it and used the forward annual dividend of $4.20 based on the recent increase).
| | |
| --- | --- |
| Declaration Date | Dividend $ Amount (20% growth) |
| 2015/16 | 6.05 |
| 2014/15 | 5.04 |
| 2013/14 | 4.20 (current) |
If we were to take an extremely simple approach and estimate the future value of the stock based on a constant yield of 1.98% (as above), we would get to a share price of about $254 at the end of 2014 and $305 at the end of 2015. This is a very simple valuation methodology but it does provide a somewhat reasonable estimate assuming dividend growth and yield remain constant. However, I caution investors on using this as a proxy for future valuation since factors other than the dividend will impact the stock price. It's a "quick and dirty" equation to gauge expected values; it's not scientific at all.
The stock split is also great news that I want to discuss further. There are people who would argue that stock splitting is a zero-sum game, and in theory I agree: it's a simple mathematical approach that has no impact on the valuation of the company or one's holdings. What it does, however, is remove the stigma of a high share price that might discourage some retail investors from entering the stock. A $200+ share price, while fair given the share statistics, is still considered a premium valuation by some investors and can create a psychological barrier to entry. Through the split the share price will be a quarter of what it is at the distribution date, creating a more attractive point of entry for investors at around $52 per share based on the Monday's close of $211.
I feel strongly that, in the case of VF Corp., this reduced barrier to entry will spur buying activity, pushing the price up even more. Nothing fundamental about the company or its operating environment will have changed after the split, it still remains an attractive investment opportunity, and management will continue executing on its strategy for growth. There's no good reason why smaller investors wouldn't see this as an opportunity to get in at a "better" price.
A View to The Fourth Quarter
Past results never guarantee future returns, but in the case of VF Corp. the track record of success is too powerful to ignore. There's no reason to believe annual results will underperform management guidance (remains firm at 2013 EPS of $10.85). Q4 is the holiday buying season and I believe that spending will be up over last year as consumers move out of their frugal savings slump and buy some new clothes, a hand bag, some skate shoes, and a North Face jacket.
To gauge consumer interest I sometimes use Google Trends to get a sense of search activity for different keywords. I ran a quick analysis on The North Face and Timberland to get an idea of the interest levels across various regions. What I noticed was the cyclical nature of search history for these two products, peaking around Q4 each year (coinciding with winter in the northern hemisphere and the holiday season in general). With these brands playing in the high-margin space we should see them make a strong contribution toward Q4 profitability. The management team certainly has access to much more robust forecasting tools, but Google Trends can be a good place for retail investors to conduct a bit of due diligence.
(click to enlarge)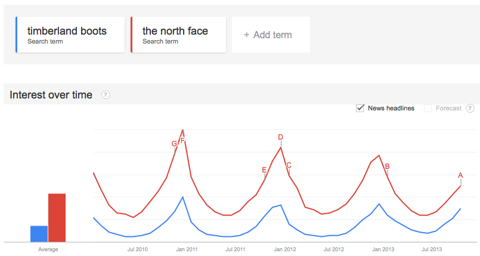 Global growth trends can be demonstrated with the other tools available. For example, searches for The North Face in Chile have surpassed those in United States, with more encouraging results in Germany, Denmark, Taiwan, Canada and the United Kingdom. This is a fairly smooth distribution as well; whereas the search history from 2006 doesn't reflect searches from Chile, Denmark or Taiwan. This illustrates the growing interest in The North Face products in new regions over time.
(click to enlarge)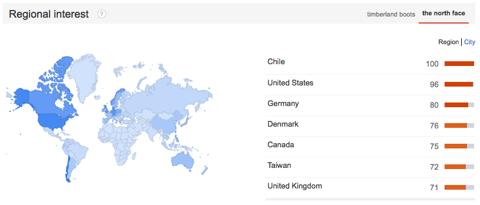 A more thorough explanation of the inner-workings of Google Trends can be found on their help page. It's an interesting way to gauge strength or weakness of brands and stack the competition against each other in a popularity contest.
Valuation
I looked at a very basic valuation metric using today's dividend yield to derive an estimated future price. All valuation metrics have supporters and opponents, so I'm admittedly employing an elementary approach to this because I honestly don't feel there is much to gain from putting a "fair price" on this stock. It's a long-term hold, plain and simple. It might be volatile enough to trade, but from my perspective it's a no-hassle income and growth holding.
But since I owe the dear readers a bit more due diligence, I put together the table below showing the valuation metrics of the companies that I view to be worthwhile competitors. Data from Google Finance (except VFC yield and trailing P/E, calculated on recent earnings):
| | | | | | | | |
| --- | --- | --- | --- | --- | --- | --- | --- |
| | Company | Close a/o 10/23 | Dividend Per Share | Yield | P/E | P/S | Enterprise Value ($M) |
| VFC | VF Corp. | $212.44 | $4.20 | 1.98% | 19.89 | 2.52 | $24,013.50 |
| PVH | PVH Corp. | $121.36 | $0.15 | 0.12% | 41.5 | 1.27 | $13,646.43 |
| NKE | Nike Inc. | $75.56 | $0.84 | 1.11% | 26.03 | 2.42 | $63,340.92 |
| RL | Ralph Lauren | $164.21 | $1.60 | 0.97% | 21.05 | 2.24 | $13,749.48 |
Yield: VFC has the highest yield of its peers, indicating it could be undervalued in terms of the expected dividend payouts. It also highlights that this is a low yielding industry in general, another reason why dividend investors shouldn't count this out on yield alone.
P/E: VFC has the lowest P/E at about 19.89. If this were the only valuation metric I employed I would take this as a no-brainer, especially with PVH Corp. (NYSE:PVH) (maker of Kenneth Cole, Calvin Klein and Izod brands) at a multiple more than double that of VFC.
P/S: VFC is the highest in this category but it still seems to be fairly valued in comparison to the P/S ratios for Nike (NYSE:NKE) and Ralph Lauren (NYSE:RL). This metric is also difficult as it leaves out a lot of assumptions, such as debt load and margin impacts.
A final word about valuation and VF Corp.
No matter how you slice it, which ratios you look at and what companies you compare it to, you're likely to still show that VFC is slightly overvalued relative to its peers (or relative to your personal comfort level). Terms like overvalued and undervalued get thrown around a lot in the context of dividend stocks, but the majority of investors in this company are in it for the long haul. The price you pay today should be inconsequential to your holdings five years from now. A lot of buyers want a better price and I don't blame them, but is it really going to make any difference in five (or 25) years that you paid an extra few bucks per share? I promise you, with VF Corp., you won't be kicking yourself over that after many years of generous shareholder returns.
Disclosure: I am long VFC. I wrote this article myself, and it expresses my own opinions. I am not receiving compensation for it (other than from Seeking Alpha). I have no business relationship with any company whose stock is mentioned in this article.