On October 23, 2009 we endorsed a position in the Peruvian gold mining firm Buenaventura Mines (NYSE:BVN) in the article titled Profiting From Volatile Crude Oil Prices and Safe Guarding Your Dollars.
We like the company for a long term investment strategy of 5 or more years at these prices, given their promising new La Zanja and Tantahuatay mines, but technicals and the potential for some dollar relief suggests that now is a good time to take some profits. La Zanja is set to come on line in early 2010 and is projected to put out 100,000 ounces of gold per year, while Tantahuatay will come on line in 2011 and should also tack on an additional 100,000 ounces of production. BVN does not hedge their gold prices, so any changes in the price of gold directly effect the bottom line of the firm, and are located in Peru, where labor is cheap and the currency is highly tied to the price of precious metals, making the firm an attractive company to own in a high U.S. inflationary environment.
All said we see a shifting sentiment concerning U.S. Interest rate policy (markets are beginning to anticipate earlier than expected quantitative tightening by the Fed) and a separately high technical probability that global equities will pull back from current levels. Bernanke made an attempt to reaffirm his assurances that rates will remain at zero for ever on Monday, December 7 at the Washington Economic Club, but gold has gone so high so fast simultaneous to the falling dollar that we see the potential for a pullback in all dollar denominated assets.
Also note weakness in MACD and Slow Stochastics for the BVN specific chart below.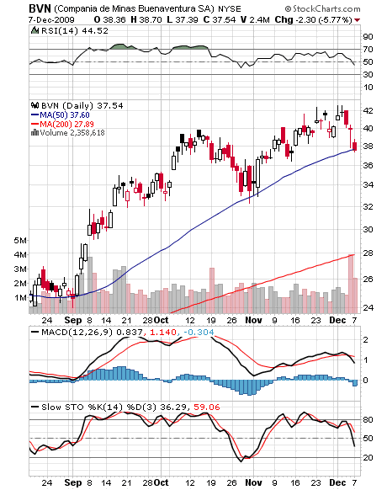 We suspect there will be a short term pullback of the stock along with the price of gold as the dollar strengthens temporarily, yet we endorse the company as a good investment for medium and long term investors. The supply of global Gold production is near 2600 tonnes, while the five year average annual demand is 3800 tonnes, suggesting that there is and will be a production shortfall moving forward. Coupled with a hedge against USD inflation in the current deficit spending environment, the stock should perform well over a medium to long term range. Its forward p/e still sits at 16.25 and its 28.99 trailing p/e is below the industry average of 30.76 and well below big names such as Newmont Mining (NYSE:NEM), which struts the trailing statistic at 32.35.
Diamond Slice has acted on these signals and closed BVN positions for a profit. The stock will continue to be followed and any positions regarding the stock on our behalf will be fully disclosed to our readers.
Disclosure: No Positions