Fundamental analysis is built on the idea that the stock market may price a company wrong from time to time. Typically, it is used to find undervalued stocks to buy and hold for the medium or long term. In a booming market in which deeply undervalued stocks are difficult to find, I also find it interesting to identify stocks that do not meet any of the key value indicators that value investors would look for. Using this methodology, and supplementing fundamental analysis with additional insight from insider transaction reports and analyst updates, it becomes clear that investors in Kellogg Company (NYSE:K) should dump their stock and seek out alternative options.
Company Overview
Kellogg is the world's leading producer of cereal, second largest producer of cookies and crackers, and a leading producer of savory snacks and frozen foods. Additional product offerings include toaster pastries, cereal bars, fruit-flavored snacks and veggie foods. Kellogg products are manufactured and marketed globally. According to their annual report, the company has long-term annual growth rate targets of 3% to 4% for internal net sales, 4% to 6% for underlying operating profit, and 7% to 9% for currency neutral underlying diluted net earnings per share.
Recent Performance
Shares of Kellogg stood at $62.32 at the time of writing, with a 52-week range of $51.36-$67.98. Over the past 12 months the stock price has climbed nearly 20%, which seems to be relatively comparable to the return seen by shareholders in competitors such as Campbell Soup (NYSE:CPB), General Mills (NYSE:GIS), and Kraft Foods (KRFT). Kellogg's growth strategy is marked by its strong brand portfolio, as well as its global expansion plans fueled by the 2012 acquisition of Pringles. So far, so good. Now, let's have a look at the fundamentals to see whether the current price can be justified.
Click to enlarge image.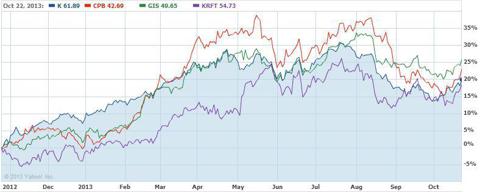 Source: Yahoo Finance.

Key Value Indicators
Typically, when I look to add to my portfolio, I employ a specific set of key value indicators that typically provide a solid overview of how cheap a stock is. In this case, I utilized the same indicators but specifically searched for the worst performers according to these metrics. In other words: Which stocks do not exhibit any of the key value indicators that are so highly desirable with value investors? Kellogg stood out immediately as a heavily overpriced stock.
Based on trailing earnings, Kellogg looks expensive with a P/E ratio of 23.35. However, if employing the forward-looking P/E ratio instead, then the valuation seems more reasonable at 15.14. Still, the PEG ratio is consider by many as a better valuation metric to focus on, as a high P/E ratio may simply indicate a company's higher growth prospects. The PEG ratio divides the P/E ratio by analyst growth estimates (typically over a five-year period). A PEG higher than 1 indicates an overvalued company, and a PEG lower than 1 indicates an undervalued company. In Kellogg's case, we can clearly see that the current valuation is too high.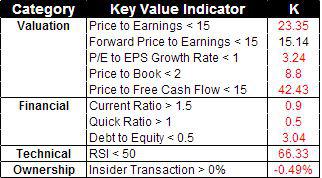 Source: Finviz.com.

It is crucial to check a company's liquidity, to satisfy ourselves that it can meet near-term operational needs. According to many value investors, the current ratio and quick ratio should be examined, and confirmed to be at least 1.5 and 1, respectively. For Kellogg's, neither is the case. In addition, we should check a company's financial leverage through the debt-to-equity ratio. A high ratio means that a company has been aggressive in financing its growth with debt. Kellogg's has a debt-to-equity ratio of 3.04, which is much higher than the limit of 0.5 I usually favor.
The Relative Strength Index metric can be used to measure whether a stock is currently overbought or oversold, based on the magnitude of recent gains to recent losses. Even when a stock's fundamentals seem attractive to me, I often find myself waiting until the RSI drops below 50 to try to avoid buying in overbought conditions. Kellogg's momentum is relatively strong at the moment, with an RSI of 66.33.
Insider Transactions
Over the last 12 months, insider transactions stood at 3,510,971 shares sold (net), 332,492 shares of which were dumped earlier this month by Kellogg W. K. Foundation Trust, a 10% owner. Heavy selling from insiders is rarely a good sign, and this seems to confirm that further upside in Kellogg is unlikely.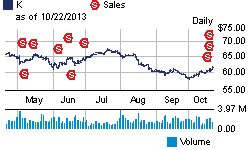 Source: Nasdaq.com.

Analyst Targets
What already sounds like a pretty negative story gets even worse when taking into account Kellogg's downgrade by BofA/Merrill Lynch, from Buy to Underperform, on Oct. 21. On average, analyst recommendations are a Hold, with an average price target of $62.60, which presents little upside.
Conclusion
Kellogg is a great brand, has a nearly 3% dividend yield, and shows great potential for steady growth across international markets. However, the stock is overpriced and risky on a fundamental level, there are signs of insider selling, and analysts do not project much additional upside. Despite the fact that I like the company as a consumer, I dislike its current price as a value investor and would recommend other value investors to avoid or sell the stock.
Disclosure: I have no positions in any stocks mentioned, and no plans to initiate any positions within the next 72 hours. I wrote this article myself, and it expresses my own opinions. I am not receiving compensation for it (other than from Seeking Alpha). I have no business relationship with any company whose stock is mentioned in this article.