One of the best kept secrets in the ETF universe is about to be exposed. It's a hybrid, of sorts. Part bond, part stock… total opportunity.
Actually, I "TMZd" the uniqueness of convertible bonds already in 2009. Here are a few of my previous features:
1. November's "Convertible Bond ETF Beats the Market"
2. June's "The Ultimate Bond Portfolio in 2009"
In a chestnut-roasting-on-an-open-fire shell, SPDR Barclays Capital Convertible Bond (NYSEARCA:CWB) has been outperforming SPDR High Yield Junk Bond Fund (NYSEARCA:JNK) as well as keeping pace with the S&P 500 SPDR Trust (NYSEARCA:SPY) over the last 6 months. But that's not even the most impressive part. The most impressive part is that CWB has accomplished this feat with significantly less volatility.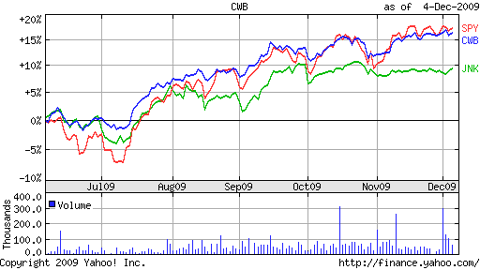 At long last, however, another participant will be stepping into the convertible bond ring. PowerShares has registered a vehicle that will track the Merrill Lynch All Investment Grade U.S. Convertibles Index.
With SPDR Barclays Capital Convertible Bond (CWB) performing so admirably, though, is there a reason to consider the new alternative? Perhaps. CWB tracks an index where the incorporated securities are the biggest of the big… aggregate market values of more than $500 million in size. The Merrill Lynch index that the PowerShares Convertible Fund will be tracking considers securities with an aggregate market value at issuance of just $50 million.
When the new PowerShares ETF launches, there may be an issue of low volume/lack of interest. After all, State Street's vehicle still hasn't caught the kind of attention that I might have expected… and it's been out for 7 months.
That said, the new PowerShares Convertible Bond Fund will be worth watching. The fact that smaller companies will be part of the make-up suggests that a higher yield may also accompany an investment here.
Disclosure Statement: Gary Gordon, MS, CFP is the president of Pacific Park Financial, Inc., a Registered Investment Adviser with the SEC. The company and/or its clients may hold positions in the ETFs, mutual funds and/or index funds mentioned above. The company does not receive compensation from any of the fund providers covered in this feature. Moreover, the commentary does not constitute individualized investment advice. The opinions offered herein are not personalized recommendations to buy, sell or hold securities.