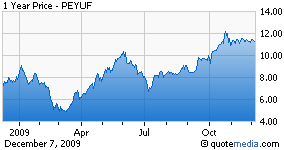 Analyzing third quarter results, we reaffirm estimated Net Present Value (NPV) of US$13 a share for Peyto Energy Trust (OTCPK:PEYUF). Though we have no investment rating on the stock, we like the trust for its long-life, low cost natural gas resources. Volume may soon be rising again as drilling reaccelerates, especially horizontally with multi-stage fracturing.
Chief Executive Darren Gee piqued our attention on the quarterly call on November 12, saying, "...the Deep Basin is going to explode in that exact same way [like the Montney and the Bakken]..." He was responding to a question about whether Peyto would consider expanding to drill in the Montney formation in British Columbia or the Bakken formation in Saskatchewan.
Acknowledging that those previously marginal formations had become quite profitable with horizontal multi-frac, Mr. Gee pointed out that Peyto's vertical drilling, which is all concentrated in the Central Deep Basin in western Alberta, continues to be profitable. Nonetheless, two experimental horizontal multi-fracs appear so promising that Peyto intends to drill 20 horizontal wells among 46 planned for 2010.
Meanwhile, NPV is concentrated 72% on natural gas and 28% on the liquids that are present in the natural gas stream in the same wells. Without including possible volume gains, pricing trends suggest rising cash flow in future quarters. The current distribution of C$0.12 a month will likely be maintained through 2010 until the trust converts to a corporation beginning in 2011.
Deep Basin and San Juan Basin Pedigrees
Peyto is named for Bill Peyto, a Canadian Pacific mountain guide and early warden of Banff National Park in the late 19th century. Like its namesake, Peyto is guiding investors to an appreciation of a valuable natural resource. The trust is the third largest operator by number of producing wells in the Central Deep Basin, according to Peyto data on its website.
The largest operator in the area is ConocoPhillips (NYSE:COP) as a result of its acquisition of Burlington Resources, which in turn had acquired Canadian Hunter in 2001, the originator of the Deep Basin idea. Burlington saw the Canadian prize as a reproduction of the San Juan Basin of New Mexico, the largest natural gas field in the U.S. ConocoPhillips is also the largest producer in the San Juan Basin along with BP plc through its acquisition of Amoco. If Peyto can demonstrate success with horizontal multi-frac, it could have implications for ConocoPhillips in both Canada and the U.S.
The fifth largest producer in the Central Deep Basin is Devon Energy (NYSE:DVN) by virtue of its acquisition of Anderson Exploration. Darren Gee, a co-founder of Peyto, was one of the first couple dozen employees of the company formed by J.C. Anderson. A former Amoco production man from Kansas, the legendary "J.C." always appreciated long life natural gas properties and looked for the same in Canada. Coincidentally, the late John Nichols, co-founder of Devon, was an early driller in the San Juan Basin in the 1950s.
While Peyto is early in applying horizontal multi-frac in the Central Deep Basin, the same drilling and completion techniques have already been applied to a greater degree to the northwest. The formations are different. Peyto is active in the Cardium, for example. Another company in our income and small cap coverage, Birchcliff Energy (OTCPK:BIREF), has a leading independent position in the Montney/Doig formations. Completing a circle of connections, Birchcliff's Myles Bosman also gained some of his insights when working for Canadian Hunter.
Originally published on November 13, 2009.