I was very intrigued today that Google (NASDAQ:
GOOG
) launched Real Time search with Twitter updates so I quickly went to check it out. The implementation is really slick. I did a
search for ticker symbol GLD
and the realtime tweets started scrolling right at the top of the results. Slick!
Then I tried doing my own tweet on GLD from
Seeking Alpha's Stocktalk app
and noticed something odd. Unlike all the other 3rd party twitter platforms I am aware of, Google does not mention the source of the tweet. See the screenshots below from Tweetdeck, Twitter.com and Google and compare the source of the tweet.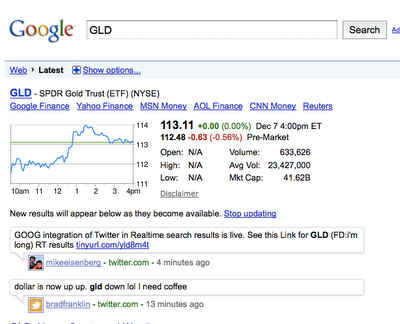 As far as I can tell, it has been accepted practice to reference source in the Twitter community. Anyone have any ideas on this?