Editors' Note: This article discusses micro-cap stocks. Please be aware of the risks associated with these stocks.
A couple of years after the China fraud fears, stocks such as Kingold Jewelry (NASDAQ:KGJI) continue to trade below book value. The producer of 24-carat gold jewelry continues to grow via market share gains, but until recently the stock traded as if the stock was going out of business instead of constantly generating solid profits and substantial growth.
The company makes branded and customized jewelry, ornaments and investment-oriented products. For the branded products, Kingold purchases gold directly from the Shanghai Gold Exchange, thereby, requiring a significant amount of gold inventories. For the most part, the company is a manufacturer of gold jewelry, but it does hold the risk of the fluctuations in gold prices.
Kingold continues to evolve into a major jewelry manufacturer with sales expected to exceed $1 billion this year. It has been on the NASDAQ since 2010 when sales reached $523 million. The stock though sits at a paltry market valuation of only $125 million while trading below book value. See the below slide for the progress the company has made since founding in 2002: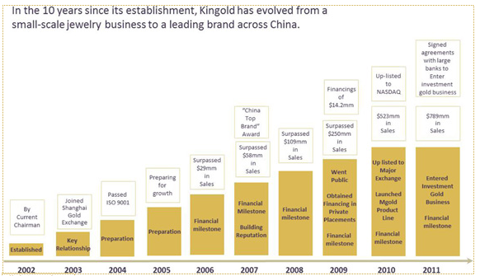 Industry Overview
In 2002, the jewelry production industry transferred to private ownership after 20 years of being state-controlled. The industry exploded to around 10,000 manufacturers, but it is now in a major consolidation phase with the smaller players either going out of business or being overtaken by larger, more efficient competitors.
Rising disposable consumer income is driving increasing demand. Gold jewelry remains a symbol of social status and a store of wealth for an emerging middle class.
Fear Trade Disappearing
Investors had a good reason to fear the small-cap Chinese stocks back in 2011 and 2012, as numerous frauds were uncovered. Some prime examples that destroyed investors were Sino-Forest (OTC:SNOFF), Rino International (OTC:RINO), and China MediaExpress (OTCPK:CCME). These stocks all traded in the $20 range and appeared like normal companies until Muddy Waters or somebody else uncovered absolute fraudulent activities. All of these stocks turned virtually worthless overnight wrongly instilling a fear in investors of Chinese stocks that they could become worthless in a flash.
The fear was so prevalent back in 2011 that Kingold issued a letter to shareholders in an attempt to calm fears. Unfortunately, the claims fell on deaf ears as some of the fraudulent stocks made the same attempts. The attempts at improving transparency were a good start, but typically these scenarios take time for the fears to cool. Hence, the stock continued to trade weak for the next two years, but the recent price movement suggests the market is finally thawing and investors need to take notice.
In reality a vast majority of Chinese stocks listed in the US run legitimate businesses. Investors are starting to realize that a few rotten apples weren't indicative of the whole industry.
China Rebounding Fast
Now the Chinese stocks that have survived are on the rebound. Any stock that has survived the disastrous period is likely not creating fraudulent financials after two years of scrutiny. In addition, several initiatives are underway to ensure US investors have better access to audited financials. Back in May, the US Public Company Accounting Oversight Board set a Memorandum of Understanding with the China Securities Regulatory Commission and China's Ministry of Finance to help obtain documents. The MOU is intended to allow US regulators to check records of U.S.-listed Chinese companies.
Based on regulatory progress and the natural un-thawing of the fear trade, a large majority of the Chinese stocks have seen huge rebounds this year. Some prime examples include SouFun Holdings (NYSE:SFUN), China Housing & Land Development (NASDAQ:CHLN), and Xinyuan Real Estate (NYSE:XIN).
SouFun operates a real estate Internet portal. The stock collapsed below $10 back at the end of 2011 and has now soared to over $50 and reached a valuation of $4.4 billion. The stock now sits at all-time highs. SouFun is a prime example of the excessive fear that existed back in 2011. Investors have become so comfortable with the financials that it now trades at roughly 20x current year earnings.
China Housing & Land Development traded below a $1 as recently as last December. The developer and manager of multi-family residential and commercial real estate properties in China recently hit multi-year highs around $3. The stock though sits below the all-time highs back in 2009. At a market value of only $100 million, the stock sits considerably below the revenue run rate of $110 million reached in the first six months of the year. In addition, earnings have already hit $0.27 for the year placing the stock at a multiple of around 5x-annualized earnings.
Xinyuan Real Estate traded down to nearly a $1 at the end of 2011, but the stock is now worth over $7. The developer of residential real estate properties for middle-income consumers in China is now worth over $500 million. The company reported Q2 revenue that actually declined 22% from last year though revenue did exceed guidance. Even with the rebound, the stock continues to trade below book value. The company actually repurchased nearly $6 million worth of stock during Q2.
As the chart below shows, Kingold is the only stock in the group to not accelerate over 100% in the last year.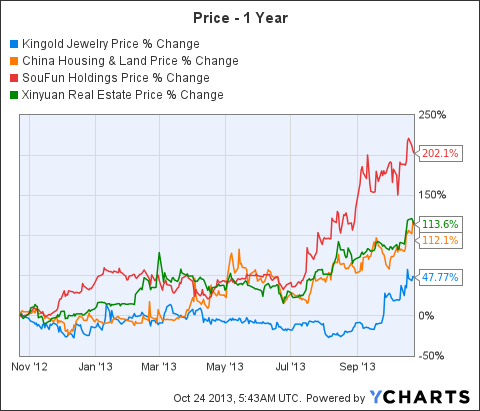 In reality these stocks shouldn't have dropped so dramatically. As an example, SouFun Holdings earned over $2 for 2012 and should've never traded down below $10. Similar to Kingold neither China Housing & Land nor Xinyuan Real Estate have much in the way of analyst coverage. This lack of coverage also contributed to irrational drops. Another example of the shifting landscape in these Chinese stocks was the positive report by Geo Investing on China Housing & Land. The research firm had previously issued several fraud alerts on the sector and now it turned around and issued a positive confirmation on a China stock. The tide is clearly turning in the sector.
CEO Coming To America
Like the famous Eddie Murphy movie, the CEO is coming to America. Mr. Zhihong Jia, Chairman and Chief Executive Officer, along with several other members of the management team will be traveling to the US to meet with investors. During the week of November 18, the group will host investor meetings and conduct media appearances to review operations and discuss strategy for gaining market share in the consolidating jewelry industry in China.
Huge Growth
The company has made significant progress with net sales increasing 37% in the latest quarter. The numbers didn't lead to higher income due to the large drop in gold prices that caused the company to write down gold inventories. The important news though was the increased production that long term will be more important than the price swings in commodity prices.
The highlights from the Q213 report are below:
Net sales increased 36.7% to $367.0 million compared to $268.5 million, largely as a result of increased production due to higher demand.
Processed 15.2 metric tons [one metric ton = 35,274 ounces] of 24-karat gold products compared to 11.8 metric tons.
As a result of lower gold prices, the Company incurred a $2.4 million write down on the value of its inventory.
Gross profit decreased to $11.1 million compared to $15.0 million, and gross margin was 3.0% compared to 5.6%, largely as a result of this write-down in inventory.
Net income attributable to common shareholders was $6.3 million, or $0.10 per diluted share, compared to $9.6 million, or $0.18 per diluted share.
Book value per diluted share of $2.99 at June 30, 2013 compared to $2.97 at December 31, 2012.
As noted, earnings were impacted due to commodity risk from holding a substantial position in gold, while producing customer orders. The following slide highlights the commodity risk the company faces: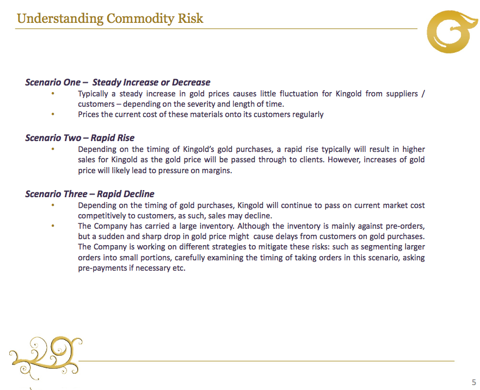 Kingold projects hitting the target of processing between 50-60 metric tons of 24-carat gold products during the year. At the high end it would involve a solid increase from Q2 production levels of 15.2 metric tons.
Conclusion
Every day that goes by, the fears of fraudulent activities by US listed Chinese firms dissipates. With everybody attempting to uncover frauds over the last couple of years, it would appear unlikely that many still exist. Consequently, investors are obtaining a greater interest in these stocks trading at attractive valuations. Similar to SouFun Holdings and Xinyuan Real Estate before it, investors are starting to warm up to Kingold. At only $2, the stock trades considerably below the $2.99 listed book value at the end of June. The stock would need to appreciate 50% to only match a book value that will continue to grow with solid earnings each and every quarter.
Disclosure: I have no positions in any stocks mentioned, and no plans to initiate any positions within the next 72 hours. I wrote this article myself, and it expresses my own opinions. I am not receiving compensation for it (other than from Seeking Alpha). I have no business relationship with any company whose stock is mentioned in this article.
Additional disclosure: The information contained herein is for informational purposes only. Nothing in this article should be taken as a solicitation to purchase or sell securities. Before buying or selling any stock you should do your own research and reach your own conclusion or consult a financial advisor. Investing includes risks, including loss of principal.