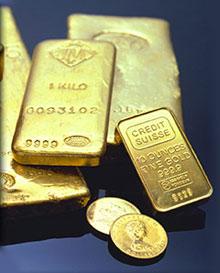 There's a lot of speculation in the market that gold has gone up too far too fast and is destined for a sharp correction.
We have said publicly on a number of occasions that no one should be surprised if gold goes up or down one standard deviation over 60 trading days. Statistically speaking, movement within that range would be interpreted as normal, with roughly 70% of all data points being within that range.
For the past 10 years, one standard deviation for gold is plus or minus 7.3%.
In dollar terms, using the peak London closing price of $1,212.50 per troy ounce on December 2, that percentage works out to plus or minus $88.50, or a range from $1,124 on the low end and $1,301 on the high end.
Basically, any price between that high and low is no cause for alarm – it's just the market being the market.
We see today's pullback in gold and related equities as a speculative correction following the release of the latest U.S. employment numbers. The better-than-expected job results spurred a rally in the dollar, which nearly always moves in the opposite direction from gold.
In our view the dollar's strength will be temporary, given its significant headwinds—near-zero interest rates, massive injections of stimulus money and gaping federal deficits.
We believe gold's longer-term uptrend is still well intact, with weakness in the sector over the past couple of days likely to prove a buying opportunity. We continue to expect the Federal Reserve to maintain its accommodative stance, given that unemployment is still critically high despite the positive surprise last week.
On top of that, as the economic recovery takes stronger hold, inflation fears will also strengthen, and this would be a further positive for gold price appreciation.
Disclosure: No Positions