The US Energy Information Administration ("EIA") released a productivity report yesterday covering six major shale plays in the US. While I was aware of the productivity advances being made in the Bakken and Eagle Ford shales, what struck me was the tremendous productivity improvements seen in Marcellus natural gas wells. The report was bullish for the stocks of domestic LNG exporters, chemical producers, and those involved in the natural gas transportation market.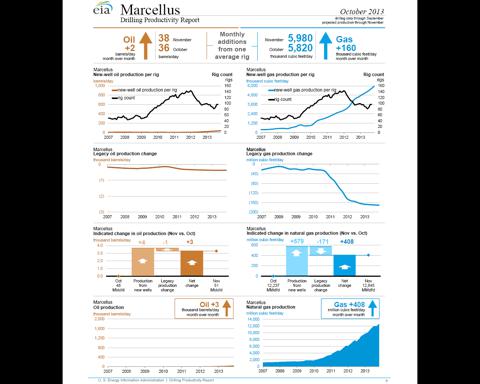 As can be seen from the graphic, despite a rig count decline from 140 in 2012 to 100 today, total natural gas production has doubled from ~6 Bcf/day to over 12 Bcf/day, including a 408 million cf/day increase month-over-month. The EIA estimates new gas well production has gone from ~4.5 million cf/day to 6 million cf/day (+33%) in just one year.
In this article on the Marcellus, the production data have caught many by surprise. Sam Gorgen of the EIA said "A year ago, we were not expecting the Marcellus to be at 12 billion cubic feet (per day)," Even Terry Engelder, a Penn State University geologist who has been criticized for his bullish Marcellus natural gas estimates, previously said daily Marcellus yields would not reach 12 bcf/day until 2015. Engelder said of the report:
This is spectacular, relative to what we thought a few years ago.
As a result, natural gas prices have continued to be under pressure and are substantially below $4 MMBtu even as we head into the winter heating season: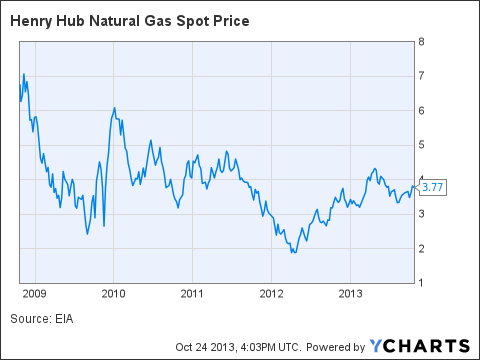 Henry Hub Natural Gas Spot Price data by YCharts
If one considers the productivity rates in the Marcellus combined with the amount of shut in production back in 2012 by operators like Chesapeake Energy (NYSE:CHK), ConocoPhillips (NYSE:COP), and Encana (NYSE:ECA), this paints a more bullish long-term picture for domestic chemical producers, LNG exporters, and natural gas transportation stocks then was predicted even a few years ago. Remember, back in 2012 it was reported that CHK, COP, and ECA alone shut in more than 850 million cf/day. In other words, it appears domestic natural gas prices are going to be quite low for much longer than anyone, including myself, would have thought possible just a year or two ago.
So for LNG exporters like Dominion Resources (NYSE:D), Cheniere Energy (NYSEMKT:LNG) and ExxonMobil (NYSE:XOM), each of which has received LNG export approval for its Cove Point, Sabine Pass, and Golden Pass LNG terminals (respectively), this is a bullish report because it implies margin protection for their large infrastructure investments.

Lower natural gas prices are also a boon to large chemicals producers like Dow Chemical (DOW) and the Chevron Phillips Chemical Company ("CPChem"), a 50-50 joint venture between Chevron (NYSE:CVX) and Phillips 66 (NYSE:PSX). Indeed CPChem is so bullish on the domestic chemicals business it recently announced it is moving forward with plans for $5 billion in petrochemical expansion projects on the Gulf Coast: a new ethane cracker in Baytown and two new polyethylene facilities in Old Ocean, Texas.
Lastly, the assurance of low cost natural gas supplies is a feather-in-the-hat of natural gas transportation companies like Clean Energy Fuels (NASDAQ:CLNE), Chart Industries (NASDAQ:GTLS), and General Electric (NYSE:GE).
Summary and Conclusion
For those skeptics questioning the reality of long-term inexpensive natural gas supplies in the US, the recent EIA productivity report pretty much puts those concerns to bed. The prolific Marcellus shale production numbers support a long-term bullish outlook for domestic LNG exporters, chemical producers, and natural gas transportation companies.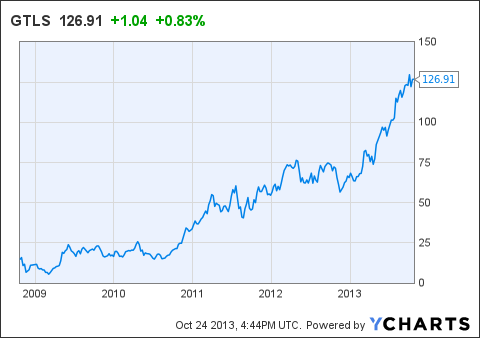 Disclosure: I am long CVX, COP, PSX, XOM. I wrote this article myself, and it expresses my own opinions. I am not receiving compensation for it (other than from Seeking Alpha). I have no business relationship with any company whose stock is mentioned in this article.
Additional disclosure: I am an engineer, not a CFA. The information and data presented in this article was obtained from company documents and/or sources believed to be reliable, but has not been independently verified. Therefore, the author cannot guarantee its accuracy. Please do your own research and contact a qualified investment advisor. I am not responsible for investment decisions you make. Thanks for reading and good luck!