Background:
In my previous article titled VirnetX: New Bay Capital LLC's And Apple's Contrived IPRs - Why? and in R.S. Analytics's article a discussion was detailed regarding how a 46-day-old shell company filed inter-parties reviews of only the VirnetX (NYSEMKT:VHC) patents and patent claims Apple (NASDAQ:AAPL) faced at trial. A recent filing by the shell company reveals that they are requesting the Patent Trial and Appeal Board (PTAB) to terminate their requests. The link to Apple is interesting here, and should not be discounted.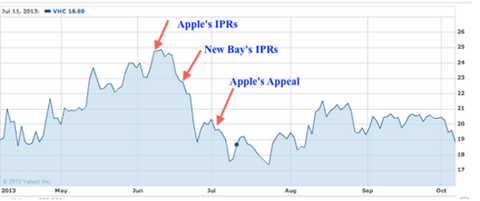 Shares of VirnetX dropped nearly 25%, around $250 million in market capitalization, from around $23 to a near-term low of $17.50 on the news of New Bay LLC filing these IPR requests. Interestingly, New Bay Capital LLC asked the PTAB to terminate their requests after the motion to transfer the proceedings to the Eastern District of Texas to Judge Davis, the judge overseeing the ongoing litigation with Apple, was sent back to the Magistrate Judge Hopkins; the same magistrate judge who originally recommended that the proceedings be transferred to Texas. It seems only logical that the magistrate judge would follow his original recommendation to transfer to Texas, an event that likely prompted New Bay to ask the PTAB to terminate their requests.
Significance
There are some key aspects with regard to these IPR requests that should not be discounted.
Apple attempted to join New Bay's IPR requests since their requests were over the year limit.
If New Bay was found to be in any way not the real party of interest or linked to Apple, then collateral estoppel would apply - thus terminated Apple's IPR requests on the same patent claims as well.
Asking the PTAB to terminate their requests solves the following major problems that can occur for New Bay:
One of the three cases stemming from VirnetX's subpoena to unveil the real party of interest against New Bay has been recommended to be transferred from Florida to Texas. The same Judge is overseeing all of the company's pending litigation.
Collateral estoppel applies to New Bay's request. New Bay is challenging only the patent claims that Apple faced at trial. If New Bay is ruled against, collateral estoppel would prevent these issues from being re-tried, specifically IPRs of these patents claims.
Judge Davis will now be able to look into the motives behind New Bay's requests, and see that their motives are solely financially based.
They would not be subject to discovery - so if there is a link to Apple, it would not be discovered. (Keep in mind Apple may not be linked, and it could be a hedge fund or other party).
This is a victory for VirnetX as New Bay's IPRs targeting only the patent claims that Apple faced at trial will likely be terminated. Moreover, if granted then Apple will not be able to join the terminated IPR requests and will have to face the fact that their IPR requests are over the limit, and likely not applicable. Moreover, the possible termination of New Bay's IPRs would remove any shot of invalidating the patents through this course by New Bay or Apple - since if granted Apple cannot co-join and would have to face the time related hurdle first.
New Bay's intentions were shady, and did not quite add up. To me, I see New Bay asking the PTAB to terminate their requests as a means to avoid discovery by Judge Davis in Texas that would reveal any link to Apple, since they occurred after being sent back to the magistrate judge that recommend that they be transferred in the first place.
Now What:
This motion has not yet been granted, as there is a conference call scheduled for October 29 with the board to discuss the matter. There is no guarantee that Apple is involved at all, this is just speculation, although the possible termination of these IPR requests removes the risk related with the remote victory by New Bay. I say remote due to many factors in my previous article, especially due to the fictional descriptions of Kiuchi that New Bay proposed in their requests. This is a small victory for VirnetX, in the story that continues to develop each day.
VirnetX still has the option to oppose the motion, and let it go (assuming that the magistrate judge holds to his opinion) to Judge Davis in Texas for possible discovery. Although I do not think VirnetX wants to waste their time, and will likely just want to throw this under the rug. If not Apple, New Bay could have been a hedge-fund with a short position that could have made a lot of money during the initial news - although on the investors side, the termination of these IPR requests are a win.
In other news, Apple has filed their appeal against VirnetX, I am awaiting the expert attorneys at McKool Smith to respond to the 468 page document, that seems to me to be a rehash of the original trial proceedings. Federal appellate briefs are supposed to be concise with a few points involved, not a shotgun approach including anything and everything. To end with some food for thought on Apple's appeal, Daniel Robert Schramm sums of this point nicely in his article:
Be Selective in Identifying the Issues for Appeal: The appellate lawyer's ability to identify winnable issues is critical to the success of any appeal. You never want to take a "shotgun" approach. Instead, you should be selective and present only those issues on which you have a reasonable chance of winning.
VirnetX is now in the driver's seat with regard to New Bay, they can either let it go or oppose it and seek discovery - likely in Texas. Also, VirnetX also has the option to seek discovery on New Bay's merits in the Eastern District of Texas, even if they agree and let the PTAB terminate these IPR requests. Moreover, McKool Smith's reply to Apple's appeal will be an extremely interesting read.
Disclosure: I am long VHC. I wrote this article myself, and it expresses my own opinions. I am not receiving compensation for it (other than from Seeking Alpha). I have no business relationship with any company whose stock is mentioned in this article.
Additional disclosure: This article is informational and investors should always contact a financial professional before executing any trades or investments.