Recently, LinkedIn (LNKD) launched two mobile recruiting products, "Mobile Work With Us" and "Recruiter Mobile", aimed at recruiters and employers.
Mobile Work With Us will allow employers to post job openings at the top of employees' profiles. "Mobile Work with Us" is a mobile version of its existing PC offering, which will allow job seekers to find their colleagues, co-workers, friends, and view job-openings.
Recruiter Mobile is developed with the aim to ease the interaction between recruiters and job seekers. Employers and job seekers "have a hard time" recruiting and interacting while they are away from office. Recruiter Mobile offers the chance to stay updated and search for the suitable candidates, from their smart-phones and tablets.
This product will help increase recruiter efficiency and success by making it easier to locate and communicate with candidates anywhere. The mobile app is available at no incremental cost to recruiter clients, who already have an account, and should enhance the overall value proposition to recruiters.
The facts related to mobile usage of LinkedIn below explains why LinkedIn is focusing on mobile.
Around one-third of its 238 million members access LinkedIn through mobile devices.
More than 30% of LinkedIn's job views come from mobile devices.
Also, half of its members, who have applied to a job through mobile, have never applied from a desktop.
We believe that this is a logical and necessary move for LinkedIn since Employers and job-seekers have started using LinkedIn as a primary source in job-seeking. People have adopted mobile as their go to device, and LinkedIn's presence on all mediums moves it ahead of all other recruitment sites and companies. Its focus towards growing mobile business through new products makes it easier for members and recruiters to engage and connect with each other. We expect LinkedIn's strong pace of product innovation and launch of new products can increase the engagement and monetization of the LinkedIn platform.
More than just a recruitment platform
LinkedIn's platform is not only a great tool for recruitment but is also evolving as a sales and marketing medium for different companies. According to ComScore data, LinkedIn's page views have reached a high of 11.7 million, a 25% year-over-year increase, but its ad revenue, a part of Marketing Solutions, contributed only a quarter of the company's revenue in the second quarter of 2013.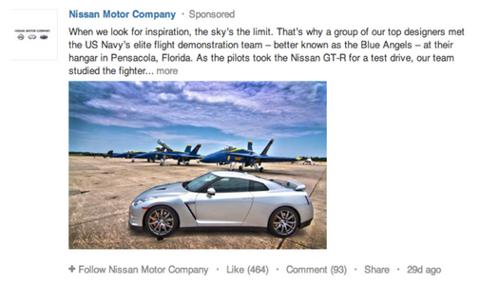 (Source: LinkedIn)
LinkedIn is also getting in the advertising business with its native advertising, the hottest topic of discussion among technology companies. Native advertising is a web advertising method in which the advertiser attempts to gain attention by providing ads in the context of the user's experience. These ads may be identified as sponsored, but the ads match with the user profile and are more engaging than traditional online ads. For example, a professional in the automobile industry will see ads on its LinkedIn's feed related to different auto manufactures and related companies.
Looking at this opportunity, LinkedIn has now decided to post Sponsored updates on user's feed on both desktop and mobile. This gives LinkedIn an opportunity to not only deliver content to a large user base but also to reach selective users, whose search experience matches with that of advertisers'.
Although, Native Cost per impression, or CPM, isn't as high as other online ads, due to the relatively new nature of this ad format. Over time, as advertisers realize the benefit and importance of these native ads, the native ad pricing is likely to catch up to that of online ads. Analysts have estimated that LinkedIn could gain as much as $46 million in ad revenue in 2014 from these native ads.
LinkedIn is not the only one to jump on the bandwagon of native ads; Yahoo! (YHOO) is also exploring the opportunity to monetize native ads. Yahoo! Stream ads, a type of native ads that appear in the same format and context as the stories in the Yahoo! news feed, were launched earlier this year. In the third quarter results, Yahoo! indicated that the results of these new ads were quite promising, but so far it has seen only direct response marketers rather than big advertisers. However, we believe that Yahoo!'s strength lies in content varying from Finance to Entertainment, and it has gained large audiences through its massive content. Thus, leveraging on its content, Yahoo! can promote native ads more effectively to its big advertisers and boost ad revenue.
We are also bullish on Yahoo! Please read: What Will Drive The Yahoo Machinery?
Although Facebook (FB) is second largest in the U.S mobile ad industry, it is very far away from Google in terms of mobile advertisement market share. Facebook has generated approximately 41% of its total ad revenue from mobiles in the second quarter this year and is looking to increase this share. Facebook is also looking to beef up its mobile ad revenue, as people are shifting from desktops to smartphones and tablets. It is now looking to earn more ad revenue through showing ads on external apps. It will offer external mobile ads, which would allow advertisers to get data from Facebook profiles and target potential customers from users' personal data.
Overall, LinkedIn is just a starting in the mobile advertisement business, and it needs to build a strong base of advertisers to project itself as an emerging player in this market. LinkedIn's user base is vastly different from other social networking companies, and it has potential to monetize and increase its ad revenue through native ads. In addition to its existing core business, we believe LinkedIn's mobile advertisement has upside growth potential and can diversify revenue away from Talent Solutions.
Bottom-line
LinkedIn has a monopoly in the online professional network, having diversified and scalable revenue streams from its Talent Solutions business, online advertising, and premium subscriptions. In terms of valuation, LinkedIn has attained a premium valuation among its peers. A trailing P/E in the range of 800-900 is considered high, even in the technology industry. What is more significant is its forward P/E of 113.22, which indicates the earning potential of LinkedIn in the coming quarters.
The launch of its mobile products further shows that LinkedIn is adapting to the changing needs of the industry, and it can continue to expand its revenue sources. While the company is still just beginning its advertising efforts, LinkedIn appears to be working in this domain to take advantage. We are still bullish on LinkedIn and recommend buying this stock.
Disclosure: I have no positions in any stocks mentioned, and no plans to initiate any positions within the next 72 hours. I wrote this article myself, and it expresses my own opinions. I am not receiving compensation for it (other than from Seeking Alpha). I have no business relationship with any company whose stock is mentioned in this article.
Additional disclosure: Fusion Research is a team of equity analysts. This article was written by Rohit Gupta, one of our research analysts. We did not receive compensation for this article (other than from Seeking Alpha), and we have no business relationship with any company whose stock is mentioned in this article.