International fast-food conglomerate Yum! Brands (NYSE:YUM) posted weak third-quarter results as same-store sales declined in China and stagnated domestically. Sales fell 3% year-over-year on a reported basis (up 1% year-over-year excluding currency) to $3.5 billion, falling short of consensus estimates. Earnings per share (excluding write downs) also fell short of consensus expectations, declining 15% year-over-year to $0.85. Year-to-date, free cash flow has declined 25% year-over-year to $854 million, equal to 9.6% of revenue.
China Remains Miserable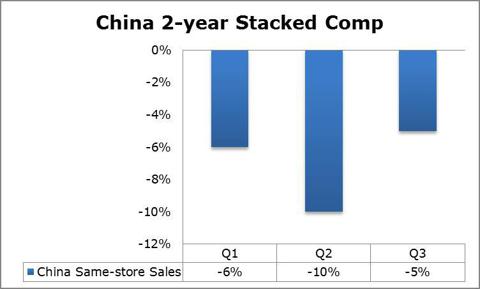 Image Source: Valuentum, Company Filings
Store productivity in China remains poor following terrible press from China Central TV regarding cleanliness in August, as well as news about a poultry scandal at the beginning of calendar 2013. Comparable store sales declined 11% year-over-year in China during the third quarter, with comps at KFC falling 14% and comps at Pizza Hut increasing 5% in the country. Same-store sales in China declined 11% (KFC: -13%; Pizza Hut: +6%) year-over-year in September, so there is no evidence that conditions are improving at this time.
CEO David Novak indicated that Yum! Brands still believes in the KFC/China story, saying on the conference call:
"So, with the number one brand in the restaurant category situated in what will soon be the largest consumer economy in the world…we believe KFC is undoubtedly in a very powerful position to bounce back strongly. Clearly we still have work to do, but we know we're doing the right things to regain consumer trust, and we remain confident that our best days for KFC in China have yet to come."
Yum! Brands' efforts include introducing a beef product at KFC to appeal to those that aren't interested in chicken at this time, exerting greater oversight of the supply chain, and reestablishing itself as a trustworthy brand in China.

Image Source: YUM
Though sales have declined substantially, the firm maintained restaurant level margins exceptionally well during the third quarter. Margins declined only 190 basis points year-over-year to 19.5%, which compares favorably to the year-to-date 400 basis-point decline. Management noted that its operators in China are avoiding slashing costs to the point where such cuts may negatively impact sales. Ultimately, it appears second-half operating profit will be more resilient in China than it was during the first half of the year.
Time possesses a wonderful cleansing power, and we highly doubt KFC will remain in a prolonged, multi-year slump. However, the declines KFC has experienced during the past few quarters will take time to recover. Naturally, this provides an opportunity for McDonald's (NYSE:MCD) and Burger King (BKW) to steal market share, and perhaps impair KFC's long-term China growth trajectory.
Not All Is Well in the US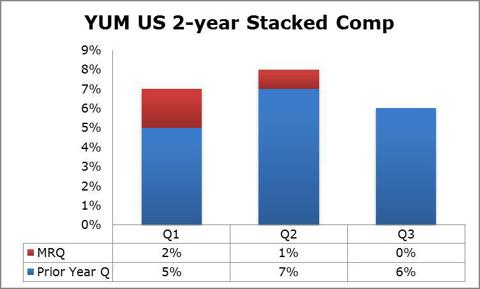 Image Source: Valuentum, Company Filings
Though we admit the situation in China should be the primary focus for investors, Yum! Brands' domestic business isn't performing so well either. After solid comparable sales growth through the course of 2012, Yum! Brands' US comp sales have slowed sequentially in the first three quarters of 2013. In fact, only Taco Bell remained positive during the third quarter as comparable stores sales increased 2% year-over-year.
This is fairly consistent with McDonald's weak comp growth throughout 2013, and weak performance from competitors such as Wendy's (NYSE:WEN) and Burger King. In our view, fast-casual firms such as Panera (NASDAQ:PNRA) and Chipotle (NYSE:CMG) are stealing customers in search of healthier options.
Though we think sales pressure could persist in the near term, Yum! Brands is focusing on improving domestic operating margins, which were up 330 basis points year-over-year during the third quarter and have increased 380 basis points year-to-date to 24%. Excluding one-time costs associated with refranchising, operating profit grew 6% year-over-year (1% as reported) to $164 million.
Yum! International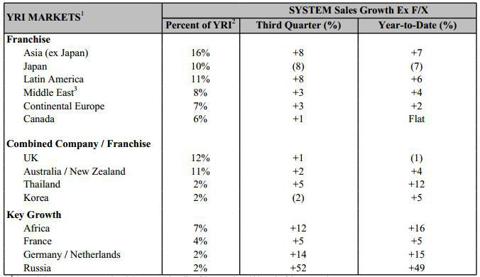 Image Source: YUM
In spite of struggles domestically and in China, Yum! Brands performed relatively well across many of its key international markets including Russia (up 52% year-over-year), Africa (up 12% year-over-year), and Latin America (up 8% year-over-year). 215 new units opened internationally during the third quarter, with 90% opened by franchisees. The segment has overtaken the US in terms of operating profit contribution.
CFO Pat Grismer added some interesting commentary on growth in emerging markets, explaining on the conference call:
"…we're continuing to invest aggressively behind our equity positions in emerging markets, because we love the unit-level economics that we see there, what we call home-run economics. We know that there's enormous growth potential, and we believe that it's important to maintain a leadership position to lead the system, if you will, to capture the potential."
Since sales haven't been impacted by the scandals that plague KFC in China (and the firm will take unit ownership), we expect earnings growth in this segment to outpace others going forward.
Guidance
Yum! Brands lowered its full-year earnings per share guidance to a year-over-year decline of high-single to low-double-digit expansion thanks to persistent weakness in China and a belief that same-store sales growth will not be positive in the fourth quarter. Management previously forecasted earnings per share to decline in the mid-single-digits. However, Novak noted that the firm can achieve earnings per share growth of at least 20% in 2014, though we note that is predicated on substantial improvements in China.
Valuentum's Take
2013 will be a year that Yum! Brands' leadership and shareholders will want to forget. Same-store sales declined 20% year-over-year in China during the first half of 2013, and another double-digit decline is all but assured in the second half. Still, the firm increased its quarterly dividend by 10% during September, and the share price is roughly flat year-to-date.
All things considered, our $61 per share fair value estimate (at the time of this writing) sits below the current share price that is predicated on a Chinese recovery taking longer than management anticipates. It may take a few years before KFC resonates with the Chinese consumer the way it did prior to early 2013. Shares are not being considered for either of our actively managed portfolios.
Disclosure: I have no positions in any stocks mentioned, and no plans to initiate any positions within the next 72 hours. I wrote this article myself, and it expresses my own opinions. I am not receiving compensation for it (other than from Seeking Alpha). I have no business relationship with any company whose stock is mentioned in this article.