The position in EnerNOC (NASDAQ:ENOC) has worked out very well for us... after a purchase right at the 200 day moving average on the 23rd of November, the stock did a complete U-turn the next day and ran right into resistance. We dumped 2/3rds on the 27th, for a 11% gain in a week... the velocity of the move surprised us, but we will never complain about such gifts.

At the time we wrote:
If the stock gets over $30, the chart will be in far better position and we'll most likely get back the 2/3rds we sold off. Until otherwise proven, we assume it will falter before then.... happy to be proven wrong.
And thus far that seems to be the case - the stock has stalled at resistance multiple times; almost textbook in fact. So with that said, I am going to dump almost all the rest of our position for a 8% gain - still great results for 2 weeks of "work", and sit with a 0.1% stake just so it doesn't fall off my radar.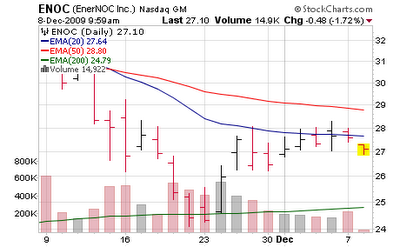 At this time I would not be interested in buying back until it falls back to the 200 day or moves north of $29. Until then, it will sit as a 0.1% position while we await a more compelling entry point.

Author's Disclosure: Long EnerNOC in fund; no personal position