Is this time really different?
I'd like to start by doing a simple exercise. The following chart contains two series. One of the series shows the growth in the Nasdaq Composite Index between the annual periods of 1982 and 2000. The other series shows the trend of the Tesla (NASDAQ:TSLA) stock between the monthly periods of January 2012 and September 2013. Both series follow a relative range before reaching levels that are very difficult to explain. Can you tell which one is which?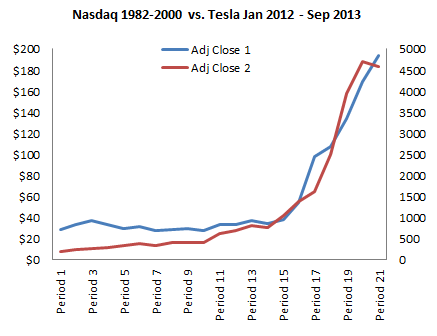 Of course we all know the results of that Nasdaq bubble. On March 10th, 2000, the Nasdaq Composite surpassed 5,000, closing at its highest point in history. Twenty five trading days later, the Nasdaq bubble would burst, throwing the index by 34%. The bleeding continued for the next two and a half years until the Nasdaq dropped by 78% from its peak, hitting 1,114, the lowest point in more than 6 years! The index wiped out balance sheets, portfolios, dreams, and most of the companies that were built with code.
Between 1995 and 2000, the periods during which the Nasdaq began aggressively accelerating, the Index increased by more than 506%! Shockingly, between the periods of September 2012 and September 2013, Tesla's stock price increased by 560%! Is it possible that investors were so wrong about Tesla's stock price only a year earlier?
I will use fundamental principles to explain Tesla's current stock price and based on my analysis I will then come up with some analysis focusing on three parts: Tesla's current stock price, the market opportunity in the battery electronic vehicles (BEV) market and Tesla's estimated share of that market over time. And then finally I will address Tesla's valuation. Using my analysis, I will then come up with a reasonable price point at which I believe Tesla should be trading at.
Tesla's Current Stock Price
You've heard this one before. Relative to peers, Tesla looks like a fundamental nightmare. Price to sales 14.1 vs. industry's 0.6x. Price to book 31.7 vs. industry's 1.8x. Forward P/E is not even worth mentioning. Tesla's market cap ended last week at a third of German automaker BMW, yet BMW's sales are 79X those of Tesla. Daimler generates 119X more revenue yet their market capitalization is only 4X Tesla's. The argument the bulls are making of course is that Tesla's got much room for growth - and therefore eventually their current stock price will start to make more sense.
Sure, Tesla is an excellent car. As other writers have noted, the Model S is a revolutionary automobile that won scores of awards and with a roughly 40% market share in the disruptive BEV space, Tesla is currently its market leader. At current stock price levels, that of course doesn't make Tesla a good investment.
Market Opportunity for Tesla
It's true, the BEV market is extremely disruptive. 2013's BEV market will experience 200+% YoY growth in the US alone. That's excellent! My analysis below shows that as the market continues to expand, we could potentially see U.S. sales of 500,000 BEVs per year by 2020!
At the same time, Tesla will not be participating in most of these sales. In fact, since Tesla will be in the luxury segment of the BEV market, their market share of the BEV space will drop considerably over time. That's not necessarily a bad thing considering each unit of sales will generate enormous amounts of revenue for the firm. As the market continues to expand and other automakers pile into the space, Tesla's unit sold market share could drop from ~40% in 2013 to ~20% by 2016, and ~16% by 2020. That would still mean 80,000 units sold in the US markets alone by 2020. Excellent.
Tesla's Valuation: Why are the bulls so bullish?
The bulls are betting on the production ramp-up as demand for the BEV market expands. The bet is certainly not on the Model S alone. Rather, the wager is on the next generation of Tesla cars and heavy international expansion.
On the U.S. side, it's true that demand for BEVs has been heavily expanding as can be seen above.
As my model below shows, at an average price of ~$80,000+, Tesla could make a lot of money as long as demand continues to rise. The international story could place Tesla in an even better position. If the automaker can command demand from the international markets with a higher average sticker price overseas, say on average ~$90,000+, expansion overseas would translate into an even more attractive top line. Below I outline how it's possible for the bulls to draw up a map of Tesla's sales run which could yield a production ramp-up of 145,000 vehicles by 2020, something that would translate to $11.4 billion in revenue!
I also firmly believe that at such a rich valuation, the bet at this point is strictly on the automaker to ignite demand for its automobiles, not on expanding its development services unit, which at least now is entirely devoted to Daimler and Toyota.
So let's argue that it's possible for Tesla to expand its production to 145,000 car units by 2020, and this of course is a big if, - something that will generate $11.4 billion in revenue in 7 years from now. This would be achieved through a launch of the Model X in 2014 as well as a next generation vehicle that will be produced by the year 2016 (after the prototype is introduced around 2015) in the US and international markets. By 2020, we could say that 55% of the production will be in the US markets and 45% will be in the international markets. During that year, the assumption is that the company would sell 55,000 units of its Model S and 90,000 units of its Model X and its next generation vehicles at a lower average price. Not bad at all.
For those who think I am being conservative, keep in mind that most of us can't afford a $90,000 Model S so the market opportunity has to be kept at reasonable levels for that model. And in terms of the next generation auto, 67% growth in the third year is quite reasonable. For those who think I am being overly optimistic, bear with me while I try to prove that even at these levels, it's impossible to award Tesla such a rich valuation.
At $11.4 billion revenue and at 20% gross margins, by 2020 we'd be looking at $2.3 billion in gross profits. With 10% operating margins, we could assume $1.1 billion in operating profits. 25% taxes would yield a net income of ~$850 million. Share dilution gets us to 160 million shares by 2020 and at current valuations you're paying 31X for every dollar earned by this company IN 2020 when the luxury automakers in the industry can barely get 10X today!!! That is irrational!
Also, to have a current rich valuation at 2020 forward levels is absurd in my opinion. I think forward multiples are fair, but they should be kept closer to 1 or 2 years out. At 31X 2020 earnings, you're basically betting not only on the production levels in the year 2020, but you're also betting that the automaker might somehow surprise and squeeze out additional gains.
Allow me to explain what a 2020 multiple actually means. Attaching a rich 2020 forward multiple to a stock means that you're betting that the stock will actually increase from its current rich 2020 valuation. Since we don't actually know what will happen to the automaker after the next 2 years, I would prefer to trade at a forward multiple that is closer out than 2020! That would obviously make the stock a lot cheaper. Betting on Tesla at these lofty levels is literally the equivalent to gambling; playing a low probably card game and hoping that the dealer throws you an ace.
That brings me to my next point.
Risk. Everything I've stated above is before we even begin discussing the plethora of risks that can plague the company before we get to 2020. The biggest risk, in my opinion, is competition from the luxury automakers that can undercut Tesla's price point in the luxury market. A Toyota (NYSE:TM) BEV can't really compete head on with Tesla as it's in a different segment, but its Lexus unit can. Other cars that can compete are BMW and Daimler (OTCPK:DDAIF). We also have to be realistic about the actual market opportunity for these specific price segments and come up with reliable estimates in terms of how much Tesla can realistically capture once the market expands. Some of the other risks are supply risks, demand risks, fuel price risks - since a drop in fuel prices is positively correlated with a drop in electric car sales, political risks, and economic risks. So let's create a bear scenario and say these risks actually do occur. Our economic conditions worsen and at that price range, heavy competition ensues creating a very challenging environment for Tesla in the luxury market; our bear case scenario is that production in 2020 would now actually be 100,000 units vs. 145,000 in our base case. Then you're paying not 25X 2020 levels, but 82X 2020 levels! The point here is that we actually have no idea what production will look like in 2020 so paying for 2020 levels is not wise.
Conclusion
The conclusion here is that it's merely impossible to project what will happen in the BEV industry by 2020 or how much of the BEV space will go to Tesla.
Given my estimates, you could argue that a reasonable base valuation, if one were to make a forward 2020 multiple, would be to award Tesla a valuation of 15X its 2020 estimates, still above BMW and Daimler's current valuations. I don't mind giving BEV a slightly higher multiple since it's in a disruptive market. That would make the stock worth $80/share, 46% below its current levels.
Disclosure: I have no positions in any stocks mentioned, and no plans to initiate any positions within the next 72 hours. I wrote this article myself, and it expresses my own opinions. I am not receiving compensation for it (other than from Seeking Alpha). I have no business relationship with any company whose stock is mentioned in this article. This article represents my views only and not the views of any organization that I am affiliated with. This article is intended for informational and educational purposes only and shall not be construed to constitute investment advice. Nothing contained herein shall constitute a solicitation, recommendation, or endorsement to buy or sell any security or private fund.