Earlier this week I wrote an article explaining that intelligent REIT investors "should profit from market folly rather than participate in it." I went on to add that a "defensive investor should confine himself to the shares of important companies with a long record of profitable operations" and accordingly, they should seek out REITs with growing dividends as a way to contend with rising interest rates.
In that article I listed five "battle-tested" REITs that meet the dividend reliability test, including Tanger Factory Outlets (NYSE:SKT), Realty Income (NYSE:O), Ventas, Inc. (NYSE:VTR), WP Carey (NYSE:WPC), and Federal Realty (NYSE:FRT). All five of these REITs enjoy an extraordinary track record of dividend safety and consistency; however, there are other REITs that offer a similar value proposition of growing dividends.

National Health Investors (NYSE:NHI), founded in 1991, is a $2 billion (Enterprise Value) REIT that has been growing dividends annually since 2001. That record of divided durability ties Omega Healthcare Investors (NYSE:OHI) as the 10th best REIT based on long-term dividend performance. National Health is considered a smaller-cap REIT based on its overall size in the healthcare sector. The company has a $1.753 million market capitalization, ranking the REIT 9th in size (compared with the peer group below):

NHI focuses on the need driven senior care sector and the company has a well-diversified portfolio that includes skilled nursing, assisted living, hospitals, and medical office buildings. The company has 152 properties in 27 states.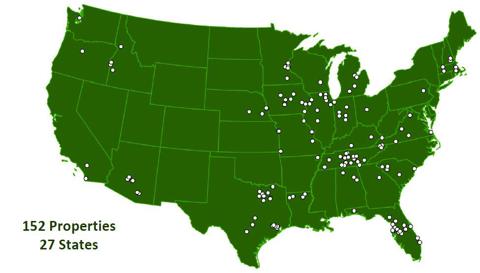 A majority of the revenue is derived from skilled nursing (51%) while also growing its assisted living (private pay) model. NHI also has a small portion of revenue derived from REIT dividends (investment in LTC). Here is a snapshot of revenue by investment type: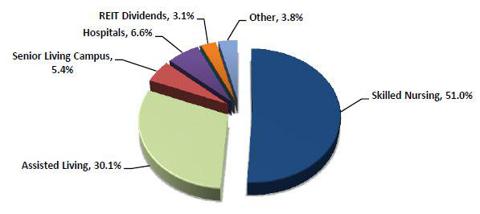 NHI's customer concentration is also well-diversified as the company leases 25 facilities to National Healthcare Corporation (NYSEMKT:NHC), a publicly traded company that is NHI's largest customer and affiliated through overlapping board members and some major shareholders in common. A key part of NHI's strategy is diversifying away from legacy NHC's skilled nursing assets by developing relationships with growing regional seniors housing and care operators.
Bickford (privately-held) is a Midwest-focused operator with concentrations in Illinois, Indiana, Iowa, and Kansas. As of Q2-12 NHI had around 17.1% of its portfolio (based on revenue) leased to Bickford. NHI is looking to reduce concentration with NHC to around 10-15% of revenue (vs. 26% currently).

Some Key Financial Metrics
One key differentiator for NHI is low leverage. As of Q2-13, the company had only 25% in secured debt and a debt to market cap of just 18.72%. At the end of Q2-13 NHI had cash and investments and marketable securities of $50.6 million and debt consisted of an unsecured revolving credit facility of $167,000; unsecured bank term loans of $120 million (with a maturity of 7 years); $80 million of Fannie Mae secured debt (maturing in July 2015); and secured mortgage debt of $19.25 million (maturing in November of this year). NHI has $83 million available to draw on its revolving credit facility.
The very low leveraged balance sheet relative to the value of its net assets makes NHI an attractive investment opportunity. As shown below, NHI calculates its EBITDA coverage of interest expense to be 18:1 and on an annualized basis, the consolidated debt-to-EBITDA is less than 4:1. Long-term capital structure is around two-thirds equity and one-third debt, with leverage goals of 4x-5x EBITDA and 4x or better fixed charge coverage.

Looking at NHI's portfolio statistics, lease service coverage remains very strong, with a weighted average lease service coverage ratio of 2.88x. Here is a snapshot of the trailing 12 months EBITDARM coverage:

Latest Reporting Period Results
NHI's Normalized Funds from Operations (or FFO) for the second quarter rose 14.1% over the same period in 2012, primarily as a result of revenues from new investments funded of $146 million in 2012. Revenues for the second quarter were up $6,226,000 or 28.5% compared to the same period in 2012 due to the volume and timing of new investments in 2012 and 2013.
The dividend for the second quarter was increased to $0.735, a 5.8% increase from the first quarter and a 13.1% increase compared with the second quarter dividend a year ago, while still keeping the payout ratio low at 83%. NHI has raised the dividend 11% earlier this year. Here is a snapshot of NHI's historical Normalized FFO Reconciliation: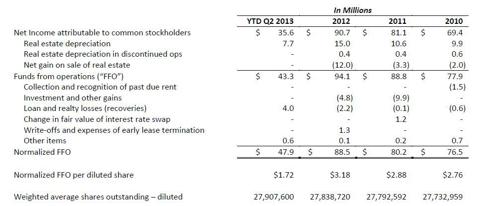 Attractively Durable Dividend Growth
Now let's examine NHI's historical dividend and capital appreciation history. As you can see below, due to Skilled Nursing Facility Medicare reimbursement cuts in 2000-2001 there were technical defaults with some of NHI's tenants/borrowers, which led to the credit facility being called. NHI discontinued the dividend for a period of time in order to payoff the credit facility in full.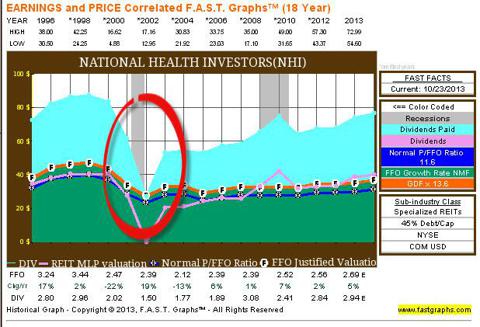 However, since 2001, NHI has reduced its leverage significantly and consistently paid AND increased dividends annually since 2001.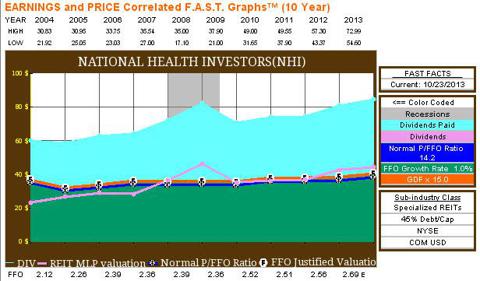 Here is a snapshot of NHI's dividend history compared with some other peers that have a similar dividend record. As you can see, NHI has done very well since the Medicare reimbursement cuts in 2000.

Compared with the healthcare REIT peer group, NHI's dividend yield of 4.68% is appears modest and is in the lower end of the range.

Given the low leverage (noted above) and more recent (10-year +) track record of earnings growth, it appears that Mr. Market has placed a higher premium on NHI shares. By all indications, NHI is a high-quality REIT and based upon the peer chart below, there is little margin of safety in the shares today (NHI has a 18.1x P/FFO):

Zooming in for a FAST Graph analysis we can see that NHI is trading above "sound value" in my view, the dividend yield of 4.8% is less attractive compared with other higher-yielding REITs. NHI shares are trading at $62.87.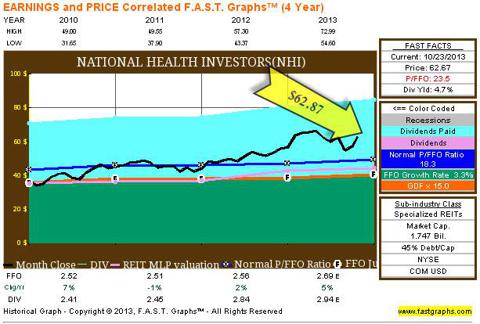 I like NHI and I don't believe there is a "natural peer" given the diverse investment type structure and low leverage. In fact, I consider NHI to be something of a "mini-version" of Ventas, given the fact that they are both diversified in the types of investments. However, there is no comparison with the balance sheet of Ventas (see my recent article here). In addition, the smaller "pure play" healthcare REITs like Healthcare Trust of America (NYSE:HTA) seem to be able to maximize value given the efficiencies in their circle of competence (see my recent article here).
In short, NHI is perplexing. The company has obviously managed risk well since stumbling in 2000-2001. It has increased cash flow annually and it has derived a high premium in the marketplace. However, I see tremendously more safety in owning Ventas and I believe that Healthcare Trust of America can perform best since it's a "pure play" operator. I would entertain an entry price for NHI but I would need to see shares fall in-line with Omega Healthcare (or trade closer to a 14x P/FFO multiple). I see absolutely nothing wrong with NHI except that I believe there is mis-priced risk in owning shares trading at such a high multiple. I will wait…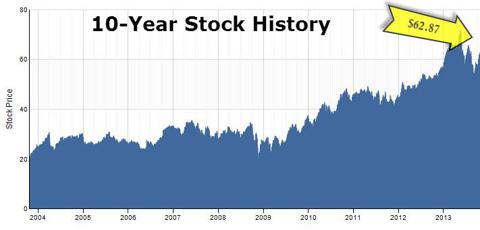 Check out my monthly newsletter, The Intelligent REIT Investor.
Other REITs mentioned: (NYSE:HCP), (HCN), (NYSE:SNH), (NYSE:HR), (NYSE:MPW), (NYSE:LTC), (NASDAQ:SBRA), (NYSE:AVIV), and (NYSE:UHT).
Source: SNL Financial, FAST Graph, NHI Company Presentation
Disclaimer: This article is intended to provide information to interested parties. As I have no knowledge of individual investor circumstances, goals, and/or portfolio concentration or diversification, readers are expected to complete their own due diligence before purchasing any stocks mentioned or recommended.
Disclosure: I am long O, CSG, ARCP, HTA, VTR, STAG, GPT, UMH, DLR, ROIC. I wrote this article myself, and it expresses my own opinions. I am not receiving compensation for it (other than from Seeking Alpha). I have no business relationship with any company whose stock is mentioned in this article.