With no shortage of drama, 2009 has been a much more pleasant year than the eventful yet dreadful 2008. Year to date, the S&P500 has returned about 22%, in contrast to a 38% decline in 2008. Although there has been no formal announcement, the consensus is the US finally exited one of the longest recessions in its history over summer, with 3rd quarter GDP growing at an annualized 2.8%. Just as important, financial institutions are no longer on the brink of collapse and investors are not in panic mode any more. Appetite for risk is back, evidenced by Junk bonds (NYSEARCA:JNK) returning nearly 20% year to date, just 10% below its pre-Lehman collapse level. According to EPFR Global, year-to-date money market fund outflows as of
Nov 18, amounted to $452 billion, as investors reallocated assets to equity and bond markets. 2009 has not been exactly a smooth journey, however, and investors have been showered with some most extraordinary events. This month we summarize some of the key events that have led us to where the markets stand today.
January & February: 2009 started with the worst January of the stock market in US history, with the S&P500 index losing 8.6%. This was quickly followed with the 2nd worst February, with the S&P500 losing 11%. Investors were horrified by the deepening losses of US banks, a rapidly deteriorating labor market, and tumbling home prices. In addition, bellwether companies from most economic sectors were reporting steep revenue and profit declines, with management expressing a downbeat outlook for the future. It was amid this chaos, that policymakers were given a rare opportunity to entertain and form new and intrusive solutions. For example, investors were flooded with some very exotic rescue ideas for the banking sector, including suggestions to form a bad "aggregator bank" to take bad assets off banks' balance sheets, government guarantees of bad assets, or an outright nationalization of banks.
Further, despite heightened controversy, under the premise that a drastic injection of life support was needed to preserve or create 3 million jobs, the US congress rushed the approval of a $790 billion stimulus bill in merely 4 weeks. Then there came the Homeowner Affordability and Stability Plan, which prompted the famous Rick Santelli live on air rant that Americans do not want to pay for failing neighbors' mortgages to possibly inflate our house values, inspiring the Tea Party movement around the country. Serious worries started to surface for the country's longer term fiscal stability, when the President announced his ambitious FY10 budget plan, which projected federal deficit to be $1.75 trillion for 2009, or 12.3% of the GDP, a level not seen since 1942, and a projected federal deficit of $1.17 billion or 8% of the projected GDP for 2010.
To stay updated on companies AFG believes are attractive investment opportunities register here.
March: Probably the most interesting month in the recent history of the US capital market. The S&P500 hit its 13 year low on March 9 at 676. With the market in great distraught, it took Ben Bernanke, the Fed chairman, to accomplish the mission of calming the market, through an unprecedented move for a sitting Fed Chairman, to give a widely watched 60 Minutes interview, to stress his belief that America has averted the risk of a depression and a recovery could begin in 2010 if the financial sector stabilizes, which he believes is happening. Right after that, the Fed announced plans to pump $1.25 trillion into the economy: to purchase $300 billion of long-term government bonds; to purchase an additional $750 billion in mortgage-backed securities guaranteed by Fannie Mae (FNM) and Freddie Mac (FRE), on top of the $500 billion it's already buying; and to purchase $200 billion of Fannie and Freddie debt.
The Fed's monetary missile successfully cheered the equity market, although the Congressional Budget Office (CBO) presented a grim picture of the country's deep indebtedness. CBO said based on the President's 2010 budget proposals, the cumulative deficit from 2010 to 2019 would total $9.3 trillion, and the debt held by the public would rise from 41% of GDP in 2008 to 57% 2009 and to 82% of GDP by 2019. 2019 is very far away, and the equity and bond market marched on.
April to September: With March as the turning point, the US stock market continued a 7 month long rally. Early on, concerns were abundant that the rally was a bear market rally and February was only A bottom rather than THE bottom. Given the inordinate government spending and incredibly accommodative Federal Reserve, we didn't doubt the trend for an improving economy and rising equity market in the short term. In addition, valuation was a no brainer for investors in early March, when the S&P500 was priced at an implied sales growth of a negative 6% for each of the next 5 years. However, we have always been wary of the question - what is/are the cost/costs of the extraordinary expansion of Federal government and Federal Reserve? A growing federal government role in the economy, higher taxes, higher inflation, a smaller long term growth rate? This perspective was largely shared by our institutional investor clients when we met in June at AFG's annual conference in Las Vegas, and concurred with the sentiments expressed by the majority of the participants of AFG's Market Forecast Project surveys.
In this period, there was some disheartening data regarding rising unemployment, rising house foreclosures, sporadic trends of consumer consumption, and 20-30% declines of corporate profits from ayear ago, but investors focused more on the positives: Banks were making big bucks again and 10 big US banks managed to return $70 billion of TARP funds, and were able to raise capital from the private sector; a majority of corporate America beat analysts' estimates for their 2nd and 3rd quarter earnings; the Case-Shiller home price Index has increased every month since June; and pending home sales have achieved consecutive monthly gains since March.
October: We became concerned after seeing the S&P500 gained nearly 50% from its March. Based on Sep 30's close of 1057, the S&P 500 was priced at an implied sales growth of 5.7% each year from 2010 to 2013, assuming 2009 sales fell 10% from 2008. While such implied expectations do not imply a bubble, we were not confident the economy will likely support a 25% expansion of corporate America over the next 4 years, considering the overhang of huge fiscal deficit and looming policy changes which may increase capital gain taxes and raise the cap of federal marginal income tax rates. The market took a pause in October and the S&P 500 lost 2% in the month, breaking its streak of 7 consecutive monthly gains. Enormous debates were conducted on the implications of a rapidly depreciating US Dollar and dramatically accelerating gold prices. America's debtors became increasingly vocal about their displeasure of the US financial affairs, and the dollar's place as the world's predominant reserve currency.
November: Warren Buffett's "all-in wager" on the US economy - his announcement to purchase railroad operator Burlington Northern Santa Fe (BNI) in a $44 billion deal, helped to open a strong month for November, which ignited confidence for more M&A activities, the ultimate harbinger of an economic recovery. The country's unemployment rate hit 10.2%, the highest level in more than 26 years, but the number of first-time filers for jobless benefits fell to 466,000 by Nov 25, the lowest number since the week ended Sep.13, 2008. Additionally, sales of existing homes rose 10.1% in October to a 6.1 million annual rate, up from a 5.54 million pace in September, according to the National Association of Realtors, and is better than the expected 5.7 million annual rate.
On the other hand, the Obama administration found it necessary to extend its home purchase stimulus including the $8,000 tax rebate to April 2010, to prevent the fragile housing market from collapsing again. Right before the Thanksgiving holiday, Dubai World, the state-controlled company of Abu Dubai, which has approximately $60 billion of liabilities, threw a bomb to the global capital market announcing it is seeking to delay debt payments as it negotiates to extend maturities, which is essentially a declaration of an informal default of its debt. This is viewed by some as a start of the final leg of the financial crisis, which has travelled from household default, to bank default, and to sovereign default. The economy of Abu Dubai is trivial relative to the size of the US economy, but the default of Dubai World debt should serve as a sound alarm to the policy makers of this country, of the risk and urgency of deep fiscal burden.
Lastly but very importantly, the country has approached the trigger point of a health care overhaul, which will cost approximately $1 trillion in the first 10 years (or 6 years depending on how one views the accounting gymnastics performed to reach the figure). Based on the House bill passed in early November, the overhaul will be financed largely by new income taxes on the "rich", and cuts to Medicare and Medicaid benefits. The fantasy is, this $1 trillion overhaul will actually reduce the federal deficit by $110 billion in the first decade. Looking at the burst of: the internet bubble, the US housing bubble, and the Dubai bubble, we have learned: when something looks too good to be true, it is indeed too good to be true.
For point of reference, when Medicare was enacted in the mid 60s, it cost $3 billion in 1966, and lawmakers predicted it would cost $9 billion a year by 1990. The actual cost was $67 billion cost in 1990. In addition, total Medicare spending reached $440 billion for FY2007, or 16% of all federal spending. History has proved time and time again, that it is difficult for government to stay disciplined and focused when it comes to spending – thus thinking a massive new government program will reduce the deficit is largely folly. American people increasingly seem to concur. In fact, only 17% of voters think the bill will cut the deficit, according to a Rasmussen Reports poll conducted on Dec 1, and 60% of voters think the White House-backed health reforms will actually increase the deficit.
With 2009 completing its course, we are appreciative of the signs of an economic recovery, and the robust performance of the equity and debt markets. A year ago, we wrote:
Our belief is that it is almost impossible to time the bottom but fortunately the important issue is not finding the bottom but finding the point at which as investors we can earn superior returns. If you missed our recent look at this topic, please refer to Investor Psychology and Market Expectations, and Then and Now: Buyer Remorse Versus Sellers Loss, where we discuss this concept in greater detail. The bottom line is that while the emotional cost of committing capital is very high today, the financial environment has become much more attractive and investors who are willing to take an intermediate perspective and invest now and/or over the next few months in stocks with attractive valuations are likely to be rewarded very nicely in the years ahead.
A year later, our view has changed. We believe the emotional cost of committing capital is rather low currently, and investors should be very selective in putting their money to work and should adopt a vibrant process in understanding the relationship between what they are paying for and what they will get. We would stress that while high beta stocks ruled the roost for a large part of the year and it was a good time to stress offense, now we would focus on the defense side of the equation. That means looking for high quality companies trading at reasonable expectations, focusing on strategies that hedge against a falling dollar such as the integrated oil stocks, and looking to own stocks with broad global disclosures to hedge away excess exposure to the falling dollar. Is such a strategy early?
Maybe, only time will tell but it is unlikely that economy has fully stabilized and more significant shocks will not surface given the magnitude of the problems we faced. After all, the economy must still navigate the massive withdrawal of Fed liquidity, increasing taxes, and the threat of commodity price increases as BRIC countries continue to grow their economies. Although we sincerely hope for another rewarding year for investors in 2010, we caution against a possible correction. History told us that could very well happen, given many of the fundamental issues the macro economy is faced with.
We end this month's discussion reviewing the stock market's experience of the Great Depression and tracing the Nikkei over the past 24 years. What's not as commonly known about the Great Depression is that the Great Crash in October of 1929 was followed by a nice rally, with the Dow almost hitting 300 again in April 1930, not that far off from where it was at the start of 1929. However, the real damage was done in the following two years when, following some spectacular declines and rallies, the Dow bottomed out at 42 in mid 1932 - almost 90% off its peak. Another interesting example is seen with the Nikkei 225's performance since 1985, which depicts a grim picture of the lost decades for the stock market of a country which has been burdened with debt and minimal growth.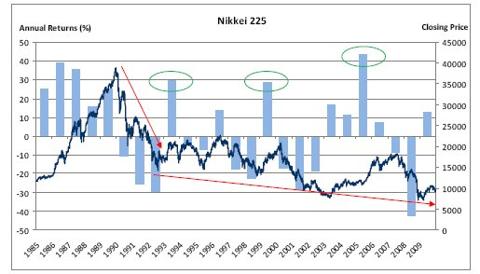 After the Nikkei tanked in 1990, it seemed to have bottomed in 1992. However, from 1992 through 2009, despite having 3 great years when returns exceeded 25%, the index is still trading below its 1992 low. Given the number of issues that must still work their way out of the economy, we just think it is prudent to have a healthy respect for a defensive perspective in marginal portfolio moves in the months ahead as many issues shake themselves out. We will share our predictions for 2010 in more detail with you in next month's news letter. Before that, we hope you had a great Thanksgiving and wish you a very happy holiday season. For November of 2009, (from Oct 30 to Nov 30), the returns are the following:
Click here if you are a professional investor and would like a review of your portfolio by an AFG representative or to discuss companies that AFG finds attractive that fit your investment style.