In our last report on FedEx (FDX), we estimated the company's EPS for the end of the present fiscal to be $5.25, which is 7.1% year-over-year growth. Our growth projection didn't involved any share repurchase activity by FedEx. The company is easily achieving its EPS growth target of 7% to 13% without making any share repurchases. However, FedEx is consistently repurchasing shares, which can lead to consistent capital returns to shareholders.
In October 2013, FedEx announced plans to buyback 32 million shares, subject to market conditions. This will be an addition to its existing repurchase program, which has a remaining authorization of 7.4 million shares. FedEx's consistent share repurchase activities indicate that it wants to ensure consistent returns to shareholders.
The 32 million share buyback will form 10% of the company's 316 million outstanding shares. Historically FedEx hasn't been an aggressive buyer of its shares, so this indicates that it has plans to give considerable returns to its shareholders. Apart from share repurchases, FedEx is making a considerable change to the pricing policy for its FedEx Express segment to grab more customers.
Announcement of flat-rate shipping
FedEx has efforts to reach individuals and small businesses, so it announced a flat-rate shipping option on October 21, 2013, which will start on November 1, 2013 in the U.S. This one-rate option will help FedEx's Express air-shipping unit compete with the U.S. Postal Service's Priority Mail Flat Rate.
This service will boost FedEx's express segment, which witnessed just 2.4% growth in its topline, year over year, in the last quarterly results. Prior to this service, FedEx charged by a combination of weight and distance traveled. In addition to this, surcharges for fuel and other items also prevailed, which used to complicate the pricing.
With introduction of FedEx one-rate, more packaging options will be available to customers; five new boxes will be added to the present line of free packaging along with a new extra-large size category. This will lead to a total of 12 packing options for the express shipping services. After choosing the appropriate size, the customer will have to pay a flat rate for each package with respect to destination. This will facilitate customers to take benefit of simply-priced options for the distance covered in shipping.
The one-rate option will facilitate domestic shipments for overnight, 2-day and 3-day shipping in the U.S. Moreover the pricing will also include value added services like tracking capabilities, customer service, and a money-back guarantee. The company won't require an additional charge for a stated value of $100. FedEx already has 36,500 drop box locations, which will facilitate customers to drop off their respective one-rate shipments at those locations.
We expect that this new service will enhance the company's topline since it will offer more packaging alternatives, simplification of pricing options, online order placement, and timely deliveries. This will also benefit FedEx with new customer acquisitions, which used to find FedEx's Express services a bit expensive.
The company riding high on investor's confidence
As per the present share repurchase program, FedEx will repurchase the shares time to time through privately negotiated transactions in the open market. The continuous share repurchase activity can guarantee short term rally in a stock, but investors should be cautious, since the buyback can be financed through debt if the company doesn't generate sufficient cash. Financing the repurchase through debt will mean trading of one type of liability for another. We will now discuss the cash flows generated by FedEx as compared to its peers, which will give us an idea of the company's liquidity position.
| | | |
| --- | --- | --- |
| Company | TTM Price-to-cash flow | Debt to equity ratio in the last quarter |
| FedEx | 8.6 | 0.17 |
| UPS | 13.1 | 3.296 |
| C.H. Robinson | 23.7 | 0.25 |
| S&P 500 | 10.2 | N/A |
From the above table, we can easily infer that FedEx's trailing twelve month, or TTM, price to cash flow is lower than United Parcel Service (UPS) and C.H. Robinson (CHRW). FedEx's price to cash flow is even lower than the S&P 500. So, we can say quite comfortably that FedEx's cash generation ability is better than the two prominent players in the air delivery and freight industry. Moreover, its liquidity position is also strong compared to the S&P 500 industrial average.
Its debt to equity ratio also stands lowest compared to UPS and C.H. Robinson, which suggests that FedEx's creditworthiness is quite high. FedEx doesn't need to depend on debt to fund the share repurchase. The company had a cash balance of $5.09 billion in last quarter results ended in August 2013, and it requires around $4 billion to fund the new 32 million share repurchase according to present share prices. So we can say that FedEx is in a comfortable position to make the share repurchase.
FedEx had 317 million outstanding shares as on September 30, 2013, after repurchasing 2.8 million shares in the first quarter of fiscal year 2014. We can say the company has been moving to return value to shareholders from the start of the present fiscal year. The capital returns witnessed by FedEx since the start of the present fiscal are given below: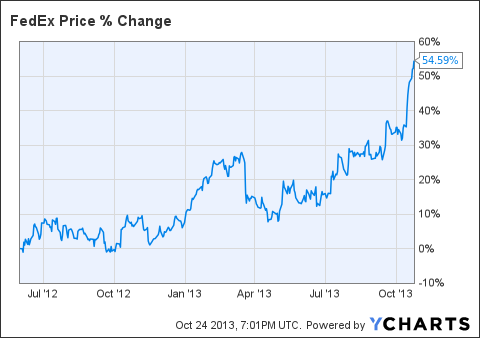 From the above chart, we can infer that FedEx has given capital returns of around 54% in the last year. Further, FedEx's consistent share repurchase announcement has complemented the stock returns. The stock jumped by 4.1% after the announcement of the new share repurchase program. This was the highest increase the stock had witnessed since February 2007.
Conclusion
FedEx's new flat-rate pricing system will benefit the customers since this will provide better services at an affordable cost. Moreover, it will benefit the highest contributing segment of FedEx.
Apart from this, FedEx's consistent repurchase program will complement the strong fundamentals of the company. Moreover, its cash generation ability will help the company to continue with shareholder friendly policies. So, we recommend a buy on FedEx with a long term horizon.
Disclosure: I have no positions in any stocks mentioned, and no plans to initiate any positions within the next 72 hours. I wrote this article myself, and it expresses my own opinions. I am not receiving compensation for it (other than from Seeking Alpha). I have no business relationship with any company whose stock is mentioned in this article.
Additional disclosure: Fusion Research is a team of equity analysts. This article was written by Shweta Dubey, one of our research analysts. We did not receive compensation for this article (other than from Seeking Alpha), and we have no business relationship with any company whose stock is mentioned in this article.