In my last article on Platinum Group Metals (NYSEMKT:PLG) I mentioned that PLG was granted a very promising concession to explore the ground next to its current project in South Africa. However, this week PLG had to announce that its South African partner, Africa Wide, a subsidiary of Wesizwe Platinum (OTC:WSZWF), decided not to fund its 26% share of the WBJV Project 1 Platinum Mine. Is this a deathblow to PLG's prospects in South Africa or is there a possibility to turn the odds in its favor?
Last week PLG announced the following news:
Wesizwe Platinum subsidiary, Africa Wide, decided not to fund a 213M rand (~$21.8M) cash call for its 26% share of the budget for the WBJV Project 1 Platinum Mine in South Africa.
In light of the potential changes in funding arrangements, PLG warns of substantial delays or a stop in construction and production plans for the project.
Stock price collapsed by 15-20%
The stock price reacted with a 15% decline. Of course it looks like bad news if your partner decides not to fund his part of the agreement, for reasons not known yet to the public. It leaves PLG with a couple of questions, and with the rest of the project. The $26 million is not just a big sum of money, but for the PLG, it is very important to know the reasons behind this decision. Under an agreement between the shareholders of Maseve, any further expenditure by Maseve funded by Platinum Group alone would result in the dilution of Africa Wide's equity interest in Maseve. Wesizwe, the holding company of Africa Wide, had previously indicated that they would be a funding participant through Africa Wide and that they supported the proposed project loan in respect of the Project.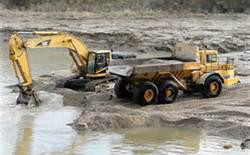 Not trustworthy
So the South African partner is not as trustworthy as we thought it was. First of all, PLG has to find out what the reason is for Wesizwe to step out of the project. If Wesizwe has serious doubts about the WBJV project, PLG might have to re-evaluate its own stance on the project. On the other hand, and more likely considering the various reports already made on the Platinum mine, if the decision is based on the financial position of the South African company, there might be an opportunity for PLG to acquire a bigger stake.
What's next for PLG?
I mentioned in an earlier article that PLG was one of the few companies in the mining sector who was not short of cash. A share issue beginning this year resulted in net cash proceeds of $169 million. Right now the company states it has $90 million in cash. More important is the loan PLG is negotiating with a syndicate of lead arrangers. Here's what PLG stated almost a year ago:
On December 6, 2012 the Company announced that a syndicate of lead arrangers had obtained credit committee approval for a US$260 million Project Loan Facility for the construction of the Project 1 Platinum Mine. The credit approval is not subject to further syndication prior to closing. Closing and draw down of the loan facility is subject to the negotiation and execution of final documentation and satisfaction of conditions precedent.
This final documentation turned out to be a little more difficult than it appeared at that time. According to industry watchers, PLG had to hedge the platinum proceeds of the project but wasn't willing to do so because of the (in their view) too low price of the material.
Right now, the final closing of this deal will be decisive for the way PLG will handle the withdrawal of its South-African partner. If the deal closes, PLG has the time and money to acquire a bigger stake of the project against favorable terms. If the syndicate backs off, PLG can do little more than find new investors (issue new shares) for the project or abandon the platinum mine and take the additional costs for granted.
Conclusion
Michael Jones, CEO of PLG, who once was so sure this 260 million deal would close that he didn't hurry to set the final terms, has a very fine job to do right now. Close this deal and have it all. If not, things could get ugly for the current shareholders. Leaving the project is costly. Finding new investors is costly too, but leaves at least some hope on better times.
No one said it would be easy, investing in miners these day.
Disclosure: I have no positions in any stocks mentioned, and no plans to initiate any positions within the next 72 hours. I wrote this article myself, and it expresses my own opinions. I am not receiving compensation for it (other than from Seeking Alpha). I have no business relationship with any company whose stock is mentioned in this article.