The cruise lines have been battered in the news the past few years. Between ships breaking down and becoming floating Petri dishes, to breakouts of stomach viruses sickening guests, to ships running a ground; the industry has suffered serious setbacks. In spite of these setbacks, I still believe there are buying opportunities, and some of them are better positioned than others.
Carnival Corporation (NYSE:CCL) operates as a cruise and vacation company serving North America, Europe, Australia, and Asia. It has a fleet of 100 cruise ships under the brand names of Carnival Cruise Lines, Holland America Line, Princess Cruises, Seabourn, AIDA Cruises, Costa, Cunard, Ibero Cruises, and P&O Cruises in North America, Europe, Australia, and Asia. CCL was incorporated in 1972 and is headquartered in Miami, Florida.
Royal Caribbean Cruises Ltd. (NYSE:RCL) owns five cruise brands comprising Royal Caribbean International, Celebrity Cruises, Pullmantur, Azamara Club Cruises, and CDF Croisières de France. As of February 4, 2013, the company operated 41 ships with 5 under contract. RCL was founded in 1968 and is headquartered in Miami, Florida.
Norwegian Cruise Line Holdings Ltd. (NASDAQ:NCLH) is a cruise line operator, with various itineraries in North America, the Mediterranean, the Baltic, Central America, Bermuda, and the Caribbean. As of December 31, 2012, it operated 11 ships offering cruises in Alaska, the Bahamas, Bermuda, the Caribbean, Europe, Hawaii, Mexico, New England, Central and South America, North Africa, and Scandinavia. Norwegian Cruise Line Holdings Ltd. was founded in 1966 and is headquartered in Miami, Florida.
Side by side
All three companies have been established for over 40 years, yet have seen various levels of growth.

CCL is almost three times as large as RCL and NCLH, based on Market Cap. It also operates over 100 ships compared to the 41 ships operated by RCL and 11 by NCLH.

Operationally, CCL seems to be the better deal. They have a higher profit margin and return on equity. Being three times as large as the other companies, they can probably leverage some of the costs better, such as fuel charges.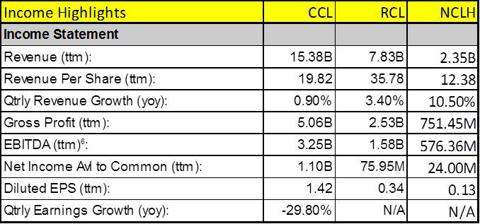 On the income side, CCL again seems to dominate with higher revenues, gross profits, earnings, and net income. The one area where they seem to be deficient is Quarterly Revenue Growth, where RCL and NCLH seem to be dominating.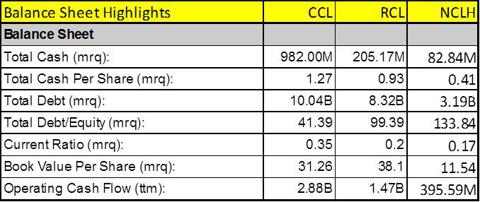 On the balance sheet, CCL still seems to be the better company with more cash, lower debt/equity, and higher operating cash flow.
So in just about all areas, CCL looks to be the better company, yet when the stocks are compared side by side, CCL has clearly been the loser over the past year: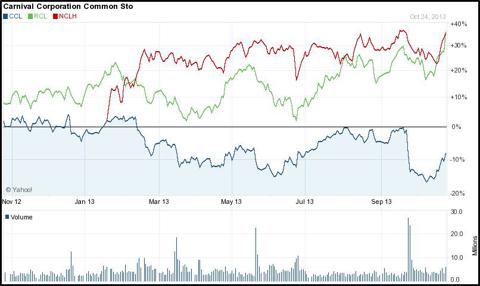 The reason for this might have more to do with the string of bad publicity the company has faced over the past few years. First was the Costa Concordia disaster in January 2012, followed by the breakdown of the Carnival Triumph, stranding over 3000 people for four days in the Gulf of Mexico. There have been other breakdowns and setbacks which have temporarily brought bad press to the company, further exacerbating the previous accidents.
Conclusion
Between the three companies, RCL and NCLH have better reputations and are probably the better buy. However, if you are looking for a speculative play, and have the stomach for the roller coaster that CCL has been, then just like has been written previously by The Value Investor, the recent pull back of CCL might be a good opportunity for short-term traders.
Disclosure: I have no positions in any stocks mentioned, and no plans to initiate any positions within the next 72 hours. I wrote this article myself, and it expresses my own opinions. I am not receiving compensation for it (other than from Seeking Alpha). I have no business relationship with any company whose stock is mentioned in this article.