What a difference a week can make. One week you're hot and the next week you're cold. Investors in Parkervision (NASDAQ:PRKR) have experienced this as shares have recently been one of Wall Street's hottest and coldest plays. Unfortunately for shareholders, Parkervision has gone cold now. Shares fell back to a 2-handle yesterday, closing at $2.90. The chart below shows the wild run that Parkervision has been on.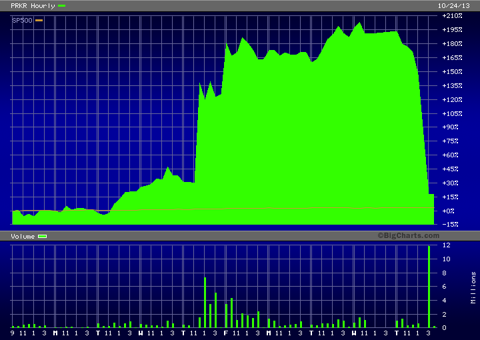 On October 17, 2013, Parkervision won the first phase of its patent infringement lawsuit against Qualcomm (NASDAQ:QCOM). After deliberating for almost two days, the jury found that Parkervision's patents are indeed valid and that Qualcomm infringed on all of them. This set up the second phase of the trail; determining the damages.
After Parkervision won the first phase of the trail against Qualcomm, the media quickly followed. Having followed the stock for quite sometime it seemed that everywhere I looked, the damage estimates went higher and higher with every passing day.
In a research report to investors, J.P. Morgan's Rod Hall talked about how Parkervision could get up to $2 billion in damages from Qualcomm saying:
"ParkerVision announced that should the jury find willful infringement by Qualcomm, the damages could be enhanced by up to three times. We believe this puts the range of damages between $500m and $2.0bn for Qualcomm."
I'm sure many investors had the same type of reaction after reading that. Something like, "Holy smokes, $500 million to $2 billion, this stock will certainly be heading higher." This of course only added to the excitement for investors which in turn lead to the classic pump and dump.
After seeing what has happened to other IP stocks such as Vringo (VRNG), VirnetX (NYSEMKT:VHC) and Wi-Lan (WILN), I saw the writing on the wall. This was one of the reason's why I did not have a position in the stock. On my StockTwists account I mentioned to investors that Parkervision would not get what they were asking for.

A couple of hours later, the announcement was made. The jury awarded Parkervison $173 million in damages for Qualcomm's (QCOM) infringement. Certainly this was a lot for a company currently valued at $268 million right? Yes and no!
It's no secret that Parkervision has been battling with Qualcomm for awhile now. Seeing an award that is more than half the total market cap would be considered an accomplishment for most companies, but not Parkervision.
Unfortunately, many investors were looking for an award in the billions ($1B-$2B). Before Thursday's fallout, Parkervision's market cap was trading well over $600 million. When they announcement was made you could see how investors were disappointed with the outcome. Investors quickly sold their holdings putting a huge amount of selling pressure on the stock.
The volume on Thursday was more than 9X the average volume in shares. It still remains to be seen if the court will grant Parkervision an injunction against Qualcomm.
Conclusion
Investors everywhere are probably asking themselves the million dollar question. Where does Parkervision go from here? That's a tough question that frankly nobody really has the answer to. The selling pressure could cause the stock to drop even further, pushing investors to the brink. The stock could also bounce on oversold conditions as traders look to take advantage of Thursday's fallout. It's really anybody's guess at this point. My advice would be to err on the side of caution.
I would be hesitant as an investor in Parkervision not just because of the price action, but because of the lower award amount, as well as looking at the fundamentals of the company. Parkervision is not making money and had to raise two secondary offerings this year just to stay afloat. It wouldn't surprise me to see another secondary offering on the way if the case makes its way into appeals.
You have to remember that companies do not roll over and hand over hundreds of millions of dollars without a fight. Parkervision looks like it might run into the same challenges that Vringo and VirnetX have experienced and are going through right now.
There is no doubt that the IP space is a high risk, high reward place. Sometimes you win some and sometimes you lose some. Investors looking to put their money safely somewhere have come to the wrong place. Investors need to be on their toes at all times and making sure they are keeping up to date and doing their diligence about the companies they are investing in.
Have a great day and as always, I look forward to hearing your thoughts or questions that you might have in the comments section below.
Disclosure: I am long VRNG. I wrote this article myself, and it expresses my own opinions. I am not receiving compensation for it (other than from Seeking Alpha). I have no business relationship with any company whose stock is mentioned in this article.