The Allianz Global Investors/PIMCO family of Closed-End funds (CEFs) includes some of the most highly valued funds in the CEF universe. In fact, if you go to this link, CEFconnect, and sort by filtering all 600 bond and equity CEF funds by their Premium/Discount column, you will see quite a few PIMCO managed funds among the highest premium valuations, almost all of which are fixed-income funds. But even the Allianz managed equity funds, the NFJ Dividend, Interest & Premium Strategy fund (NYSE:NFJ) at a -3.8% discount and the Allianz Global Equity & Convertible fund (NYSE:NGZ) at a -5.3% discount are richly valued compared to most equity CEFs, which average closer to double digit discounts.
However, not every single Allianz/PIMCO fund trades at or near a premium. If you go to the link above and sort the funds by their discounts, you will find one lone Allianz/PIMCO CEF trading at one of the widest discounts of any CEF, the Allianz Equity & Convertible fund (NYSE:NIE). Now you might think that NIE, at a -13.5% discount and among the lowest valued funds out of 600 (rankings will change day to day), must be the worst of the Allianz/PIMCO CEFs based on how investors value it. I mean, why else would investors be willing to sell NIE at $18.94, almost $3 below its NAV at $21.90? Note: All prices are as of October 24th, 2013.
To put that in perspective, consider what investors are willing to pay for another Allianz/PIMCO fund, the PIMCO Global StocksPlus & Income fund (NYSE:PGP). Based on PGP's closing price as of October 24th, PGP's market price of $23.48 represents about a 60% premium over its $14.72 NAV even though PGP's NAV is almost 50% lower than NIE's at $21.90. You read that right. PGP trades at a market price 25% higher than NIE even though PGP's NAV is 50% lower. I hope investor's can grasp the absurdity of that because it gets even more ridiculous.
Reason #1 Why NIE Is The Most Undervalued CEF - Performance
Now, PGP is a great fund and it can have incredible NAV appreciation potential when both the equity and bond markets are firing on all cylinders because of its heavy use of leverage, but over up and down market cycles (yes, down cycles do occur), other funds can perform even better at the NAV level. Would it surprise you to learn that NIE, which is a non-leveraged option-income fund whose portfolio includes about 30% convertible securities, has better NAV total return performance than PGP over up and down market cycles?
The following table shows the quarterly NAV total return performance of NIE compared to PGP going back to the market top in the fall of 2007 right before the financial crisis began. All distributions are added back to give you a running total return performance. So the table starts with the financial crisis (red for down market quarters) and then from early 2009 on, shows the recovery period (green for up market quarters).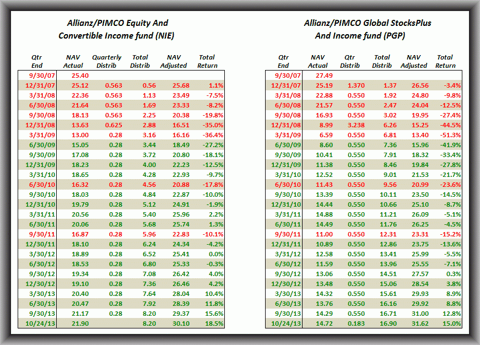 So for the past six years, NIE at a current -13.5% discount has seen its NAV actually outperform PGP at a current +60% premium. Even YTD during this wildly bullish run in which you would think a heavily leveraged CEF would far outperform an option-income CEF, NIE's NAV is up 19.1% on a total return basis, only moderately lagging PGP's NAV which is up 22.8%. So which fund would you rather own from Allianz/PIMCO based on these performances? The highly leveraged bond fund (PGP also owns S&P 500 mini futures) at the highest premium valuation of any CEF, or a US stock and convertible based fund at one of the widest discounts?
But its not just PGP that NIE compares well with over varying equity and bond market cycles. Compared to Allianz's two other stock and convertible based CEFs, NFJ and NGZ, NIE beats them as well on a YTD and longer term basis too.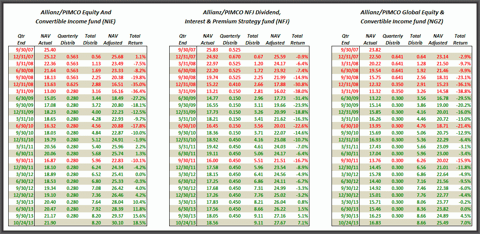 So why does NIE trade at such a low valuation of $18.94 when its NAV is $3 higher at $21.90? Is it simply because of its low market price yield of "only" 5.9% compared to the other Allianz/PIMCO CEFs which offer much higher market yields? I can't think of any other reason since it certainly can't be performance based. In fact, I've been wondering why Allianz hasn't raised the distribution level of NIE already to make it more competitive with its other funds. Though its current NAV of $21.90 is still below its inception NAV of $23.83 when it went public in early 2007, could there be some way in which Allianz might be able to raise NIE's distribution to make it more competitive with other CEFs? Well, be careful what you ask for.
Reason #2 Why NIE Is The Most Undervalued CEF - NGZ Merger
If any fund family should give investors a reminder of why discount and premium valuations matter, its Allianz/PIMCO. Just last month in September, Allianz/PIMCO gave investors not one, but two reminders.
On September 18th, Allianz announced the termination and liquidation of their Allianz International & Premium Strategy fund (NYSE:NAI). Though NAI no longer trades having returned its NAV assets to investors in mid October, investors should take note that on the trading day after the liquidation announcement, NAI's market price immediately rose about 8% to its NAV price to better reflect its liquidation value. Something to think about if your a holder of an Allianz/PIMCO fund at a premium.
Then a week later on September 25th, Allianz announced a merger of NGZ into NIE. Since NGZ is a much smaller fund at $118 million than NIE but with a similar investment strategy and asset allocation, it made sense to make NIE the surviving fund. The only real difference between the two funds is that NGZ has global stocks whereas NIE includes all US based stocks. Both funds also include convertible securities and use option writing for enhanced income. Combined, the two funds will have over $600 million in assets.
So why does this make NIE more attractive? Not only will NIE have better economies of scale due to its larger size (lower expense ratio, etc), but Allianz may also use this as an opportunity to reset NIE's distribution to a higher NAV yield. Currently, NIE offers a very low 5.1% NAV yield (5.9% market yield because of the discount) while NGZ offers a much higher 7.1% NAV yield (7.5% market yield). This wide difference is unusual considering the two fund's similarities in asset allocation and income strategies. So if you take an average 6.1% NAV yield for the combined funds, which I think is conservative, that means NIE's distribution goes up about 18%, from $0.28/share per quarter to say $0.33/share per quarter. That would put NIE's current market yield around 7%, still relatively low for an Allianz/PIMCO CEF but much higher than its current 5.9% current market yield. Allianz could take it even higher since NFJ, a similar strategy equity/convertible fund, is at a very high 9.7% NAV yield.
In any event, I would be selling NGZ here and buying NIE since if the merger goes through, NIE is dramatically more attractive. In fact, based on Allianz's SEC filing for the merger dated October 18th, which you can see here, I'm not sure what NGZ shareholders are thinking. The merger will be based on the NAV ratios of the two funds and right now, NGZ shareholders would get .769% shares of NIE for their NGZ shares because NIE's NAV is $21.90 and NGZ's NAV is $16.83 (based on October 24th NAV prices). In other words, if you own 1,000 shares of NGZ, you're only going to receive 769 shares of NIE. I'll let you figure out what that makes NGZ shares worth but the way I'm reading this, I would be selling NGZ here around $16.
I personally think NIE should be trading closer to $21 based on current valuations and if the merger is approved and completed in the 1st quarter of 2014. That would still put NIE at a -4% discount based on today's $21.90 NAV, which would still be wider than NFJ's -3.8% current discount, a fund that NIE has soundly beaten in its NAV performance, though NFJ offers a very high 10.1% market yield. But there is one more reason why I would be buying NIE and why I consider it the most undervalued CEF.
Reason #3 Why NIE Is The Most Undervalued CEF - Going Open End?
If Allianz's announcement last month about the liquidation of NAI didn't grab your attention (when NAI bounced 8% the very next trading day), then imagine what an announcement about NIE going open-end at a -13.5% discount would do. In the SEC registration detailing the preliminary merger prospectus between NIE and NGZ, there is a section on page C-25 titled "Repurchase of Common Shares; conversion to open-end fund" that reads as follows...
Shares of a closed-end investment company may frequently trade at prices lower than net asset value. The Funds' Board of Trustees regularly monitors the relationship between the market price and net asset value of the common shares. If a Fund's common shares were to trade at a substantial discount to net asset value for an extended period of time, the Board of Trustees may consider the repurchase of such Fund's common shares on the open market or in private transactions, the making of a tender offer for such shares or the conversion of such Fund to an open-end investment company. The Funds cannot assure you that their Boards of Trustees will decide to take or propose any of these actions, or that share repurchases or tender offers will actually reduce any market discount.

Before deciding whether to take any action to convert a Fund to an open-end investment company, the Board of Trustees would consider all relevant factors, including the extent and duration of the discount, the liquidity of the Fund's portfolio, the impact of any action that might be taken on the Fund or its shareholders, and market considerations. Based on these considerations, even if a Fund's common shares should trade at a discount, the Board of Trustees may determine that, in the interest of the Fund and its shareholders, no action should be taken.
Now this may be more boilerplate language but it brings up a good point. NIE at a current -13.5% discount certainly would qualify as a substantial discount and it has been that way for quite some time as evidenced in this Premium/Discount graph since the fund's inception in early 2007.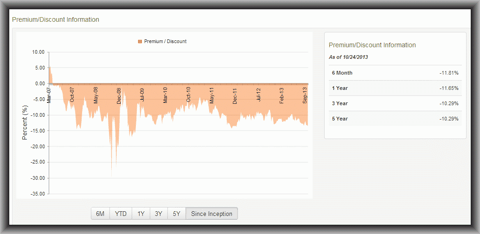 So is Allianz setting up NIE to convert to an open-end fund in the future if the merger isn't approved? Maybe, maybe not. Allianz certainly manages many more open-end mutual funds than closed-end funds so that wouldn't be a stickler. NIE might actually make more sense as an open-end fund anyway. The whole reason why you structure high yielding funds to be closed-end is because investors can't impact the NAV by redeeming shares. Imagine if a heavily leveraged fund or an option income fund were forced to liquidate holdings because shareholders wanted their money back. Wouldn't work as an open-end fund.
But for funds like NIE that either don't use leverage currently and don't offer a current high yield, an open end structure may make more sense. Even NIE's very low use of option-writing is curious right now. As of NIE's latest Semi-Annual report dated 7/31/2013, the fund had only $261,000 in written options outstanding on a $488 million fund. That is extremely low and no where near what a fund like NFJ writes on its stock portfolio. Of course, that low percentage could have changed since July but I find it intriguing that the portfolio managers of NIE have elected to write so few options on NIE's stock portfolio.
Conclusion
No matter how you look at it, NIE is an extremely undervalued fund based on any metric. I'm not going to go into analyzing the fund's holdings which you can see here, NIE Holdings, since this is more about relative valuations and upcoming corporate events that I feel will benefit the fund's market price.
Whether because of the merger with NGZ or because of a conversion to an open-end fund, there is little doubt in my mind that Allianz Global Investors is committed to seeing NIE's assets become more fully valued in 2014. Nonetheless, I would encourage investors to perform their own due dilligence and not rely on my analysis as the basis of any investment decisions since much could still change, including the merger not being approved. According to the SEC registration, the record date to vote on the merger of NIE and NGZ looks to be the close of business on November 12th, 2013.
Disclosure: I am long NIE. I wrote this article myself, and it expresses my own opinions. I am not receiving compensation for it (other than from Seeking Alpha). I have no business relationship with any company whose stock is mentioned in this article.
Additional disclosure: Short NGZ