Introduction and Business Summary
SolarCity Corp. (SCTY) is a highly undervalued company with huge potential on an international level in a business. Below is our introduction into the business model, the company's strengths, and the continued buying opportunity that exists for SolarCity as the stock continues its monster run over the course of 2013. Even as the stock approaches all time highs, we believe that there is still a great opportunity for the future as the company continues to land large contracts and partnerships that will spur growth going forward. We will discuss these aspects of the company's business in more detail later. Investors and Wall Street have failed to realize the full value in this company because of the lack of confidence associated with solar in recent history, but we believe that the stock will continue to break out as the company has improving fundamentals and business prospects beyond 2013. The company has a market cap of $4.65 billion and reports the next quarter on November 6, 2013. With this in mind, we value SolarCity Corporation at $75.00 by year-end of 2013 and $105.00 by June 1, 2014, an increase of 75% from current levels. We strongly feel that this company has the potential to see huge upside over the next year and a half, as the company takes advantage of new market opportunities and continues to drive growth in its existing businesses. SolarCity is tied to the high growth area of solar products for corporate and residential use. Momentum will continue to drive this stock as well, and we may see a Tesla Motors (NASDAQ:TSLA) like run over the course of the next year. We will later highlight:
1) The future of solar and business expansion
2) New opportunities and investments for SCTY
3) The economics of the SCTY business and industry overview
4) Growth drivers in the future
5) Cash/Valuation to peers
SolarCity Corporation at a Glance
SolarCity engages in the design, installation, and the sale or lease of solar energy systems to residential, commercial customers, and government entities in the United States. It provides solar energy systems and energy efficiency products and services, including home energy evaluation, energy efficiency upgrade products, and services. The company also sells electricity generated by solar energy systems to customers. In addition, it markets and installs electric vehicle charging equipment to residential and commercial customers through retail partnerships. The company was founded in 2006 and is headquartered in San Mateo, California. Fast Company Rankings ranked SolarCity as the "#10 Most Innovative Company in the world."
Major Partnerships or Contracts and the Elon Musk Factor
Home Depot (NYSE:HD) - SolarCity products available at Home Depot in over 450 stores.
Shea Properties - One of the oldest and largest private homebuilders in the nation includes SolarCity systems in its SheaXero communities - Shea Homes is located in 8 states including AZ, CA, CO, and WA
Taylor Morrison - SolarCity systems are installed by the largest North American privately owned homebuilder based in the United States - Taylor Morrison is located in AZ, CA, CO, FL and TX
Pulte Homes (NYSE:PHM) - The nation's largest homebuilder and only multi-branded homebuilder located in over 60 markets and 30 states, including AZ, CA, CO, and NJ
Toll Brothers (NYSE:TOL) - Luxury Home Builder now deploying SolarCity ready homes - Toll Brothers is located in 20 states including AZ, CA, CO and NJ
Tesla Motors - Preferred partner for installing EV chargers, creating an opportunity to discuss the advantages of cleaner cheaper energy for thousands of Model S owners in 2013
Honda Motor Company (NYSE:HMC) - Partnership with leading automaker to co-market and finance solar projects for Honda and Acura customers and dealerships across SolarCity's service territory






Elon Musk is the Chairman of SolarCity and owns roughly 20.8 million shares of SCTY stock. His cousins, Lyndon and Peter Rive, founded SolarCity in 2006. Musk is currently CEO and Chairman of Tesla Motors, a new all-electric American Car Company, after a number of different ventures in the tech sector. In addition, he is a trustee of the X Prize Foundation and the Musk Foundation, both of which have a strong interest in promoting renewable and environmentally friendly energy technologies.
Better Understanding The SolarCity Advantage
Clean, More Affordable Energy - Solar Bill Paid Monthly, Just like a Utility Bill, Only at a Lower Cost:
Customer Value Proposition
No Upfront Cost of Installation
A Simple Switch to Solar
Easily Transferable upon Moving
SolarCity Value Proposition
Consistent, Predictable 20-Year Cash Flows
Economic Improvement from Decreasing Cost of Capital and All-in Installation Costs
Opportunity to Upsell Other Energy Services
Advanced Technology in Products and Software Drives Cost Down for Consumers
SOLARBIDTM
Lowers customer acquisition costs - Energy analysis and proposal generation
Solar production model
Utility rate database
Accurately predicts savings
SOLARWORKSTM
Enables high throughput and lowers overhead expenses - Scalable project management
Project Management
Permitting
Engineering
Supply Chain
Quality Assurance
POWERGUIDETM
Ensures system production and continued customer engagement - Continual customer conversation
Customer portal shows real-time production and integrates with social
Platform to upsell additional services
Integrated with field service and billing
New Market Opportunities - Cross Selling and Upselling Current Customers
Energy Efficiency Audits
Proprietary software performs a whole-house simulation using a 3D model of each building to diagnose all areas of energy use and waste.
Recommendations include air sealing, insulation, high efficiency furnaces, water heating, duct sealing and replacement.
Over 15,000 energy efficiency audits sold.
Energy Vehicle Charging
Level 2 fast chargers for residential customers provide a great opportunity to upsell solar.
Level 3 fast charge stations engineered and constructed by SolarCity provide Tesla owners with unparalleled charge times powered by the sun (can also be used for cars from competing automakers in the future).
Over 750 charging locations sold and will begin construction in late 2013.
Battery Storage
Proprietary battery control systems integrate solar, storage and building demand
Wall mountable with enough energy to power an energy efficient home
Provides backup power during utility outages
Over 100 pilot projects under contract
Economies of Scale Create a Barrier to Entry
Infrastructure - 29 operations centers servicing 14 markets
People - Over 3,400 employees including hundreds of trained sales consultants, installers, and engineers
Technology - Solar system design, supply chain, project management, billing, permitting, performance monitoring
Process - Replicable and documented processes based on lean manufacturing techniques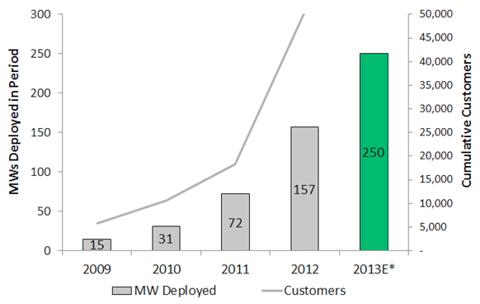 Even as Risk Free Rate Rises Solar Power's Risk Premium Is Compressing Given:
Default rates for household energy payments are lower than for residential mortgage payments
Long-term contracts offer high visibility and predictability of cash flow
Price escalators in some contracts offer an inflation hedge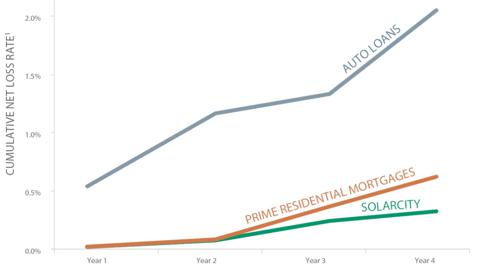 Massive Potential Market Now Barely Being Tapped
SolarCity has just started to tap into a massive market with huge demand for the future. As more and more corporations and homeowners attempt to "go green," SolarCity will reap the benefits of new contracts. It has already locked into agreements with some of the largest companies in the United States. In the current market, there are 41,855,441 commercial buildings in the SolarCity potential pipeline. SolarCity has market penetration at 45,000 buildings, representing just 0.11% of the potential market. As SolarCity continues to lock in contracts and new customers, it will reach 100,000 buildings by mid 2014, and 200,000 buildings by early 2015, realizing 0.48% of the commercial building market. Even with a minimal piece of the market share, SolarCity has huge potential for growth in the future. The graph below shows the cumulative solar investments and the investments added over the course of the last 5 years.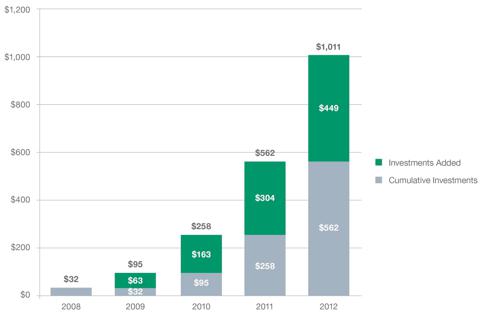 On the residential side of the market, the next 5 years look extremely promising for SolarCity. The company has the opportunity to be involved in the residential market that could potentially yield 120,000 homes with a contract value over $1 Billion. These residential properties would use roughly 300MW of energy annually, which could generate huge revenues for SolarCity from a leasing standpoint. SolarCity's contract with Wal-Mart will be a huge growth driver for the future and may lead to other large contracts and partnerships with corporations looking to save on energy costs. The current solar deployment with Wal-Mart includes over 160 stores completed or under construction with the potential for many more domestically and internationally. SolarCity will provide up to 30 percent of each facility's total electric needs. The company has already announced 12 new projects in Ohio earlier this quarter and will be expected to announce many more projects during the next earnings report.
Financial Results
Total revenue for SolarCity decreased by $8.6 million, or 19%, for the three months ended June 30, 2013 as compared to the three months ended June 30, 2012, but this was primarily due to one customer that decreased spending because of a delay in construction, which was expected. Operating leases revenue increased by $9.1 million, or 79%. This increase was attributable to an increase in solar energy systems placed in service under leases and power purchase agreements between July 1, 2012 and June 30, 2013. The average of the megawatt production capacity of solar energy systems in service increased by 108%, for the three months ended June 30, 2013 as compared to the three months ended June 30, 2012. This significant growth was due to continued success in the installation and operation of solar energy systems under lease and power purchase agreements in new and existing markets and customers, and these trends are expected to increase in the future.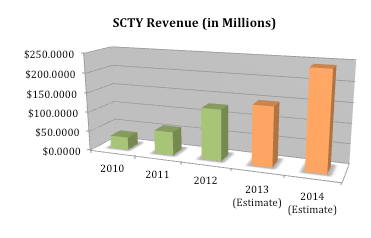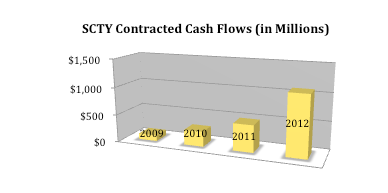 Revenue from sales of solar energy systems decreased by $17.7 million, or 51%. This decrease was primarily due to a $10.7 million decrease in revenue from long-term solar energy system sales contracts, of which $5.3 million of the decrease in revenue related to sales to a specific commercial customer, and a $4.9 million decrease in large commercial solar energy system sales. These decreases also resulted from a lower average sales price of solar energy systems sold due to a decrease in the cost of solar energy system components that in turn led to a downward impact on the competitive market price of solar energy systems sold. Revenue estimates for SCTY continue to be on the high end of the range and guidance has continued to be strong for future quarters. The company expects this trend to reverse in the future and average sales price will return to increased historical levels.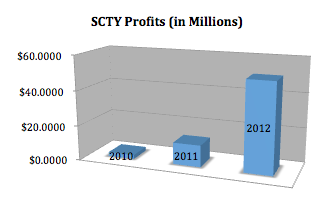 In the six months ended June 30, 2013, SolarCity generated $82.9 million in cash from operations. This cash inflow primarily resulted from an increase in deferred revenue of $79.9 million related to upfront lease payments received from customers, solar energy system incentive rebate payments received from various state and local governments and deferred investment tax credits revenue, an increase in accounts payable of $14.7 million, an increase in accrued and other liabilities of $31.4 million including $29.6 million received from an investor as a prepayment for monetization of investment tax credits for solar energy systems that will be placed in service after June 30, 2013, and a decrease in inventories of $19.2 million. This strong cash inflow puts SolarCity in a great position to reinvest in the business and continue to focus on growth for the future. With a significant increase in contracts, we expect to see strong revenue generation and cash flow over the long term for this company.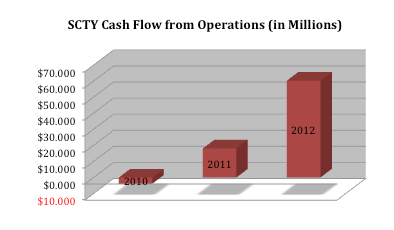 As a valuation play, it is tough to compare SolarCity to direct competitors such as First Solar (NASDAQ:FSLR) and Canadian Solar (NASDAQ:CSIQ), and other privately held companies that have been around much longer and have seen extreme market conditions over the past 5 years. As the company does trade at a significant premium to Book Value as well as Sales, we believe that this price is warranted because of the explosive sales growth and contracted cash flows for the future. The Price to Tangible Book Value of 26.71 and Price to Sales of 38.80 are lower than historical comparisons to competitors at the same point in the company life cycle, which is an important metric for investors to consider.

Sales Growth is another key metric to look at in the Solar and Energy Sector. With sales growth of 116.05%, SolarCity has proven that a high quality product can be successful and a sustainable business. This sales growth does not appear to be slowing down based on the company outlook and sales thus far in 2013.

SolarCity boasts a nice Gross Profit Margin at 46.30%, which outpaces other best of breed companies in the solar energy sector such as First Solar at 26.39%. This industry has traditionally been challenged by the high costs of production, but SCTY has been very successful in terms of cutting costs and structuring contracts in a manner that will make them profitable.


SolarCity is in a strong position from a financial standpoint for such a high growth company, as it currently has a very low Debt/Capital ratio at 0.47 and plenty of cash at 51.65% of Total Assets to expand business operations and execute on the growth strategy going forward.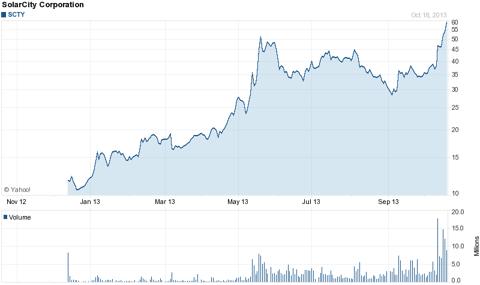 What Investors Need to Know
SolarCity has been on a tremendous run this year in terms of share price, but still has potential to move significantly higher as the company grows at an incredible rate. Traditionally, Wall Street has seen solar companies as a highly volatile play in a struggling industry, but as corporations and Americans continue to increase demand for more efficient energy sources, SolarCity will continue to thrive as one of the best of breed in this space. We believe that the aggressive international business model will provide huge growth opportunities for the company going forward. The next earnings release will give investors insight into how the beginning of the second half of 2013 is shaping up so far. Expect this company to continue to outperform in the solar and energy space as it has one of the industry's best business models and management teams. The first half of the year proved that the company has adapted and can weather tougher environments and a slight delay in spending habits, while positioning themselves for the second half of the year. The short percent of float is still high at 31.80%, and with continued revenue growth and customer acquisitions, investors may see the stock squeeze higher as shorts begin to cover. With this in mind, we value SCTY at $75.00 by year-end of 2013 and $105.00 by June 1, 2014, an increase of 75% from current levels.
Disclosure: I have no positions in any stocks mentioned, and no plans to initiate any positions within the next 72 hours. I wrote this article myself, and it expresses my own opinions. I am not receiving compensation for it (other than from Seeking Alpha). I have no business relationship with any company whose stock is mentioned in this article.
Additional disclosure: AlphaStreetResearch is a team of Investment Research Analysts. This article was written by Mr. Hunter Orr, Director of Research, with research assistance from Mr. Aaron Zander, Junior Research Analyst.