The iShares MSCI All Peru Capped ETF (NYSEARCA:EPU) strengthened after Fitch Ratings upgraded the country's credit rating, praising the economy's ability to absorb shocks in the system.
The fund gained 5.5% over the past three months, but is still down 23.4% year-to-date.
Fitch raised Peru's foreign-currency rating to BBB+ from BBB as the higher rating better reflected the country's ability to withstand slower global growth, reports John Quigley for Bloomberg. Anything BBB- or higher is considered investment grade quality.
"Peru's established track record of policy coherence and credibility as well as the sovereign's fiscal and external financing flexibility underpin its strong shock absorption capacity," Fitch said.
President Ollanta Humala is maintaining the government's "pragmatic approach" to private investment. Additionally, Humala's "conservative" policy could bolster fiscal surplus for the third consecutive year and cut debt to 19% of GDP from 20% in 2012, according to Fitch.
"Continued pragmatism under the Humala administration and a steady progress on reforms suggests that the risk of a marked departure of economic policies has reduced," Fitch added.
Peru's economy is expected to expand 5.4% this year, down from 6.3% in 2012 due to the drop in prices in metals. Fitch, though, believes Peru can still outperform BBB-ranked economies, like Brazil, Panama and South Africa.
EPU, the lone Peru-specific ETF, allocates 46.5% of its weight to the materials sector and that makes sense because the country is the world's largest silver producer and the fifth-largest gold producer. Consequently, the fund shows a higher correlation to precious metals.
Earlier this month, a report released by the World Gold Council and PricewaterhouseCoopers illustrated just how important gold is to the Peruvian economy. The report uses gross value added (GVA), which measures the contribution to gross domestic product (GDP), employment and taxes paid as a metric for measuring the impact of gold output on major gold producers' economies.
Direct GVA from gold mining in Peru is estimated to be $8 billion, according to the report. "The average amount of economic value added per ounce of gold is US$1,139 and ranges from US$946 in China to US$1,352 in Peru in 2012. The differences between countries reflect variations in labour costs and productivity," the report noted.
iShares MSCI All Peru Capped ETF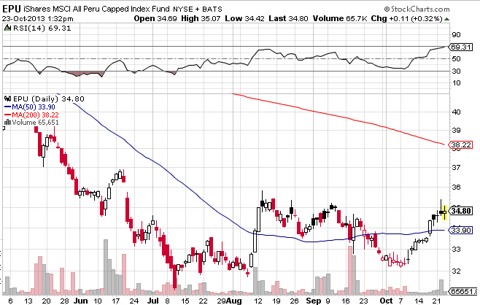 Max Chen contributed to this article.
Disclosure: I have no positions in any stocks mentioned, and no plans to initiate any positions within the next 72 hours. I wrote this article myself, and it expresses my own opinions. I am not receiving compensation for it. I have no business relationship with any company whose stock is mentioned in this article.