"Don't wish it were easier, wish you were better." - Jim Rohn
For income investors looking to delve into the energy sector, master limited partnerships and limited partnerships are companies that offer a high yield through the stock ownership. Collectively referred to as MLPs, this group receives a huge tax benefit through their unique structure.
As part of the legal nature of the MLP group, they are exempt from paying corporate taxes. Also, MLP owners, who are referred to as "unitholders," are responsible for a complicated tax structure themselves and must report this via an IRS K-1 form.
In a similar fashion to real estate investment trusts (REITs), MLPs also distribute most of their taxable income. The only difference is that through distributions, the unitholder's cost-basis is reduced as a percentage of dividends are classified as a return-of-capital. Thus when the MLP shares are sold, deferred taxes must be paid. Even IRA account ownership of MLPs can be taxed, which makes this type of investment even more confusing.
Working Around The K-1 Form
Fortunately for investors, there are funds that work around the K-1 forms to offer MLP exposure without the tax headaches. The popularity of these investments cropped up in 2010, where several new funds were created. When I screened to find ETFs or closed-end funds with over $2 billion in assets, a yield of over 5% and average volume of over 200k shares per day, I found two options that may be suitable for the income investor.
The following two funds offer different benefits that realize one common thread: avoiding the complicated tax nature of the K-1 form. Pricing and yields are as of close of trading on October 24, 2013.
1. ALPS Alerian MLP ETF (NYSEARCA:AMLP), $17.95
This ETF is the largest fund in our group, representing $7.89 billion in assets. The common complaint against AMLP is the fact that the fund holds cash reserved in an effort to offset future tax liability. The total deferred tax liability stood just north of $648 million as of October 24, 2013, or nearly 9% of assets. The fund has the lower expense ratio of the group at .85%, however, it does carry a yearly income tax fee of 4%. AMLP does carry an appealing trailing-12 month [TTM] dividend yield of 5.84%
2. Kayne Anderson MLP Investment Company (NYSE:KYN), $36.41
This closed-end fund has assets of $3.4 billion and is trading at a premium of 6.4% to NAV. The fund management fees and expenses total 2.5%, which does not include interest or income tax expenses. Upon incorporation in 2005, the fund has raised its quarterly dividend consistently with the exception of 4% dividend reduction in 2009 (from $0.50 to $0.48) that was not raised again until 2011. Today the TTM yield sits at 6.29%. Also, this fund uses leverage to enhance results.
Conclusion
Between these two funds, AMLP has higher trading volume, lower volatility and a larger asset base. The risk is also reduced as the fund does not use leverage to enhance results. In an up market, however, leverage enhances returns as noted in the 1-year performance chart below.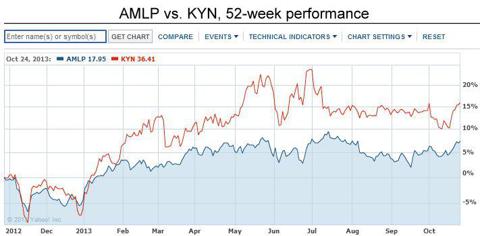 While KYN distributed a higher amount of dividends (6.29% versus 5.84%) and achieved a greater return over the past year, the higher risk may not be suitable for the income investor. While AMLP does hold cash reserves, it does offer enough MLP exposure to allow the income investor an excellent energy-related yield without the tax headache.
To view more information on the complicated nature of MLPs and the associated tax structure, please read "Discover Master Limited Partnerships" here.
Disclosure: I have no positions in any stocks mentioned, and no plans to initiate any positions within the next 72 hours. I wrote this article myself, and it expresses my own opinions. I am not receiving compensation for it (other than from Seeking Alpha). I have no business relationship with any company whose stock is mentioned in this article.