The adoption of horizontal drilling has played a significant role in increasing the production of oil and gas. One such company rapidly growing on this technology is Midstates Petroleum Company Inc. (MPO). Midstates is an independent oil & gas exploration and production company. The company utilizes modern drilling and completion techniques to develop its oilfields in Oklahoma, Kansas, Texas, and Louisiana.
Over the last two years, the company has significantly grown through two large acquisitions. In doing so, Midstates has vastly improved its growth prospects at the potential risk of overextending itself financially. Speculative investors may appreciate that the company's CEO continues to buy stock in the company even as the price has fallen. At the same time, the company is currently executing upon an aggressive drilling plan.
Expansion Through Acquisition
On May 31, Midstates acquired the producing properties and undeveloped acreage in the Anadarko Basin from Panther Energy Company, LLC. The closing price for the acquisition was approximately $620 million in cash, an amount funded through a private placement of senior notes. The $700 million in senior notes are set to mature in 2021 and they carry an interest rate of 9.25%.
The acquisition of Panther radically altered the profile of Midstates Petroleum. In acquiring Panther, Midstates gained proven drilling targets with low risk. It also provided the company with a new focus area found in the prosperous Anadarko Basin. One year ago prior to the acquisition, the company was producing less than 8,000 barrels of oil equivalent [BOE] per day from its sole operation in Louisiana. However, with the acquisitions of Panther in 2013 and the Mississipian Lime properties in 2012, the company is now producing roughly 30,000 BOEs per day. Above all, it's operations are now geographically diversified across three distinct regions.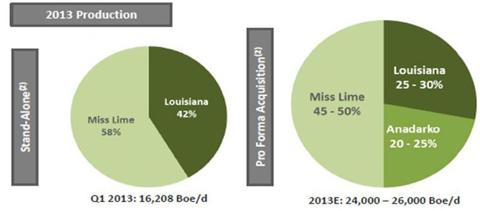 Developing Upon Success
The company is now engaged in a very active drilling program across its newly acquired properties. Midstates has further de-risked its drilling operations by utilizing 3-D seismic data. According to CEO John Crum in the Q2 2013 earnings conference call, the company has also implemented various improvements that have contributed to greater efficiency. The use of pad drilling has served as a catalyst for improving the company's drilling and completion costs. It has done so by saving on costs otherwise allocated to location roads, pipelines, construction, and etc.
At its assets in the Anadarko Basin alone, the company continues to rapidly increase its output. From the time of its acquisition in early June to mid-September, the production rate had increased from 8,000 BOE to 9,500 BOE. This reflected production growth of 19% in a little over 3 months. Of the output produced at these locations, 40-50% of this is oil, 20-25% is natural gas liquids [NGL], and 30-35% is gas.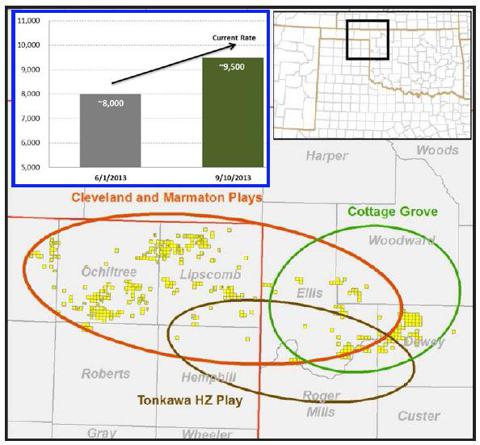 Key Thoughts To Consider
Midstates Petroleum continues to stand out for it growth. The company grew from $625 million in assets in December 2011 to over $2.56 billion in assets in June 2013. This roughly represents asset growth of 300% in less than 1.5 years. At the time of its IPO in mid-2011, the company had roughly 50 employees. This has grown to 158 by the end of June 2013.
The company is securing its future revenue for sustained growth. Midstates has hedged approximately 80% of its forecasted 2013 volumes. Likewise, it has hedged approximately 70% of its 2014 oil volumes. This helps to reduce volatility and support cash flows.
The company utilizes a 100% horizontal development program on high-grade projects. This allows for future growth opportunities in regards to reserves and production. It also lowers the risk associated with drilling while offering a strong rate of return. Above all, it is more predictable and easily replicated.
Midstates has secured a diversified acreage position across multiple plays. More than 700 drilling locations have been identified for the active program now underway.
The company sustains assets that are heavily weighted towards oil production. Following its latest acquisitions, the company has pro forma reserves that are roughly 48% oil and 20% NGLs.
Ongoing CEO Purchases
An encouraging indication of undervaluation comes from the company's CEO himself. CEO John Crum has purchased 325,000 shares on the open market since the company's IPO. This was accomplished over multiple transactions beginning in August 2012. According to the Form 4 found here, the CEO's last transaction occurred on October 15, 2013. Crum purchased 10,000 shares at an average price of $5.26. Crum now owns 1,336,301 shares of the company.

Crum formerly served as a high level executive for Apache Corp (APA), a $35 billion producer of oil and gas. While he was there, he served as the co-chief operating officer and president of the company's North America division. Less than a year after leaving Apache for Midstates Petroleum, Crum took Midstates public through its $312 million initial public offering.
Finding A Bottom
Midstates has significantly fallen since its initial public offering in April 2012. The company raised $312 million in its IPO after pricing 24 million shares at $13. Yet the company had originally received a poor reception as this came in below the expected price range of $16-$18.
Much of the decline in Midstates can be attributed to the company's use of leverage. As of June 30, the company only carried $12.3 million in cash and cash equivalents. It also had $95.6 million in net receivables and $19.7 million in other current assets. At the same time, the company carried $182.3 million in current liabilities while supporting total liabilities of $1.92 billion. Total cash flow from operating activities was $10.6 million in June.
Nevertheless, Midstates now appears to be settling in at a new level of price support. As of its last close of $5.78 on October 25, the company now trades with a market capitalization of $380 million. Midstates trades with a low price-to-book ratio of 0.60 and a weak price-to-sales ratio of 1.19. As of June 2013, the company carried total assets of $2.57 billion on its balance sheet. This amount was largely accomplished by its $1.52 billion in long-term debt.
Final Thoughts
Midstates Petroleum continues to trade at a very low valuation to its book value. The company remains highly leveraged following its latest acquisitions over the last two years. However, the company has greatly diversified its portfolio and continues to secure cash flows through its hedging strategy. Production continues to grow at a relatively high rate. The company currently operates with very little cash on hand and remains reliant upon its existing credit facilities.
Given the high debt load of Midstates, investors may be justified in their caution over the company's outlook. Yet the one person who would think otherwise is the company's CEO himself. CEO John Crum continues to buy shares in the company while leading it through an aggressive drilling program. Midstates continues to look attractive at its current valuation given its property portfolio and upside potential. Yet the company is largely dependent on its ongoing success. Any falter in production could significantly set the company back.
Disclosure: I am long APA. I wrote this article myself, and it expresses my own opinions. I am not receiving compensation for it (other than from Seeking Alpha). I have no business relationship with any company whose stock is mentioned in this article.