As an Intel (NASDAQ:INTC) shareholder, I have been frustrated with what appears on the surface (no pun intended) an attempt on Microsoft's (NASDAQ:MSFT) part to damage Intel's reputation in the tablet chip space. That being said, while I do think there are some things that really do seem like attempts to prop up the ARM (NASDAQ:ARMH) vendors, there may be alternate explanations to exactly why Microsoft still hasn't killed Windows RT.
Surface 2 and Surface Pro 2 Juxtaposition Damages Intel's Mobile Credibility
To start, let's begin with the Surface 2. While Microsoft dropped the "RT" name from this device (probably to convince some customers that it's not running Windows RT), it's still very much a Windows RT device. Now, to Microsoft's credit, the Surface 2 is a VASTLY superior machine to the original Surface RT. It's thinner, lighter, and sports a fast processor (NVIDIA (NASDAQ:NVDA) Tegra 4) and a great, 1920x1080 IPS display. It offers a much better value for the dollar than the original Surface RT provided.
However, it's still a Windows RT machine. If this were a 7-8" tablet or, heck, if it were simply a 10" tablet with no pretentions of doubling as a productivity device, Windows RT would be just fine, although a bit light on the application ecosystem (but this can be fixed with time and money). But the problem is that Microsoft's big competitive advantage in this space is that users can run the "tablet" mode (i.e. the touch interface) and, when desired, also run full-blown desktop mode and just about any legacy application that one can think of.
Doesn't anybody else think that it's a bit of a stretch for Microsoft to be releasing advertisements in which the company claims, "this lets you run your favorite apps...next to your favorite apps", with a sequence suggesting that the Surface 2 could run traditional desktop applications?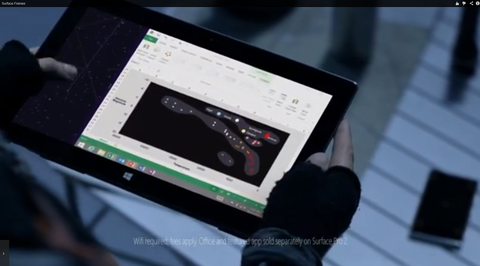 Of course, the only "desktop applications" that the Surface 2 can run are the bundled versions of Office Home And Student RT - and that's what's shown in the video.
Now, there's nothing wrong with Microsoft selling a Surface 2 with Windows RT - if it wants to sell a less functional tablet, and if it can actually pull it off, more power to them. I realize Microsoft loves a platform in which it has locked its users into buying from the app store since that helps Microsoft's top and bottom lines. Ain't nothin' wrong with that.
But the problem is that Microsoft released the, in my view, much lazier Surface Pro 2 alongside it. Microsoft, instead of using one of the lower power "Haswell" chips meant for tablets/detachables, decides it's going to pack a full, 15W TDP variant of Haswell into the device. This meant that while the Surface 2 got a nice makeover, the Surface Pro 2 remained largely unchaged from an aesthetics point of view. It's still big, bulky and expensive. A lower power "Haswell" would have at least solved the first two problems.
This device does plenty of damage to Intel's image. Why? Because it reinforces to many the entirely (incorrect) notion that Intel has nothing that plays in the same performance/watt class as the ARM-based chips today. That being said, Intel's Bay Trail did miss on a couple of key marks for the Surface 2 design win socket.
Bay Trail's GPU Should Have Been Better
The Bay Trail Z3770 SoC features a better CPU on a performance/watt basis than the quad Cortex A15 in the Tegra 4, with even the lower end Bay Trail SKU (Z3740) throwing up significantly better scores in the 3D Mark Ice Storm Physics test (i.e. CPU intensive) than the Tegra 4 in either the Surface 2 or the fan-cooled SHIELD: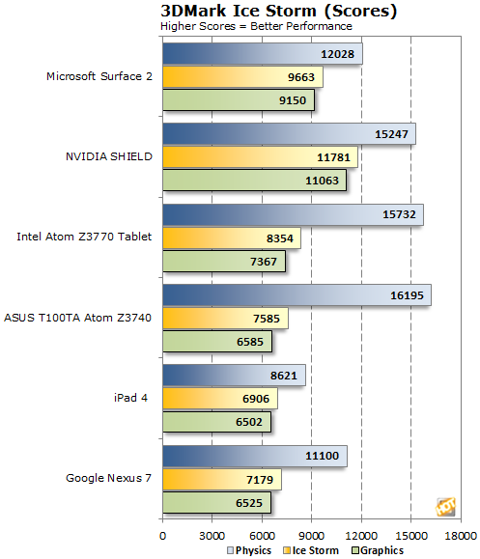 The Tegra 4, on the other hand, sports a better graphics processor as shown in the "graphics" subtest in the 3D Mark benchmark. While the Bay Trail GPU is anything but slow for this type of device, it is not leadership. If Bay Trail had superior CPU and graphics, then it would have been a no brainer for Microsoft, but perhaps the superior GPU on the Tegra 4 was worth more to Microsoft than a better CPU? Of course, if this were the case, the Qualcomm (NASDAQ:QCOM) Snapdragon 800 is a better chip than either Tegra 4 or Z3740/Z3770 (but it is the weakest of the three on CPU performance).
However, there's maybe one potential explanation for this that transcends everything else: timing.
Why Did Bay Trail Need To Be "Pulled In"?
On the most recent conference call, Intel CEO Brian Krzanich had the following remarks with respect to the timing of the Bay Trail launch,
Sure. This is again, Brian. Remember, Bay Trail has always been a second half and really a late second half introduction product and that was a pull-in, so we pulled that in in order to bring it into 2013.
Since the hardware selection for Surface 2 was likely done in 2012, and given that this pull-in probably was a late 2012/early 2013 type deal, Intel probably wasn't able to promise product availability in the time frame required, thus necessitating another option. Since there are no X86 processors that could fit into the Surface 2 chassis other than Bay Trail at this time, the choice really had to boil down to Tegra 4 or Snapdragon 800. Nokia (NYSE:NOK), interestingly enough, went with the Snapdragon 800 while Microsoft itself went with the Tegra 4.
Perhaps timing was the issue here?
Conclusion
While I still believe that the Microsoft/Intel relationship is highly strained, the Windows RT push in the Microsoft branded devices may not be entirely due to Microsoft attempting to give Intel the proverbial bird. The timing may have been uncertain on the Bay Trail launch and maybe Microsoft cared more about GPU performance than CPU performance.
It will be interesting to see what chip powers the Surface 3.
Disclosure: I am long INTC, NVDA. I wrote this article myself, and it expresses my own opinions. I am not receiving compensation for it (other than from Seeking Alpha). I have no business relationship with any company whose stock is mentioned in this article.