At the end of September, the U.S. economy (GDP) grew at an unexpectedly fast clip of 3.5%. Yet this did little to push U.S. treasury yields higher.
At the end of October, the Fed unceremoniously completed its $300 billion purchase of U.S. treasury bonds. In spite of the cessation in buying U.S. government debt, treasury yields remained flat. They even moved slightly lower.
By the end of November, the prominent troubles in Dubai World's debt gave investors reasons to head for the perceived safer haven of U.S. treasuries. 10-year yields that were as high as 4.0% in June of '09 were now as low as 3.24% in early December '09.
It follows that investors in short treasury bond funds like UltraShort 20+Year Treasury (NYSEARCA:TBT) and Ultra-Short 7-10 Year Treasury (NYSEARCA:PST) have experienced little in the way of merriment. And, by extension, billion-dollar hedge fund managers like Paulo Pelligrini and John Paulson can only preach patience when it comes to the "short-US-treasury" aspect of their portfolio.
Here in mid-December, however, there may yet be hope for non-believers in U.S. treasuries. Wednesday's (12/9/09) 10-year auction was poorly received, and 10-year yields have crept back up to 3.49%.
How has that played out for ProShares Ultra-Short 7-10 Year Treasury? It appears set for a genuine breakout above its 50-day trendline. (Click to enlarge)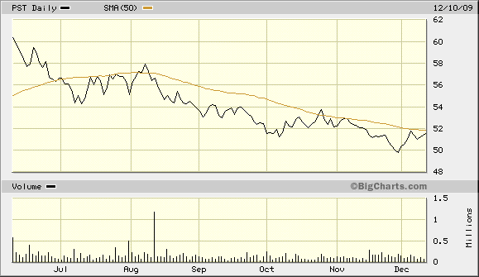 An astude observer might recognize that PST climbed above its 50-day on two prior occasions, yet faltered shortly thereafter. What makes this time different? Perhaps it is the likelihood that the Fed will have to move forward on an "exit strategy" (albeit slowwwwwwly) as opposed to reversing course to buy still more U.S. treasury debt.
By the way, the case for shorting the longest-term maturities may be even more compelling. ProShares UltraShort 20+Year Treasury has pushed even further above its 50-Day Moving Average than its smaller sibling, PST.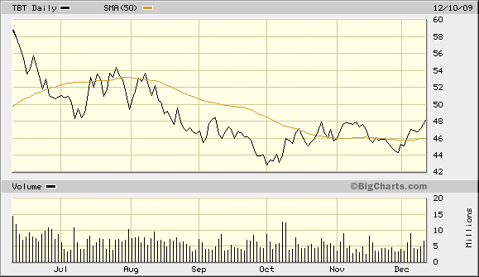 Disclosure Statement: Gary Gordon, MS, CFP is the president of Pacific Park Financial, Inc., a Registered Investment Adviser with the SEC. The company and/or its clients may hold positions in the ETFs, mutual funds and/or index funds mentioned above. The company does not receive compensation from any of the fund providers covered in this feature. Moreover, the commentary does not constitute individualized investment advice. The opinions offered herein are not personalized recommendations to buy, sell or hold securities.