On Oct 25th, Zogenix, Inc (NASDAQ:ZGNX) received FDA approval of Zohydro ER(hydrocodone bitartrate) extended-release capsules, an opioid agonist, extended-release oral formulation of hydrocodone without acetaminophen. Stock price closed at 3.04 on Friday, which gives Zogenix a market cap of $311MM. We believe that Zogenix is vastly over-valued at this point and would like to remind investors of the potential risks in Zogenix.
Zohydro is not well accepted in medical community
This can be evidenced by the fact that FDA Analgesic Drug Products Advisory Committee voted 2-11 against the approval of Zophydro. Even on Zohydro's efficacy, the panel was almost split (7 Yes, 6 No). The main concern that panel members expressed is that 12-week pivotal trial is not long enough to demonstrate efficacy in a chronic patient population that will almost certainly be using the drug for much longer period. The panel members also estimated there could be just as many emergency room visits for Zohydro users as there are for pure oxycodone users; about 85 emergency room visits for every million tablets dispensed. There are only 14 visits for every million hydrocodone combination pills dispensed. Among the 1,512 patients exposed to Zohydro during clinical trials, there is one patient died because he hoarded Zohydro capsules and then opened and ingested them all after completion of the study.
According to Wall Street Journal, Andrew Kolodny, president of Physicians for Responsible Opioid Prescribing, said, "The FDA just approved an extended release opioid that is likely to be neither safe nor effective in the target population. It is a whopping dose that can be lethal in someone who has never taken hydrocodone."
All these do not bode well for the sale potential of Zohydro.
Zohydro market opportunity is very limited
In Zogenix's presentation to the FDA (slide 111), it stated that the peak sale would be 90,000 patients/year by year 5 post launch. Even under the most optimistic scenario laid out by the company, the 90,000 patients roughly translates to about $150MM at most in revenue if we assume 2 pills/day and $9/pill for 90 days treatment period. Zohydro is categorized as Schedule II drugs, which can be supplied for no more than 90 days on a single prescription.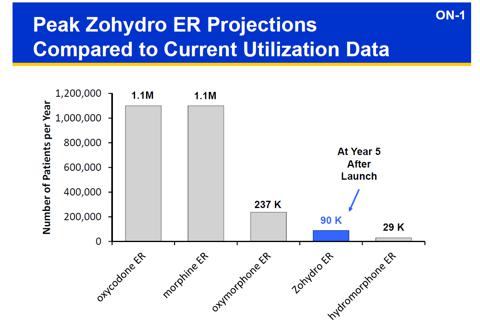 The approval also comes with the most stringent REMS that will take long time for Zogenix to implement. This will certainly slow the launch and sale ramp-up. In addition, Zogenix will participate in the design and implementation of post-marketing studies, as recently outlined by the FDA. NDA sponsors of ER/LA opioids are now required to conduct studies to assess the serious risks associated with long-term use. If any serious abuse or safety issues arise, the FDA won't hesitate to pull it from the market, because FDA was under tremendous political pressure to approve it in the first place. Right after the approval announcement on Friday, Rep. William Keating (D., Mass.) said, "Just as the FDA was making some steps forward in the fight to end prescription drug abuse, they take major steps back with the approval of Zohydro ER." If that happens, Zogenix will repeat the fiasco that just happened to Affymax (OTCPK:AFFY) and Ariad Pharm (NASDAQ:ARIA).
Competition is coming soon
Several pharmaceutical companies are testing single entity hydrocodone extended release formulations. Purdue Pharma is conducting Phase III trial that ended in Sept 2013 to test an extended-release, crush-resistant hydrocodone formulation. Teva is also having a Phase III study that will be completed by Janurary 2014. The Danish company Egalet is also developing a tamper-resistant hydrocodone product that could reach the market by 2015.
All these competitions are tamper resistant products. If one of them gets approved, FDA will very likely pull Zohydro ER from the market.
Dilution is right around the corner
As of June 30th, 2013, Zogenix only has $16MM in cash and cash equivalents. It has $33MM short term debt and $36MM long term debt. It burns about $13MM/quarter. Zogenix is literally insolvent now. Zogenix's first commercial product, Sumavel DosePro - a needle-free sumatriptan injection for the acute treatment of migraine, is completely a dud. A massive dilution is inevitable.
The bottom line is that, event with FDA's approval of Zohydro ER, Zogenix may not reach profitability ever, due to the poor acceptance of Zohydro and superior competition. Additionally investors have to worry about potential withdrawal of Zohydro constantly.
Disclosure: I am short ZGNX. I wrote this article myself, and it expresses my own opinions. I am not receiving compensation for it (other than from Seeking Alpha). I have no business relationship with any company whose stock is mentioned in this article.