Last week's weak jobs report sent common stock prices higher as value investors took the dismal performance as a sign that the Fed's Quantitative Easing bond-buying program would continue unabated.
But preferred stock investors did not react the same way to the news. In fact, preferred stock investors hardly reacted at all, supporting the idea that preferred stock investors have already "priced in" the Fed's exit of the QE program (see "Have Preferred Stock Investors Already Moved Beyond QE?"). Even when Fed officials began dropping strong hints that a tapering of their QE program was coming in September, preferred stock prices remained relatively stable as the September 17-18 Fed meeting approached.
Average preferred stock prices, and therefore yields, have remained largely unchanged since mid-August and that continued to be the case in the face of last week's jobs report. The U.S. economy needs to add about 180,000 to 200,000 new jobs each month just to break even. Last week's report that 148,000 jobs were added during September was taken by many as an indication that QE's cheap money is going to be with us for some time to come.
Risk versus reward, ending-October 2013
This chart illustrates the risk versus reward trade-off being made by preferred stock investors as October 2013 came to a close (data date: October 25, 2013). Each diamond on this chart represents a preferred stock or exchange-traded debt security trading on the New York Stock Exchange. The horizontal axis represents risk (as measured by Moody's ratings), while the vertical axis measures reward (as measured by current yield).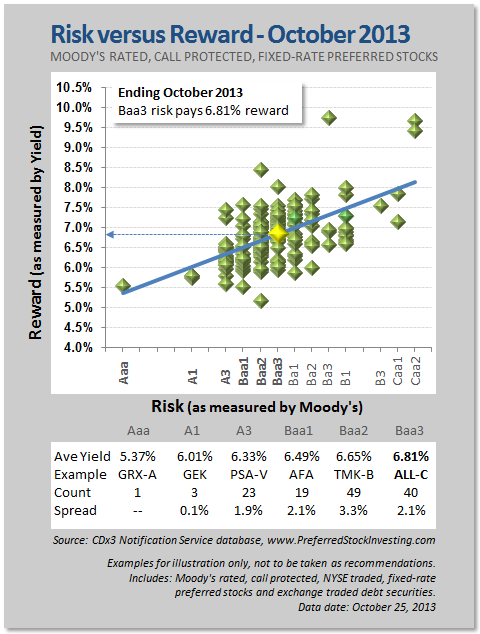 Moody's investment grade rating categories are shown in bold with Baa3 being the lowest rating that is still considered investment grade. Looking at the table below the chart, the average yield provided by Baa3-rated preferred stocks at the end of October 2013 was 6.81 percent.
ALL-C from Allstate Corporation (NYSE:ALL) is a traditional preferred stock with a call date of October 15, 2018 and offers a 6.75 percent coupon sitting in the middle of the Baa3 pack. On October 25, 2013 ALL-C was selling for $25.20 providing a current yield of 6.7 percent.
Preferred stock market reaction
The blue line on the above chart is the "best fit" line. As expected, the best fit line slopes up and to the right, indicating that investors are demanding a higher reward (yield) for higher risk (Moody's rating). No surprise there.
The best fit line illustrates the risk versus reward trade-off being made by preferred stock investors at the point in time the data was collected.
The next chart compares the best fit lines from this analysis as conducted at the end of July (dark gray line) and at the end of May (light gray line) to the best fit line that you see above for October (blue line). By putting these best fit lines on the same chart, we can see how the risk tolerance of preferred stock investors has changed.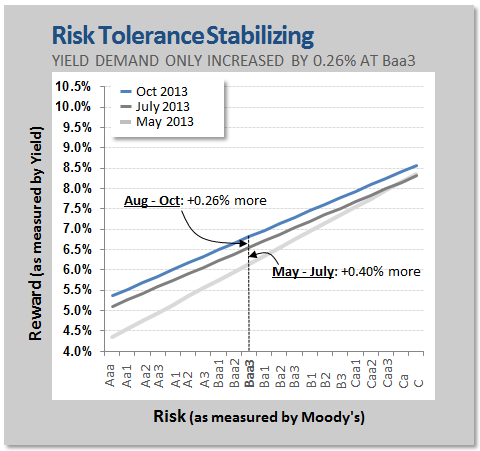 As rumors of QE tapering swirled, preferred stock investors demanded an additional 0.40 percent reward for taking the same Baa3 level of risk between May and July (gray lines).
But as the Fed started making specific statements implying that tapering could actually begin in September, the additional reward demanded by preferred stock investors moved up a mere 0.26 percent by the end of October. Risk tolerance among preferred stock investors has substantially stabilized along with prices (see "Preferred Stock Prices Return To Pre-QE2 Level, Bargain List Grows For Buyers").
Why did mere rumors of tapering during June and July produce a 0.40 percent reaction while actual statements from Fed officials to that effect during September, coupled with a lousy jobs report, result in a barely noticeable 0.26 percent increase in the demand for yield?
QE tapering already priced in?
The implication here is that QE tapering has already been priced into preferred stock prices (prices dropped during June and again during early-August). If that is the case, preferred stock prices are unlikely to move much more than they already have regardless of what the Fed does with its QE program over the coming quarters.
While it is not possible to know the extent to which preferred stock investors have already "priced in" an exit to the QE program, the fact is that preferred stock prices have remained relatively stable in the face of September's hints at tapering as well as in the wake of last week's jobs report, a very different reaction than that of value investors to the same events.
Preferred stock yields and prices are showing substantial stability. Preferred stock buyers should be paying attention.
Disclosure: I have no positions in any stocks mentioned, and no plans to initiate any positions within the next 72 hours. I wrote this article myself, and it expresses my own opinions. I am not receiving compensation for it (other than from Seeking Alpha). I have no business relationship with any company whose stock is mentioned in this article.
Additional disclosure: The CDx3 Notification Service is my preferred stock email alert and research newsletter service and includes the database of all preferred stocks and exchange-traded debt securities traded on U.S. stock exchanges used for this article.