In an earlier article, I made clear that the recent substitution of Alcoa (NYSE:AA), Bank of America (NYSE:BAC) and Hewlett-Packard (NYSE:HPQ) with Nike (NYSE:NKE), Visa (NYSE:V) and Goldman Sachs (NYSE:GS) in the Dow Jones Industrial Average was likely to be of very little concern to long-term investors. I stand by that argument: despite numerous substitutions in the post WWII period, over decades, the two major indices track one another remarkably well.
Since the twin "crises" of our debt limit and government shutdown have been resolved, Wall Street has been able to focus on the outstanding earnings reports and guidance from many companies. Zacks pointed out this past Friday that of the 243 S&P 500 companies that have reported, total earnings were up over 8% and nearly 68% beat expectations. Guidance for Q4 is still up 9%, despite being shaved some in recent weeks.
This strength is clear if you look at the SPDR's S&P500 ETF (NYSEARCA:SPY).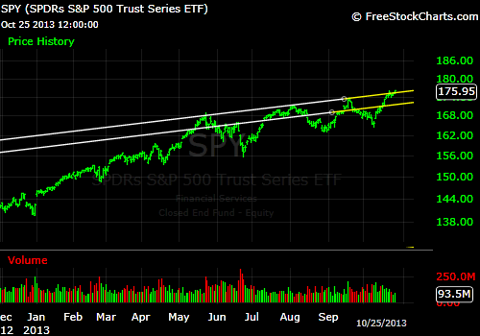 source: www.freestockcharts.com
But it is not clear at all if you look at the SPDR Dow Jones Industrial Average ETF (NYSEARCA:DIA):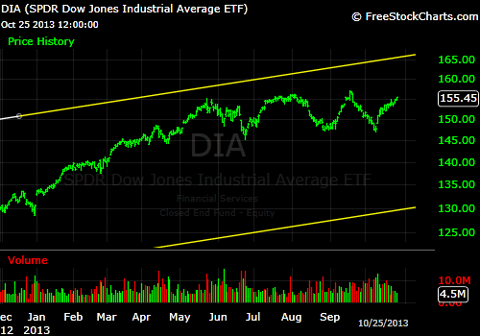 Why this "divergence?" While quite diversified, according to Yahoo Finance, the DIA ETF has a much larger percentage of its assets in their top ten components (53%) than SPY does (just over 17%). In fact with SPY no component has more than a 3% weight (the largest, Apple Inc. (NASDAQ:AAPL), chimes in at 2.88%).
In contrast, with DIA, between earlier mentioned Goldman Sachs and two other mighty components, Exxon (NYSE:XOM) and Chevron (NYSE:CVX), you have nearly 16% of the weight! Unfortunately, this allows troubles in the oil patch (from new sources of oil and natural gas to capital expenditures needed to bring these on line) to dominate the DIA.
If DIA were a sector ETF, such behavior would be expected and tolerated. It is not a sector ETF, however, and holders of DIA, disappointed at their recent underperformance, should be chagrined it has acted like one in recent weeks. Investors seeking broadest market participation should therefore avoid DIA and choose SPY.
Disclosure: I am long SPY, IHI, XLV. I wrote this article myself, and it expresses my own opinions. I am not receiving compensation for it (other than from Seeking Alpha). I have no business relationship with any company whose stock is mentioned in this article.