This is a follow-up to an article published on SA last Sept. American Electric Power (NYSE:AEP) is one of the largest regulated electric utilities and a favorite among income investors. The company announced 3rd quarter earnings recently and they were in line with expectations. Revenues were down but earnings per share exceeded estimates by $0.02 a share, with the gain in EPS was directly related to cost reduction programs. Consensus estimates were looking for operating earnings of $1.08 for the quarter and results were reported at $1.10 per share, up from $1.02 in the year prior quarter. Merchant power continues to be a drag on earnings, with quarterly results showing a profit of $4 million vs. $10 million last year.
Based on the positive earnings growth, management raised the divided by 2% to an annualized rate of $2.00 per share. Share prices responded positively as well, increasing from an October low of $43.25 before the earnings and dividend announcements to a current price of $47.28 for a gain of 9.3%. The yield also declined from a pre-announcement rate of about 4.5% to a current 4.2% based on the increased payout.
AEP offers interesting geographic coverage. Below is a map of AEP service area: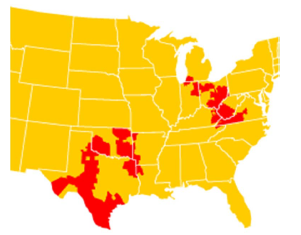 The northern exposure incorporates heavily industrialized Ohio and coal producing regions of Appalachia. The southern area includes the oil/gas producing regions of southern and central Texas running up through Oklahoma.
Within this eleven state area, AEP's future is directly tied to the action of the state regulatory agencies. As is the case with most regulated companies, it is important to understand the regulatory environment as it is a critical factor in profitability. The most recent investor presentation outlines rate-based assets by state.
Below is a listing of the state utility regulatory environment as published by Standard and Poor's Credit division. S&P incorporates regulatory environments in their credit rating evaluation. The notation offered by S&P states, "The assessments are made against an absolute standard of the degree of credit support. At this time, we observe no US jurisdictions that qualifies in the top category." The ratings run from Most Credit Supportive, More Credit Supportive, Credit Supportive, Less Credit Supportive, Not Credit Supportive, and Not Applicable.
State

Rate Base Assets

(Billions)

2008 S&P Utility Regulatory Environment Assessment

Texas

$3.08

Less Credit Supportive

Ohio

$2.98

Credit Supportive

West Virginia

$2.43

Less Credit Supportive

Indiana

$2.40

More Credit Supportive

Virginia

$2.17

Credit Supportive

Oklahoma

$1.70

Less Credit Supportive

Lousiana

$1.23

Credit Supportive

Kentucky

$0.99

Credit Supportive

Michigan

$0.66

Credit Supportive

Arkansas

$0.61

Credit Supportive

Total State Regulated Assets

$18.25

 
Of the states listed, 40% of regulated assets lie within jurisdiction that are considered "less credit supportive", implying relatively unfriendly regulatory environments. Below are the current allowed return on equity by state jurisdiction and the asset rate base: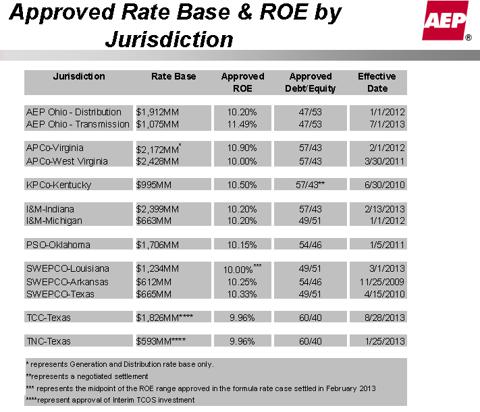 The most recent rate decisions by jurisdiction is close to or below the nationwide average allowed ROE as reported by the Edison Electric Institute. Below is a graph of the average allowed ROE by quarter going back to 1990: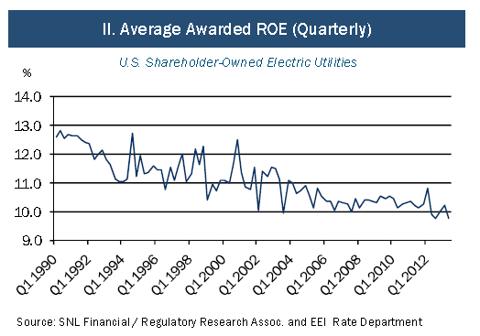 AEP operates both in the middle of the wind power strengths in the central US and on its eastern fringes. This geographic location lends itself to a higher probability of exposure to the disruptive aspects of current wind power generation, especially in Texas. Not only is Texas the jurisdiction with the lowest allowed ROE but also with the highest amount of wind-generated capacity. Below is a map from the National Renewable Energy Laboratory outlining each state's wind power generating capacity as of Dec 2012: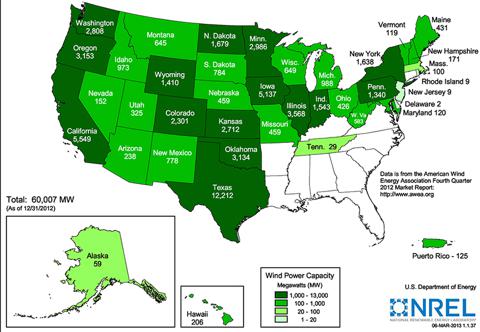 Wind power currently generates about 8% of total electric generating capacity in Texas, and this percentage is growing. Similar to the European model of wind generation vs. all other fuels sources, the disruptive impact of wind deals with the intermittent nature of wind-generated power, the subsidized price, and its legislatively mandated preference. This has created an environment of negative pricing that non-wind generating facilities are starting to experience.
AEP has one of the largest coal generating profiles in the US. In 2012, coal amounted to 72% of fuel used and this is expected to decrease to about 46% by 2020. As the EPA continues its attack on coal as a power generating fuel, its use will continue to increase in cost. While AEP is committed to spending upwards of $4 billion to bring its coal-fired plants into current compliance, future compliance expenses will continue to reduce coal's use as a power generating fuel. AEP generating capacity profile will be reduced over the next few years as the company closes its marginal coal plants. While environmental upgrade expenses for existing coal plants can be incorporated into rate-based assets and passed onto customers over time, a permanent reduction in generating capacity will negatively influence future revenues.
Compared to other regulated utilities, AEP has historically generated lower returns in invested capital ROIC. Return on invested capital is an important fundamental ratio as it evaluates shareholder returns based on total capital at management's disposal - both shareholder equity and long-term debt. Fastgraph.com offers an interesting graph using its premium service that outlines ROIC going back 15 years. Below is the ROIC graph for AEP: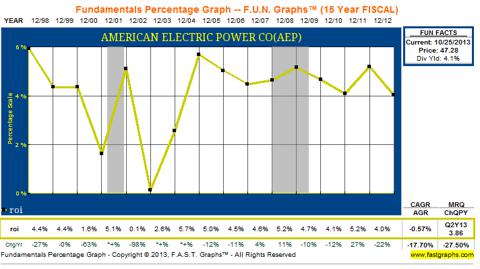 Compare this with the ROIC graph of Southern Company (NYSE:SO), PPL (NYSE:PPL) and Exelon (NYSE:EXC):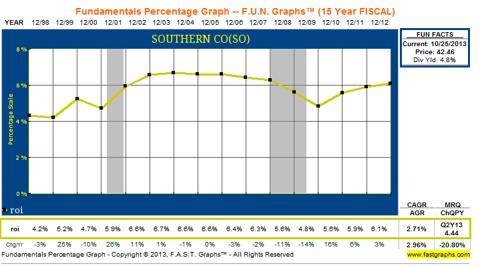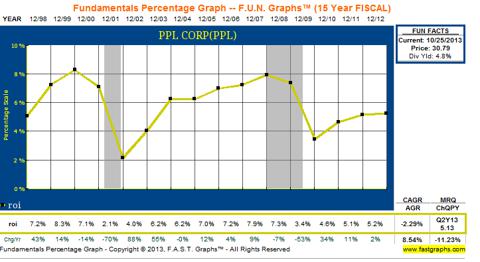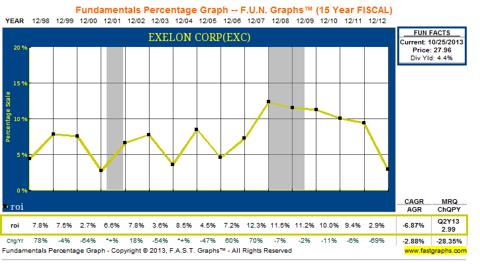 Below is a table of these charts with the year and the ROIC for each of these companies:
| | | | | |
| --- | --- | --- | --- | --- |
| Year | AEP | SO | PPL | EXC |
| 1998 | 4.4 | 4.2 | 7.2 | 7.8 |
| 1999 | 4.4 | 5.2 | 8.3 | 7.6 |
| 2000 | 1.6 | 4.7 | 7.1 | 2.7 |
| 2001 | 5.1 | 5.9 | 2.1 | 6.6 |
| 2002 | 0.1 | 6.6 | 4.0 | 7.8 |
| 2003 | 2.6 | 6.7 | 6.2 | 3.6 |
| 2004 | 5.7 | 6.6 | 6.2 | 8.5 |
| 2005 | 5.0 | 6.6 | 7.0 | 4.5 |
| 2006 | 4.5 | 6.4 | 7.2 | 7.2 |
| 2007 | 4.6 | 6.3 | 7.9 | 12.3 |
| 2008 | 5.2 | 5.6 | 7.3 | 11.5 |
| 2009 | 4.7 | 4.8 | 3.4 | 11.2 |
| 2010 | 4.1 | 5.6 | 4.9 | 10.0 |
| 2011 | 5.2 | 5.9 | 5.1 | 9.4 |
| 2012 | 4.0 | 6.1 | 5.2 | 2.9 |
| 15-yr Average | 4.1 | 5.8 | 5.9 | 7.6 |
A shown, AEP management has generated returns below its peers over an extended amount of time. Compared to SO, AEP has generated 40% less profits per dollar of capital deployed on overage during the past 15 years. While there is a substantial difference between the regulated footprint of AEP and the historic merchant power business model of EXC, AEP has generated an astonishing 85% less profit per dollar of deployed capital than EXC, averaged over the previous 15 years.
As Ohio transitions into a state of electric utility deregulation, revenues from regulated assets will decline from its current 95% to closer to 85%. This change will expose AEP to the greater volatility of coal, natural gas and merchant power markets. Currently, about 30% of revenues, 25% of earnings and 16% of regulated assets are in Ohio. The state's transition to deregulation could have a dampening effect on AEP over time.
Based on regulatory environments, exposure to the disruptive nature of wind-generated power, a large coal fueled generating profile, historically low returns on invested capital, and a structural transition taking place in one of its major markets, the current AEP price should be considered fully valued, if not overvalued. Within the world of regulated utility investing, there are better prospects elsewhere. Repeating the closing line of my previous AEP article:
While there is nothing fundamentally wrong with AEP, its prospects are a bit wanting compared to some of its peers.
Author's Note: Please review important disclaimer in author's profile.
Disclosure: I am long AEP, SO, EXC. I wrote this article myself, and it expresses my own opinions. I am not receiving compensation for it (other than from Seeking Alpha). I have no business relationship with any company whose stock is mentioned in this article.